#65 Live in Paris. Discussing Idol Challenges and Future Goals with °C-ute
I first met °C-ute when I saw them perform at Shibuya Public Hall in Spring 2010. Around this time, I had just begun to realize the potential of Japanese idols and a friend of mine strongly recommended I see °C-ute perform live, so that's what I did.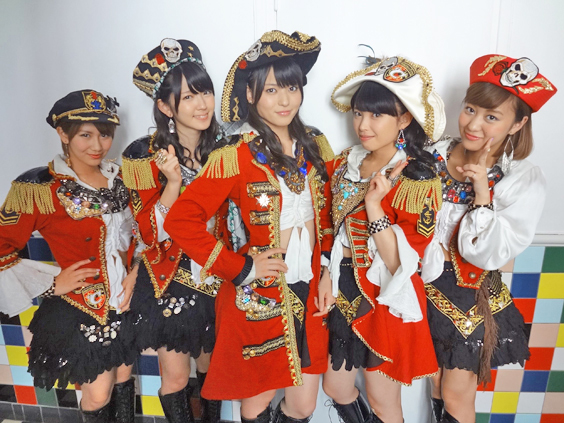 From left: Okai Chisato, Suzuki Airi, Yajima Maimi, Nakajima Saki, Hagiwara Mai.
"Cute"? What's that? It's hard to believe now but that used to be me. I grew up on rock and I used to go to Shibuya Public Hall to see American rock musicians perform. But seeing °C-ute in concert for the first time was just as invigorating an experience and their performance revealed that the girls have a lot of potential. If I hadn't gone to see them perform here, then it's possible that I might never have gone to see Morning Musume's concert in Paris in July that same year. Regular readers of my column will well understand, but it was this particular concert that led my life in a whole direction. Encounters are mysterious things and it's because of this encounter that I've since spoken with the members on °C-ute on various occasions in various settings.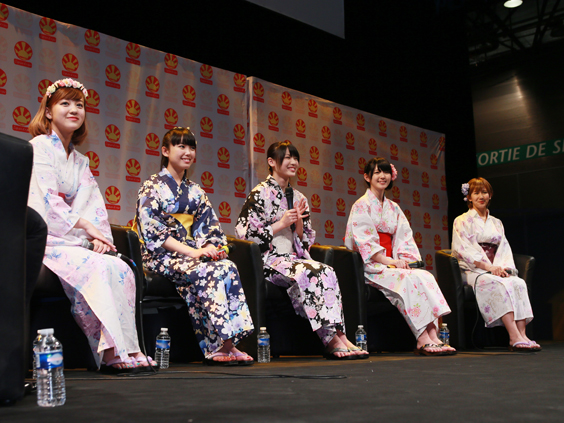 Appearing before fans dressed in yukata - at a talk event at the Paris Japan Expo, the day before their concert.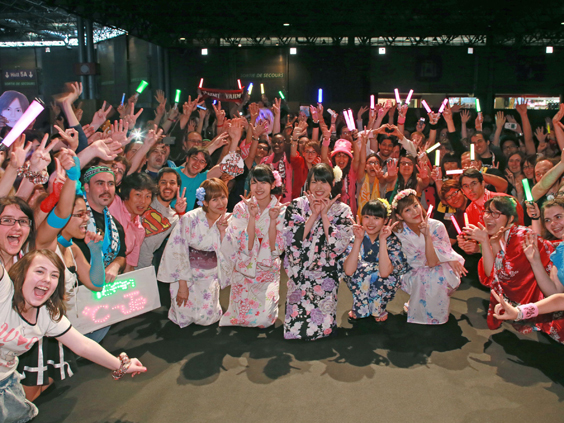 There are people all over the world just waiting for °C-ute to visit their countries. °C-ute too want nothing more than to see the world. And then the day final came when the desires of the fans and the group themselves were realized and °C-ute performed live in Paris in July 2013. This was a special event, even to me, and I knew that no matter what, I just had to be there to witness it. This was a solo, fee-charging concert. I wonder just how many Japanese artists have ever managed to achieve this? While everyone might dream about it, it's no easy feat, even for well-known musicians. But °C-ute took up the challenge and set out to achieve exactly that, in what was their very first overseas experience.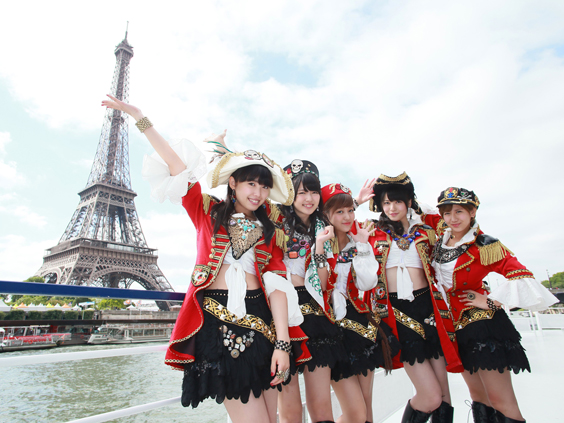 "I was impressed with the city and how chic it was." (Nakajima)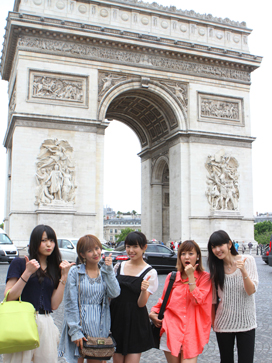 "The whole city is like a work a work of art." (Yajima)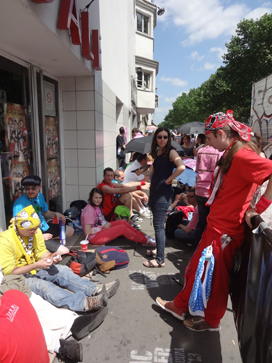 These people waited in line over night more than 20 hours to get a front row spot for the concert.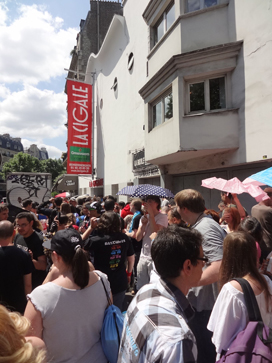 The long line in front of the concert hall.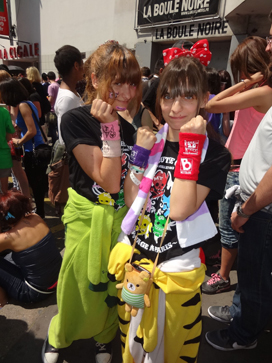 Two fans from Sicily (Italy).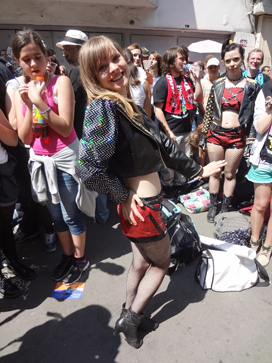 Here to support her favorite idols in her favorite outfit.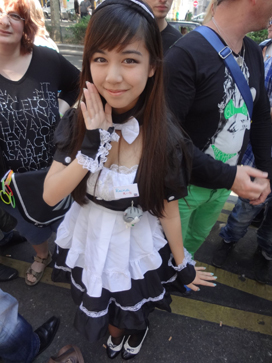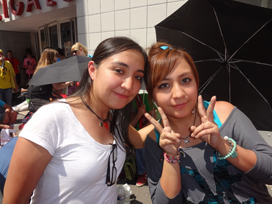 Two fans from Mexico.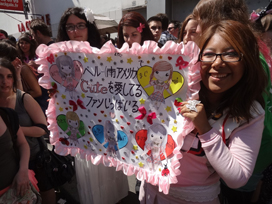 All the way from Peru.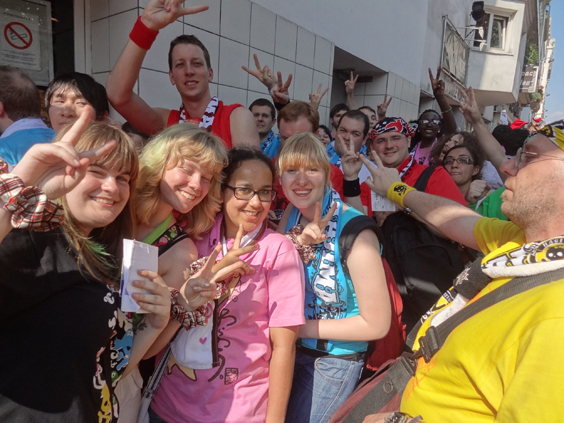 While you may think that fans from around the world will surely gather to see them perform, it's one of those things you never really know until lift the lid and see for yourself.
I'm sure °C-ute felt the same way.
"We were worried that we wouldn't get enough people to fill up the standing section on the first floor."
In the end, La Cigal, the hall where they performed, was packed with some 1300 people. And the fans were not only from France or surrounding European countries, but from as far as Peru and Mexico.

"I had no idea that °C-ute had so many fans throughout the world. I never thought we'd get fans coming from as far as Peru." (Hagiwara Mai)

"Before we were about to go on, we could tell that the people inside were getting really excited and that made us feel more at ease." (Nakajima Saki)

It was a long desired international concert. I've seen °C-ute perform a number of times over the past three years but their performance that night was spectacular. I'm sure everyone who was there to witness it felt the same.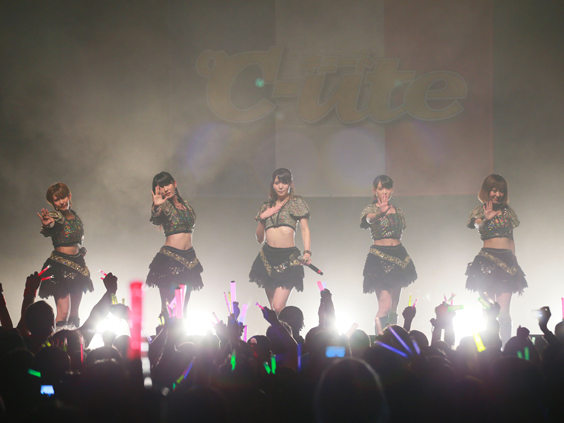 The concert in La Cigal.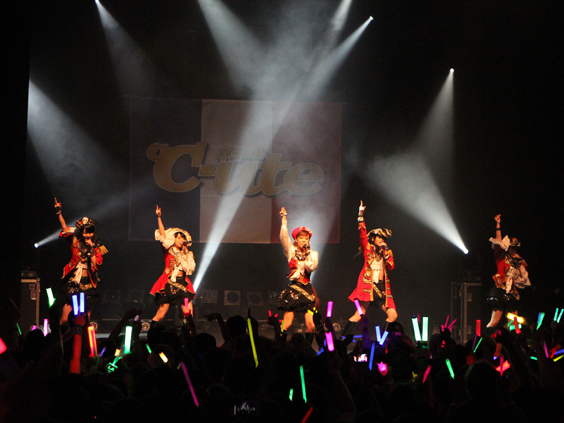 So, now that °C-ute has made their wish a reality what other challenges do they have planned down the track?

"From the stage I saw someone holding a sign that read, "There are a lot of fans in South America as well." So I would like to visit various other countries. To do that, our next step would be to train even harder in Japan first. Train harder and show our overseas fans the best performance we can give." (Suzuki Airi)

"Everybody is so full of energy over there and this experience taught me that I really need to build up my physical strength if I'm to keep up with them. I did my best not to get overwhelmed by the audiences power but I want to work on building a body that can adapt to various concert environments." (Nakajima)

"Different countries probably have different songs that they want to hear and see. I want °C-ute to be a group that can sing a whole range of genres." (Yajima Maimi)

"When we go to a particular country I would like to be able to use the language of that country to some degree during our concert. That's what I felt strongly after this experience." (Okai Chisato)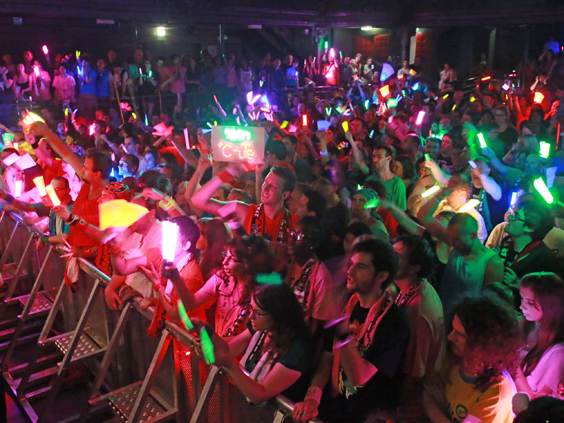 La Cigal and a crowd of 1300.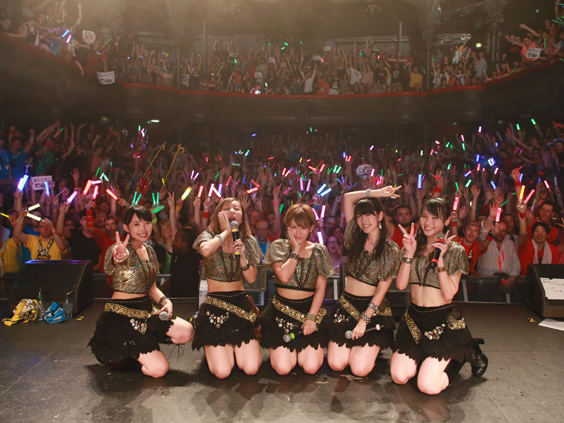 Things haven't exactly been smooth sailing for °C-ute, but they're overcoming their obstacles one by one and they're certainly one idol group that's on the way up. In fact, I think Okai Chisato pretty much summed them up when she said, "°C-ute is a group that can only move forward."
Even as a journalist, they're a group that I want to continue to follow from here on.

A new article every Wednesday!
Next time: Sakurai Takamasa presents: A Japanese live event that transcends genre.

Columnist: Sakurai Takamasa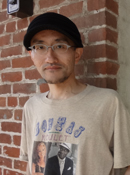 Contents Media Producer, author, journalist, managing director of Contents Street Inc. Chief Editor of iPhone magazine "Tokyo Kawaii Magazine" (ASCII Media Works), World Cosplay Summit Executive Advisor, Chief Researcher at Kodansha/Kodansha BC China Management Laboratory.
Cultural diplomat producing events in 103 cities in 24 countries. Books include "Galapagos-ka no susume"(Kodansha), "'Suteru' de shigoto wa umakuiku"(Diamond-sha), "Nihon wa anime de saiko suru
"(ASCII Shinsho), "Sekai no kawaii kakumei " (PHP Shinsho), and "Anime bunka gaiko "(Chikuma Shinsho). Writes regular columns in the weekly magazine "ASCII" and Yomiuri Shimbun.

●twitter http://twitter.com/sakuraitakamasa/