#79 Voices of the Idols Fighting on the Frontlines! - Japan Pop Carnival – Part 1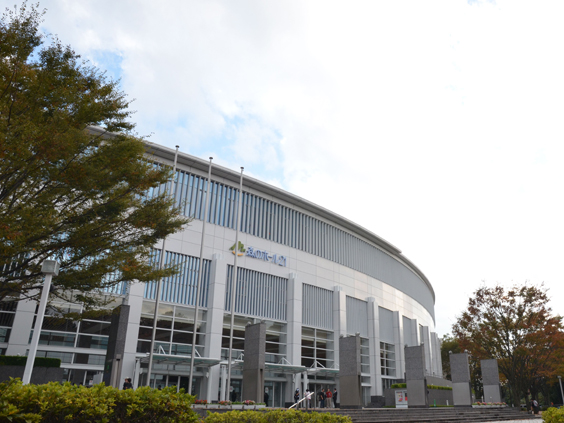 Mori no Hall 21, Matsudo.
November 4th 2013 – the "Japan Pop Culture Carnival" (herein JPCC), an event which I produced, was held at Mori no Hall 21, in Matsudo. The event was sponsored by the Matsudo City Cultural Promotion Foundation. The event was held as part of the city's celebrations to commemorate the 70-year anniversary of the Matsudo City municipality. I have produced numerous large-scale events in a number of countries overseas in the past, but an event of this size in Japan was a first for me. I have also spoken about my hopes and plans for the event in one of my previous articles.
#66 Coming November 2013: The Live Event that Transcends Genre – A Sakurai Takamasa Production
This was an event that featured various first-time collaborations by artists from an array of genres – everything from ani-song, to idol, to rock, and even folk song. It turned out to be one unforgettable night, spent with a thriving audience and 4 hours of non-stop entertainment.
Time has passed since meeting all the artists who came to take part in the event, and I too have experienced a number of dramas along the way – all for Japan and Japan's advancement on the world stage.
This article will be the first in a four-part series in which I will share opinions from the artists who appeared in the JPCC and speak on a number of episodes that occurred along the way. They may just be the events of a single night, but I truly believe that the performances that were held on this night will lead to something even greater in the future.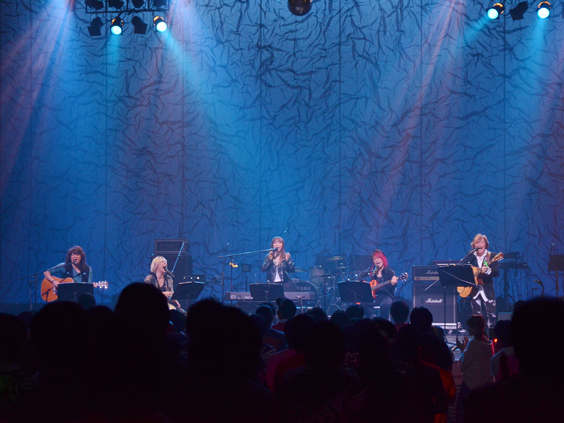 JAM Project's acoustic session.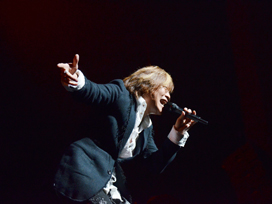 Kageyama Hironobu.

Kitadani Hiroshi.
The night started with an acoustic performance by the world-loved ani-song group, "JAM Project." They played their songs, "Hello Darwin! ~Koukishin on Demand~," "GARO~SAVIOR IN THE DARK~," and "Yume Sketch." Kageyama Hironobu then followed up with "Dragon Ball Z" theme song, "CHA-LA HEAD-CHA-LA," and then Kitadani Hiroshi with "We Are!" JAM Project also featured in the grand finale, putting on a special performance with SU-METAL of BABYMETAL - a first time collaboration dubbed, "JAM METAL Project." Episodes with JAM Project and messages from group will feature in a later article.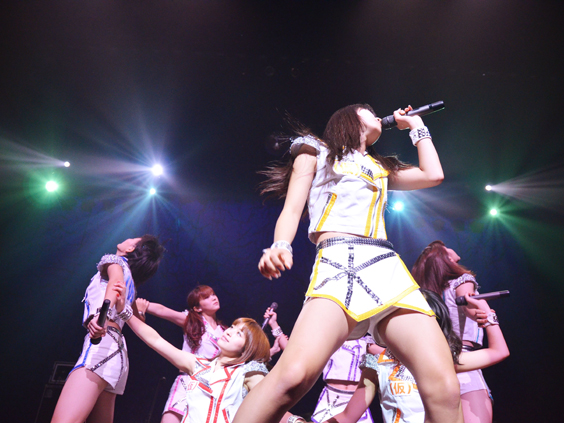 UP UP GIRLS kakko KARI.
Next to take to the JPCC stage was UP UP GIRLS kakko KARI with "SAMURAI GIRLS," JOYZ with "Shall We Pop?" and then UP UP GIRLS kakko KARI and JOYZ teamed up to perform "Chopper Chopper" and "Uppercut!" Here is the message I received from the UP UP GIRLS kakko KARI members after the concert.
Messages from UP UP GIRLS kakko KARI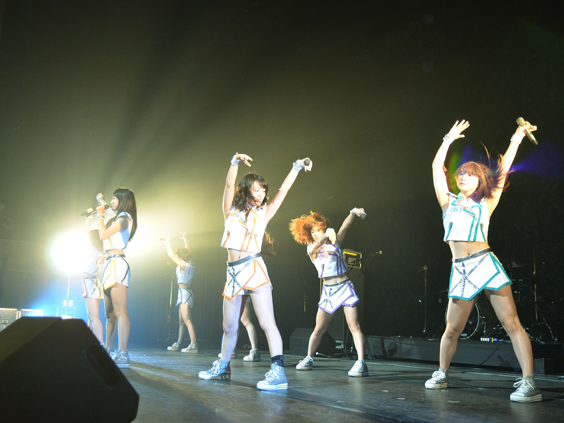 Sengoku Minami
: "As idols, our live performances are always high-energy, always on the offence pushing forward, but for our collaboration with band JOYZ we got to take a step beyond the regular idol barriers and perform with some very talented artists. I was so happy that we got to perform together! With a live band behind you it feels like each sound has a soul and you can feel it reverberate right through to your heart – it's amazing! The warm vibes of JOYZ blended with our feverish energy – an effect that only such collaboration projects could achieve! This was a precious experience for us and we're drawing a lot of motivation from it! This is a wonderful event and I really hope it continues! And of course, we'd love to be called back to perform again! You can expect our live performances to be full steam ahead, now and always!"
Furukawa Konatsu
: "I was invited to take part in the Japan Pop Culture Carnival as an idol! This was my first time performing with these various artists and I was nervous, but we were determined not to let the other performers get the better of us and we decided to go out there full-force and show everyone we are who we are! We became one with the audience and it was a whole lot of fun!! This time around, though, we also got to do a collaboration with band JOYZ and take part in a traditional Amami song-game called "
utaashibi
." There's really nothing greater than just being able to just have fun regardless of "genre." It made me think of how many different things there are to enjoy in Japan and it made me feel truly grateful for being born in Japan. I'm so happy that we were able to take part in such a wonderful concert!! I'm hoping that there will be a Vol.2 to this event, so I'm going to work even harder from now on so that I might get called back to perform again!"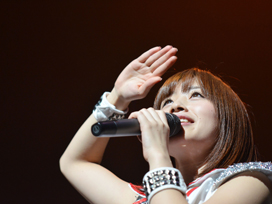 Sengoku Minami.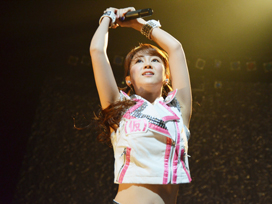 Furukawa Konatsu.
Mori Saki: "I'm sure a lot of people there were seeing us for the very first time, but they still called out to us, shaking their glow sticks. I'm glad we were able to achieve such a unity with the audience, but more than that, it was just really fun! We've performed with JOYZ a number of times in the past, and we got together again for this event, performing two songs. We rarely get to sing with a live band, so it was a lot of fun. The sounds of the instruments vibrate right through to your core – it's incredible! I hope that people enjoyed our idol/band collaboration.

I also got to join Amami Oshima born, Kizuki Minami, for a session of "utaashibi." This was my first time to take part in a utaashibi, so my heart was racing with nerves, but Kizuki-san is an extremely kind individual and she made it a lot of fun. I never would have got to experience something as wonderful as this if I hadn't taken part in this event. I personally am a big fan of Japanese culture and I think it would be great if it developed even greater recognition overseas, so I'm really interested in the kind of work that producer Sakurai-san does! I'm currently studying international cultures at university and I know just how popular overseas Japanese culture is right now. Even in my dear France, Japanese culture is extremely popular. It's my dream for us to one day visit France and get more and more people to learn even more about Japanese culture."

Sato Ayano: "It was such a pleasure to get to stand on stage in that huge hall and perform alongside JOYZ. The sound of the band was incredible and it reverberated throughout the entire hall, through us on stage and through the whole audience. I think that by getting absorbed in that sound, we were able to give a passionate and lively performance, even more so than usual. It gave me an appreciation of how great it is to be able to perform on stage with a live band. We also got to see other artists like JAM Project, voice actors and an array of talented people perform on stage, and I was surprised at all the different worldly views that everybody had. I am so glad for this experience. We were given the opportunity to perform in this new style idol-meets-band collaboration this time around, but I hope that we can use this experience to perform on even bigger stages and even incorporate a live band into our idol concerts in the future."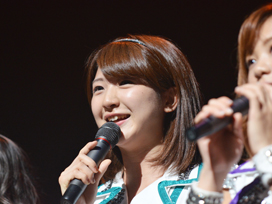 Mori Saki.

Sato Ayano.
Saho Akari: "I'm really glad that I was able to take part in Japan Pop Culture Carnival!! We got to sing our songs on a huge stage in front of a big crowd, and we got to perform with JOYZ as well! It's quite rare that we get to sing with a live band, so it felt really good!! And it was a real learning experience as well in terms of the way JOYZ and all the other artists got the crowd fired up! Seeing them really made me want to improve the way that we engage the crowd as well! During one of the MC segments, I took part in a traditional Amami song-game called "utaashibi," where you have come up with impromptu lyrics and sing them in tune to the song! I thought how great it was to take whatever feelings you have at that particular point in time and put them into song! UP UP GIRLS kakko KARI are working on our emceeing skills, so just like with this song, I hope that we too can learn to better express our feelings and relay that to our fans!! For the grand finale, all the amazing artists took to the stage and joined in all together to perform JAM Project's "SKILL." It was a lot of fun!! At this event I got to experience things that I only would have been able to experience here. I was quite nervous but it was a truly amazing experience!! I want to challenge myself to try even more new things from now on!"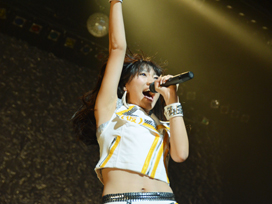 Saho Akari.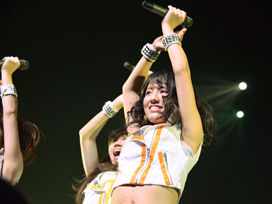 Sekine Azusa.
Sekine Azusa: "It was such a pleasure to get called up and to be able to perform at Japan Pop Culture Carnival 2013! We get to take part in various aspects of the music world as UP UP GIRLS kakko KARI and I feel that it has really broadened my horizons. To be honest, when we first performed with JOYZ, I was pretty worried how it would go, but singing along to the beating drums and vibrations of the guitar actually feels quite amazing! So being able to perform with JOYZ again, in an even bigger hall this time, was incredibly fun! Various talented artists took to the stage one after the other and it was really great just being able to enjoy all the different types of music!! The fact that I got to take part in that, even if just for a little bit, made me so happy! I'm going to work even harder and aim even higher from now on so that I might get more chances to perform with various other artists in the future! ! I'll work even harder to make UP UP GIRLS kakko KARI's solo concerts even more spectacular as well!"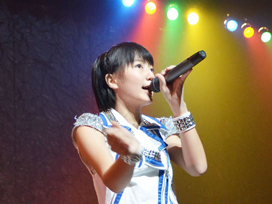 Sakurai Manami.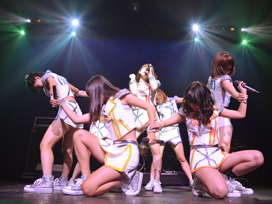 Sakurai Manami: "Once I heard that we would be performing at Japan Pop Culture Carnival, I was excited that we would be getting to perform on such a big stage! But then I started to grow anxious about whether people would accept us, the still only half-fledged UP UP GIRLS kakko KARI amongst a group of incredibly talented artists. But we all decided that, 'who cares if nobody out there accepts us, we're going out there and we're giving them everything we've got as only we can!' Just before we were about to go on, I was watching Kitadani Hiroshi perform from the side of the stage. The staging, the buzz of the crowd – everything was done to Kitadani san's own tune and it gave me goose bumps all over. But we weren't about to be outdone, so we went out there and opened with "SAMURAI GIRLS" and just gave it everything we had. So long as our passion got through to everyone, I'll be happy!!

We've performed with JOYZ a number of times in the past, but the vibrations from their drum and base that rattle you deep within your core and the twanging sound of their guitar sound so fresh no matter how many times I hear it – I love it! I also got to take part in "utaashibi" with Amami born, Kizuki Minami. It was a really good experience and really fun! I hope that the Carnival comes back next year and the year after that! In the meantime, we'll be leveling UP UP so that we might get the chance to perform here again!"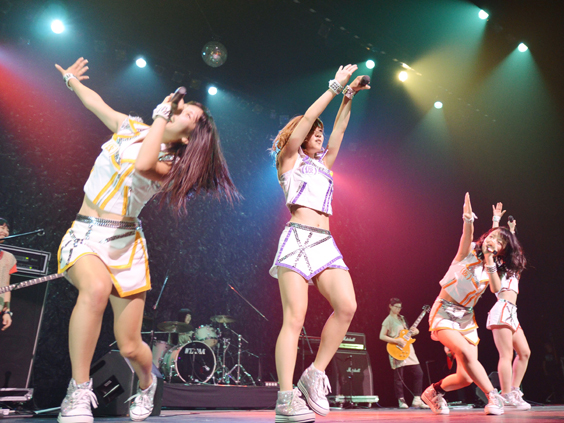 UP UP GIRLS kakko KARI and JOYZ, performing together for the 4th time.
It's obvious from these messages just how passionate these idols fighting on the front lines, UP UP GIRLS kakko KARI, really are.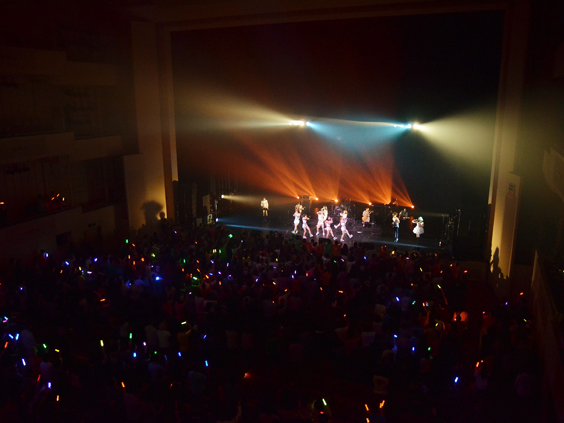 I first met UP UP GIRLS kakko KARI two and a half years ago. At the time, they had just finished their time in "Hello! Pro Egg," and yet to establish an original song of their own, they would spend their days singing songs of other, older Hello!Pro groups. I don't know any other groups that have worked their way up like this one. Two months after our first encounter, I went to Harbin, China, with member Saho Akari, to put on a fashion show and live performance as part of my cultural diplomacy activities. It was her first time overseas and practically no one there knew who she was, but she performed in front of a large crowd of people in the pedestrian mall and it was a huge success. It was a moment that proved song's ability to overcome national borders.
"I don't want to go home."
Saho Akari isn't usually one to wear her heart on her sleeve, but these few emotional words that she spoke to me still pierce through my chest to this day.
#33 Bringing People Together Through Song – LinLin's Big Dreams for China and Japan
It was also UP UP GIRLS kakko KARI who quite willing agreed to take part in an idea by JOYZ and I, to hold a concert that featured a coming-together of Harajuku and Shimokitazawa, idol and band.
#16 Idol meets Band, Harajuku meets Shimokitazawa. Collaborations unique to Japan.
When I've taken an important step towards the future that I see outlined for Japan and the world, the girls have been there.
I hope that all the people who didn't see the event this time around get to take part in the next event. Who knows where it will be held and what form it will take. Like me, you'll just have to wait and see.
Photographer Mariko Matsubayashi
A new article every Wednesday!
Next time: Japan Pop Culture Carnival – part 2

Columnist: Sakurai Takamasa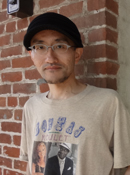 Contents Media Producer, author, journalist, managing director of Contents Street Inc. Chief Editor of iPhone magazine "Tokyo Kawaii Magazine" (ASCII Media Works), World Cosplay Summit Executive Advisor, Chief Researcher at Kodansha/Kodansha BC China Management Laboratory.
Cultural diplomat producing events in 103 cities in 24 countries. Books include "Galapagos-ka no susume"(Kodansha), "'Suteru' de shigoto wa umakuiku"(Diamond-sha), "Nihon wa anime de saiko suru
"(ASCII Shinsho), "Sekai no kawaii kakumei " (PHP Shinsho), and "Anime bunka gaiko "(Chikuma Shinsho). Writes regular columns in the weekly magazine "ASCII" and Yomiuri Shimbun.

●twitter http://twitter.com/sakuraitakamasa/