#81 The "Urbangarde×Uesaka Sumire" Collaboration! Genre is Irrelevant! Japan Pop Culture Carnival – Part 3
This week I will follow up on the events that transpired at my self-produced, Japan Pop Culture Carnival in Matsudo 2013 (held at Matsudo Mori no Hall 21 on November 4th, 2013, herein referred to as JPCC).
For this event, I particular put a lot of effort into trying to combine the ani-song (anime song) and idol genres together. Mizushima Takahiro is a voice actor and friend who I often drink with and talk about Japan's global efforts, and at the event he performed "Code Geass" character theme song, "Arabesque." On the morning of the event he sent me a message saying how this was different to his usual stage performances and how his stomach was "full of nerves" at the thought of performing along side the other musicians, but in the end he gave a fantastic performance.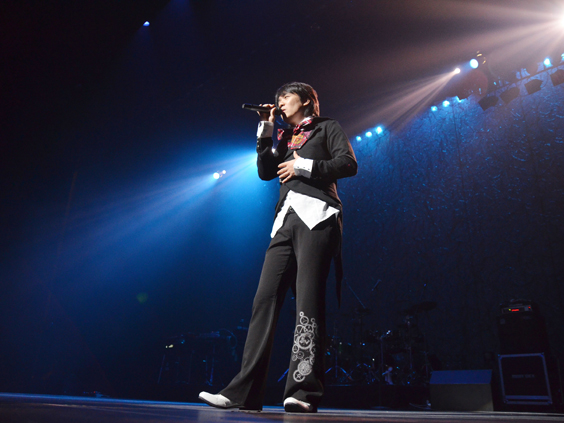 Mizushima Takahiro.
Mizushima:
"JPCC is a giant step for the future of pop culture! Because it's a live event I feel it will reach people!"
Mizushima was also one of the emcees and this was the message I received from him after the event.
Halfway through the event, popular Sapporo loco-dols (local idols), Fruity, took to the stage. One of the big achievements of the loco-dol boom is that it has greatly expanded the highly concentrated Tokyo/Osaka entertainment industry to the furthest reaches of Japan.
Now people don't just visit Tokyo and Osaka, people from Tokyo and Osaka visit the regional areas to see loco-dols perform. If you see one of their performances, you develop an even greater understanding of the regions than you did before. You find out what kind of city it is and what it's famous for, and you get to try the local delicacies as well. In doing so you begin to realize just how "diverse" Japan is and just how great a weapon said diversity could be. Fruity also took part as models in a fashion show as part of a public and private enterprise joint venture called "Sapporo-Otaru Lolikawa Tourism," a project which I also assisted on as an advisor. So I really wanted to put these girls on a big stage and share loco-dols with as many people as possible.
#76 Kawaii Ambassadors Once More! Kawaii Culture Converges on Sapporo!
Below are the messages I received from the members of Fruity.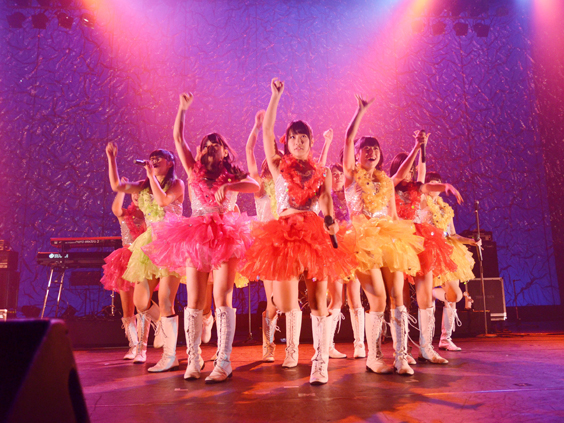 Fruity.
Obachi: "Japan Pop Culture Carnival was a lot of fun! This event reminded me just how powerful music can be. I knew not many people would know who we are and in the lead up to the event I spent time wondering how we could overcome that feeling of being outsiders, but as it turned out, I needn't have worried at all. When it was our turn to go out on stage everyone really seemed to enjoy us. People were there just to enjoy music regardless of what genre it was. No matter what genre, they all had "music" in common, and with that one connecting factor you can achieve such an amazing concert and see such a brilliant sight. The power of music is incredible!!! That's what this event made me feel.

I will never forget what I saw up on stage at JPCC, the cheers from the crowd, the warm messages I received after the show, all the happy faces! What I experienced on this day made me want to go away and work even harder so that I might be called back to perform again and so that I might get to see a similar sight at one of our own concerts one day too! It was an important day for me. The lineup of artists was nothing short of spectacular, I learned a lot and it gave me plenty of inspiration. We only performed one song but the fact that we were invited to perform at such an amazing event at all, and being able to perform with all the other artists for the finale – I was over the moon!"

Sai: "This would have to be the most memorable moment of anything I've experienced in my life so far. I was a little overwhelmed by all the famous faces, but thrilled nonetheless!!
Ani-song is my favorite musical genre so I was ecstatic that I got to see Kageyama Hironobu and Endo Masaaki perform live. I couldn't believe how they're able to use their songs to achieve such levels of passion. I had so much fun!! I'll keep working hard so that hopefully I get to perform again. It was a really valuable experience. Fruity will be working even harder from now on too!!"

Hazuki: "I'm so happy I got to take part in such an amazing event! It reminded me how great it is being an idol! It reminded me how great music is! It's through everyone's support that I was even able to stand up there in front of all those people! Thank you all! This year we only performed one song, but Fruity will be working even harder from now on, so if there's another opportunity to perform again, the next time you see we'll hopefully be performing a little longer for you! I hope we can use this event as a chance to do even greater things, perhaps on a global stage! I'm going to work harder and harder! That's how this day made me feel!"

And with that, JPCC entered into the second half of the schedule, starting with a performance by voice actress and my sworn ally, Uesaka Sumire.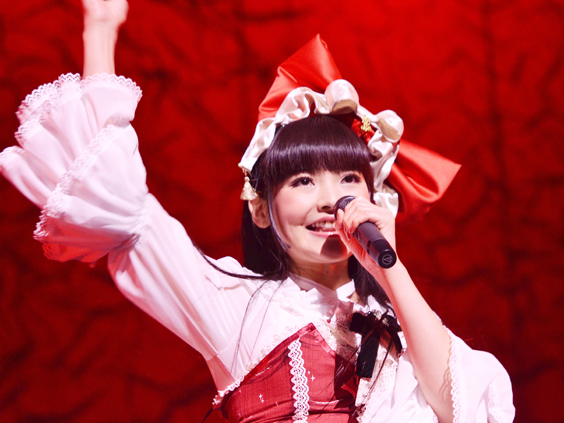 Uesaka Sumire.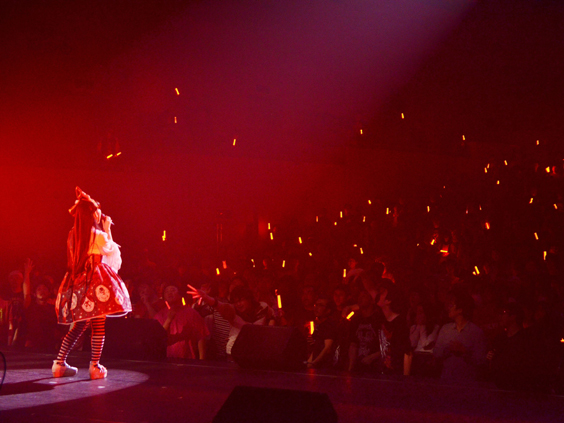 The crowd all bathed in red.
Uesaka Sumire: "I only just debuted as an artist this year, so it was a true privilege that I got to perform along side such an impressive lineup of artists. I emceed with Sakurai-san and Mizushima-san, and I got to witness the surge of excitement of everyone in the audience. Even as a member of the audience it was an extravagant festival. The artists all came from different genres, like idol, ani-song, J-rock, etc., but if you look at it from a broader perspective, they're all a part of Japan's "pop culture." I think that being able to experience pop culture that transcends language barriers is a form of cultural diplomacy with the greatest persuasive power."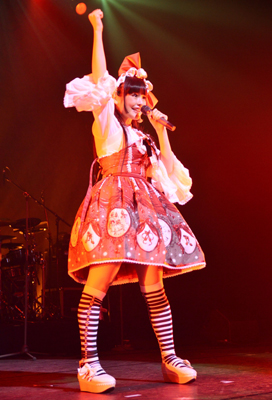 A colleague and passionate supporter of cultural diplomacy.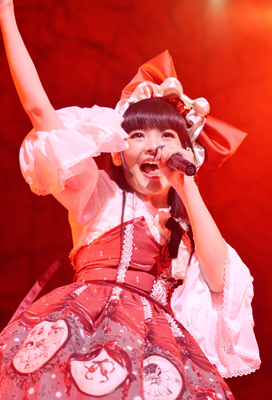 When we first met, just as Uesaka put it, I hadn't expected that I would one day be standing on stage with such an impressive lineup of artists either. As I watched on from the side of the stage as Uesaka sang "Nanatsu no Umi yori Kimi no Umi," "Kakumei-teki Broadway Shugisha Doumei," and "Genshi, Joshi wa, Taiyou datta," and the audience all waved their bright red glow sticks, it struck me how important it is to just keep walking forward, one step at a time.

Urbangarde, a favorite group of Uesaka's, followed next, and then they teamed up for a special collaboration.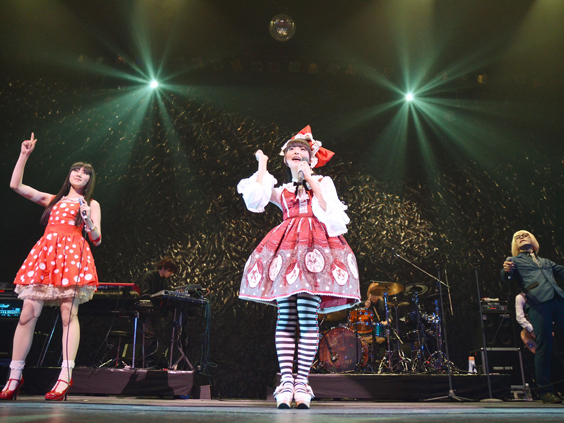 Urbangarde×Uesaka Sumire performing their new song.
Urbangarde performed "Tokai no Alice," "Skirt Kakumei" and "Datenshi Pop" before following with a new song, performed for the first time: "Sumire Code."
"I can't believe my name is in the title…"
Uesaka said this to me, obviously feeling humbled. I understand her feelings completely.

Below are the messages from the members of Urbangarde.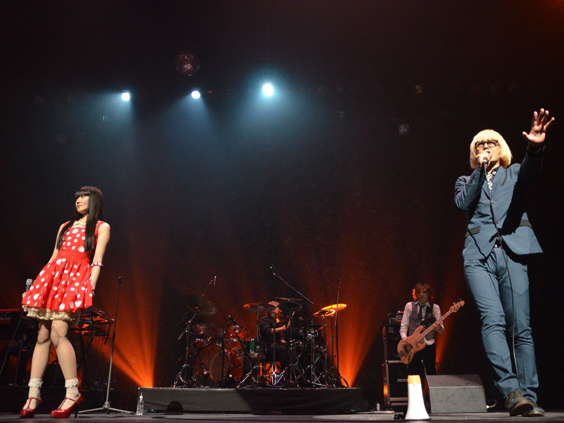 Urbangarde.
Hamasaki Yoko: "It was a night of overcoming genre barriers. Dividing everything into genres is utter nonsense, anyway. The event achieved some surprising collaborations, like "Urbangarde × Uesaka Sumire" and "JAM METAL Project with SU- METAL (BABYMETAL)," and I believe that Japan Pop Culture Carnival will serve as a bridge to connect the entire world. It seems like there are still plenty of interesting chemical reactions in store."

Matsunaga Tenma: "With all the different genres, like ani-song, idol, band, and folk song, at first glance, this event seemed more like a mixed martial arts event. But from the point of view of people outside of Japan, they all come under the one category of Japanese pop culture: J-POP. There's no need to make individual distinctions. I would love to take this showcase and present it to people overseas!"

Zeze Shin: "I strongly felt that this event quite remarkably painted a picture of Japan's music culture as seen by international audiences. From an outsider's point of view, there's no need to separate Japanese music into different genres. I'm sure JPCC will become an antenna that transmits Japan's music culture to the world. All together, let's show Japanese music to the world!"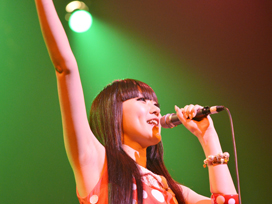 Hamasaki Yoko.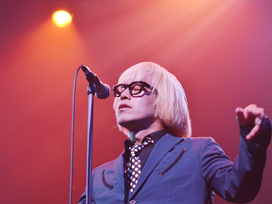 Matsunaga Tenma.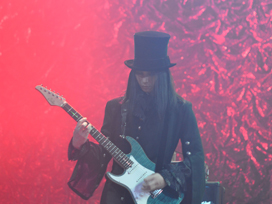 Zeze Shin.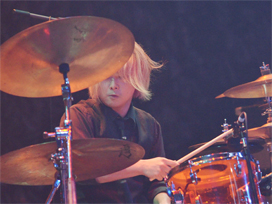 Kagiyama Kyoichi.
Next week will be the final report in the JPCC series as the event reaches its finale. Genre barriers were broken down and the hopes and feelings of both the artists and the audience merged into one, and I just hope what the words I write can do it justice.
Photographer Mariko Matsubayashi
A new article every Wednesday!
Next time: Japan Pop Culture Carnival – Part 4: Former Morning Musume member, Tanaka Reina, and her new band LoVendoЯ, the JAM Project-meets-SU-METAL (BABYMETAL) collaboration, and the grand finale that featured the entire cast.

Columnist: Sakurai Takamasa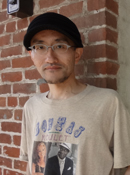 Contents Media Producer, author, journalist, managing director of Contents Street Inc. Chief Editor of iPhone magazine "Tokyo Kawaii Magazine" (ASCII Media Works), World Cosplay Summit Executive Advisor, Chief Researcher at Kodansha/Kodansha BC China Management Laboratory.
Cultural diplomat producing events in 103 cities in 24 countries. Books include "Galapagos-ka no susume"(Kodansha), "'Suteru' de shigoto wa umakuiku"(Diamond-sha), "Nihon wa anime de saiko suru
"(ASCII Shinsho), "Sekai no kawaii kakumei " (PHP Shinsho), and "Anime bunka gaiko "(Chikuma Shinsho). Writes regular columns in the weekly magazine "ASCII" and Yomiuri Shimbun.

●twitter http://twitter.com/sakuraitakamasa/
PRESENTS
All the info. on asianbeat's present campaign!