#82 Breaking Down Genre Barriers with Kageyama Hironobu, Tanaka Reina, SU-METAL (BABYMETAL) and Colleagues I've Met Through Cultural Diplomacy – Japan Pop Culture Carnival – Part 4
This is the final installment for my series on the "Japan Pop Culture Carnival in Matsudo 2013" (herein JPCC) – an event which I produced that was held in Matsudo Mori no Hall 21 on November 4th, 2013.
My article this week concerns two very important people who I met through my work in cultural diplomacy and their participation in the JPCC. One of these people is Kageyama Hironobu, whose footsteps I continue to follow in to this day. I believe that the musical bridge that currently connects Japan and the rest of the world exists largely through the consistent efforts of Kageyama-san and his band, JAM Project. To me, Kageyama-san is the greatest of older-brother-figures and very much like a master.
#7 Hironobu Kageyama – the Ani-song Artist Connecting Japan with the World!
The other person is former Morning Musumer member, Tanaka Reina. I've written this numerous times before, but if I hadn't happened to see Morning Musume perform in Paris in July 2010 (the group at the time lead by Takahashi Ai of the revered "platinum generation"), then I probably still wouldn't be involved with Japanese idols to this day.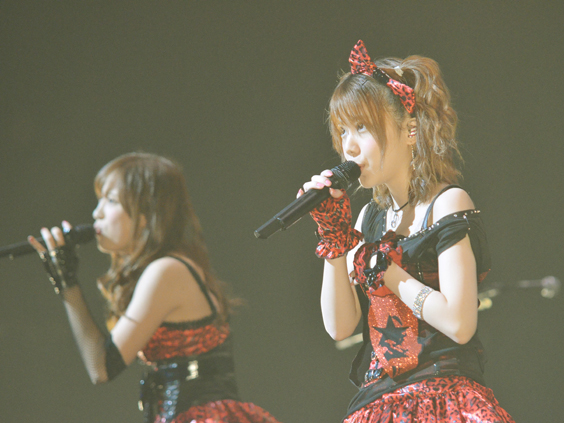 ▲LoVendoЯ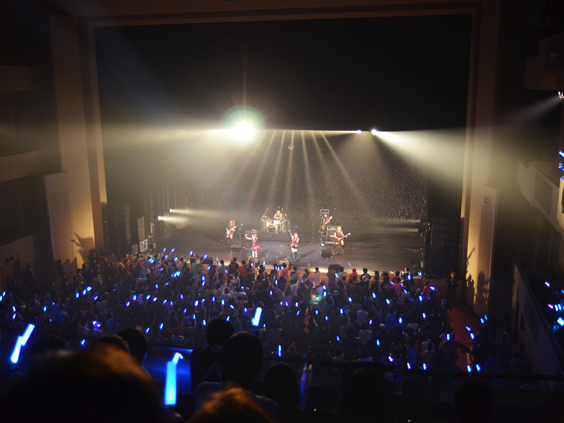 At the time I didn't even know Tanaka Reina's name, but I have no trouble recalling that spectacular performance she gave to 4000 people, even to this day.
"It was quite amusing watching Sakurai-san's face gradually change in expression."
This is what a friend in the music industry, who was also there on that day, said to me afterwards. And it was exactly as he put it.
#59 "As a singer, I don't think I will ever be completely satisfied" – Interview with Tanaka Reina – Part One
After graduating from Morning Musume, Tanaka Reina took up the lead in a new band called LoVendoЯ, and I was over the moon that they agreed to perform for me at the JPCC. In the lead up to the close of JPCC, LoVendoЯ performed four songs: "Kono Yo ni Shinjitsu no Ai ga Hitotsu dake aru nara," "Ame agari no Yozora ni," "Tadoritsuitara itsumo Ame furi" and "Omou ga mama wo Shinjite."
Below are the comments I received from the members of LoVendoЯ.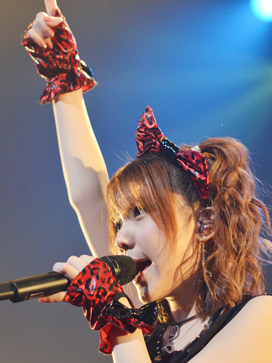 ▲Tanaka Reina.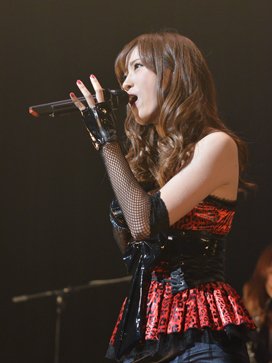 ▲Okada Marina.
Tanaka Reina: "I had so much fun performing at Matsudo. It reminded me how great it is to perform in a hall♪♪♪ I'm going to keep hold of these feelings and continue to work hard from here on↑↑(´ー`)ノ"

Okada Marina: "I feel that we overcame the genre barrier and all the artists and fans really came together as one! I still can't forget the jump that all the artists did together when we all went out on stage for JAM Project's "SKILL" at the end. It was a lot of fun."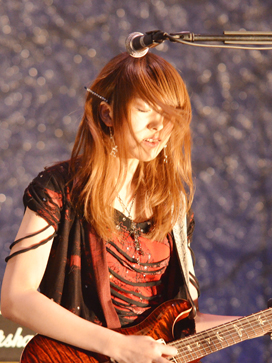 ▲Miyazawa Marin.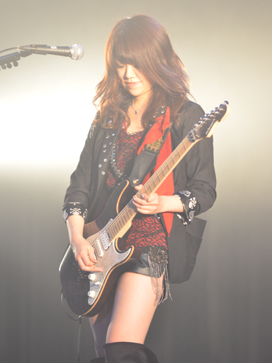 ▲Uozumi Yuki.
Uozumi Yuki: "I was excited from the moment we were told about Japan Pop Culture Carnival. I used to listen to JAM Project's CDs when I was in primary school, so the fact I got to see them live let alone sing "SKILL" with them on the same stage, it made me glad I continued with guitar and joined LoVendoЯ. I would love to be able to experience this again. Possibly a collaboration even…!!! I have high hopes for Vol.2!!"

Miyazawa Marin: "I couldn't believe that the artists of anime songs I listened to as a child were actually there singing in person and I was there with them. It was an amazing lineup of artists and they've given me hope and courage!"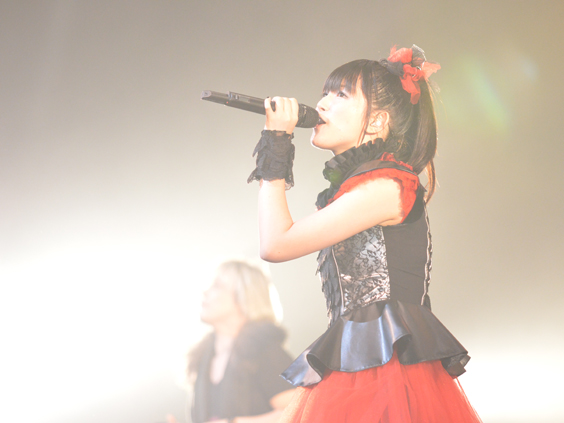 ▲SU-METAL
As LoVendoЯ finished their performance the event had reached the 3 hour 30 minute mark and was now coming to a close. Next to take the stage was a special collaboration performance by JAM Project and SU-METAL, put together especially for the JPCC: "JAM METAL Project with SU-METAL (BABYMETAL)."

Together they performed metal versions to three famous anime songs, and I'm sure that the songs they chose were a surprise even to the audience. They performed "Touch," "Yuzurenai Negai" and "Cat's Eye." These songs were chosen because they can be enjoyed by anyone regardless of age.

Here are the comments from SU-METAL (BABYMETAL).
BABYMETAL is a three-member group that merges idol with heavy metal and they're currently drawing a lot of attention from around the world.
#40 BABYMETAL: The Idol Group Set to Take the World by Storm
SU-METAL (BABYMETAL)
: "I got to perform in a collaboration with JAM Project! At first I was really nervous but everyone in JAM Project came up and talked to me a lot and they taught me various things – it was an extremely worthwhile experience. In the end it was just a really fun event. I would love to perform in an event like this again!!"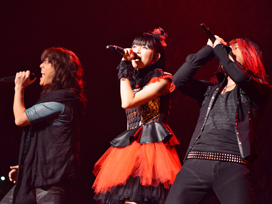 ▲JAM-METAL-Project-with-SU-METAL(BABYMETAL)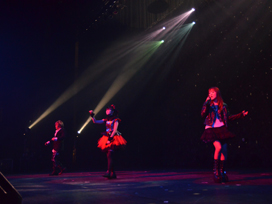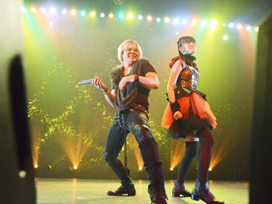 Here are the messages from the members of JAM Project.
Kageyama Hironobu: "I could give my impression of the event, but for me, I really just felt like saying "Congratulations, Sakurai-san!" You (Sakurai-san) have always been saying how you want to do a live event that mixes the "current" aspects of Japanese pop culture like idols, ani-songs and visual bands, and you actually pulled it off. All it took was one person to put the wheels in motion, his determination then triggering motivation in those around him, and then suddenly something that was once thought impossible is made possible. Thank you for this experience, Sakurai-san. Let's keep running this race together."

Okuda Masami: "This day taught me once more just how much variety there is in the Japanese pop culture that gets transmitted throughout the world. We normally don't have much to with idols, and while they are all kawaii on the surface, they exhibit a very professional kawaii-ness and they're difnified. Just as you (Sakurai-san) put it, there's true grit to idols that you don't see on the surface. I hope we get to perform together again. The unique collaboration that we got to take part in was fun also and I hope that we see more stimulating events like this in the future. I hope all the fans get behind and support these events too."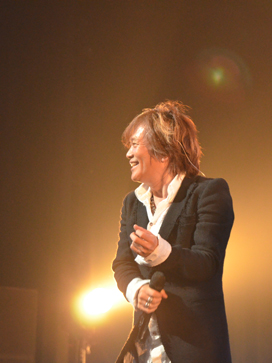 ▲Kageyama Hironobu.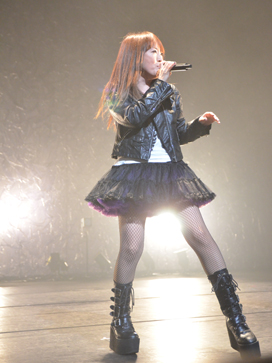 ▲Okuda Masami.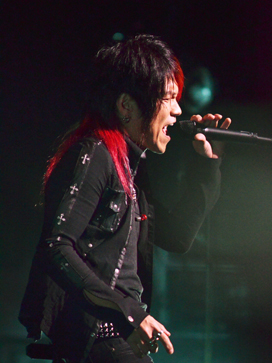 ▲Kitadani Hiroshi.
Kitadani Hiroshi: "A fusion of two representatives of Japanese sub culture: idol and ani-song. It seemed like an unlikely matching at first but I hope events like this continue and grow bigger each time."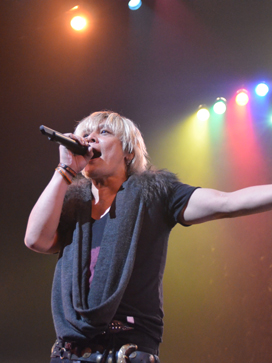 ▲Endo Masaaki.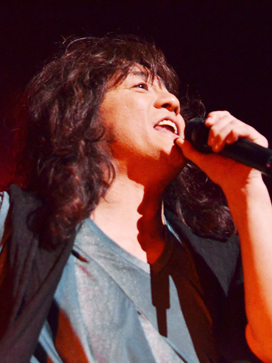 ▲Fukuyama Yoshiki.
Endo Masaaki: "It was a pleasure to take part in JPCC and really fun and refreshing to share the stage with all the various artists we don't usually get to perform with. In recent years Japanese pop culture has found strong support from people overseas but I think more people need to get behind it here in Japan. That's why I think it's so important to hold events like this. I hope that this event continues on endlessly and grows even bigger."

Fukuyama Yoshiki: "We're a group of ani-song singers with an average age of 50 not just sharing the stage with idols but performing a collaboration with them. I think we've entered into an interesting era. If you only ever keep music divided into its different genres and different eras and different countries of origin, nothing new would ever be born. New things are born when you mix it up and I think we're in a time now where things can be mixed with ease and incredible speed. I'm sure we'll eventually see new things being born one after the other. I can't wait."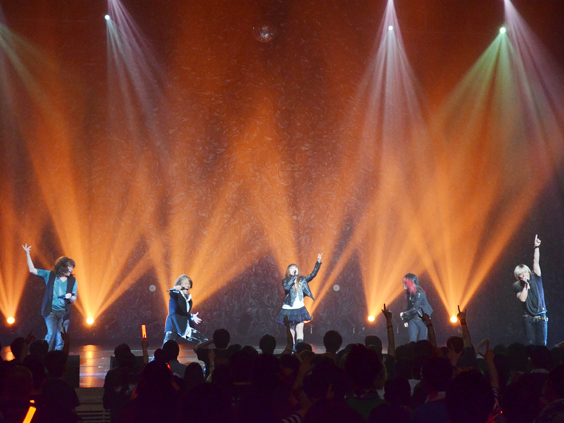 The 4-hour concert ended with JAM METAL Project performing a "JAM Project medley" before being joined by the entire cast to perform JAM Project's "SKILL" for the grand finale. I too joined in, jumping along with Tanaka Reina and Kizuki Minami who were beside me. It was the moment that saw the artists and the entire audience go beyond genres and individual tastes and come together as one.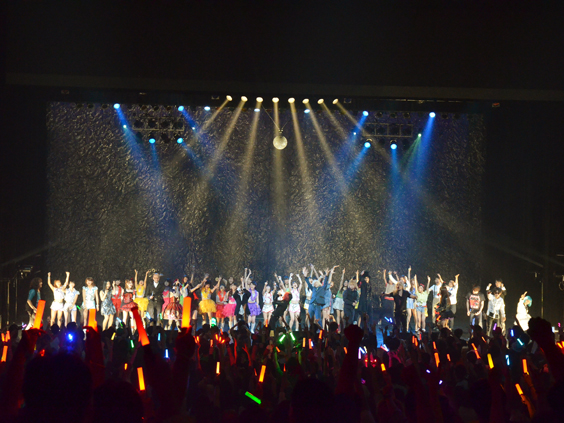 ▲The entire lineup of artists on stage for the grand finale.
After the concert, photos that the artists took together at the event began popping up all over their blogs and on Twitter.
From the view of the rest of the world, there is only one Japan.
From here on I want to challenge myself even further to attempt to do those things that are sometimes so obvious that we don't even notice them or don't seem possible. And I hope that these events attract people from all over the world as well. I even received a message from one of my followers on Twitter who came from overseas to attend the event.

Matsudo Mori no Hall 21 manager, Hayashi Soutaro, gave his thoughts on the event:

Hayashi Soutaro: "I have nothing but gratitude for all the people who came to see the event, all the artists and all the staff working behind the scenes! When I met Sakurai-san, who shares the same dream for Japanese pop culture as I do, we said "let's make something tangible," and after two years of trial and error we finally did it with this event. I'm in admiration of the chemical reaction created by mixing all the various genres, but this is not the end goal, rather, a positive sign towards the next JPCC in Matsudo next year. Next year's event will be even bigger and better and hopefully becomes a "dream space" for a lot people, but bearing in mind it will require even more support and cooperation than this first event also."

For me, JPCC was the first large-scale event that I've produced here in Japan, but I hope that I get to hold an event with all of my dear colleagues and friends again.
Photographer Mariko Matsubayashi
A new article every Wednesday!
Next time: Moscow's annual early winter tradition. Report on Moscow's biggest Japanese pop culture event, J-FEST.

Columnist: Sakurai Takamasa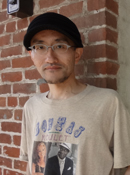 Contents Media Producer, author, journalist, managing director of Contents Street Inc. Chief Editor of iPhone magazine "Tokyo Kawaii Magazine" (ASCII Media Works), World Cosplay Summit Executive Advisor, Chief Researcher at Kodansha/Kodansha BC China Management Laboratory.
Cultural diplomat producing events in 103 cities in 24 countries. Books include "Galapagos-ka no susume"(Kodansha), "'Suteru' de shigoto wa umakuiku"(Diamond-sha), "Nihon wa anime de saiko suru
"(ASCII Shinsho), "Sekai no kawaii kakumei " (PHP Shinsho), and "Anime bunka gaiko "(Chikuma Shinsho). Writes regular columns in the weekly magazine "ASCII" and Yomiuri Shimbun.

●twitter http://twitter.com/sakuraitakamasa/