[JAPAN! JAPAN! JAPAN!] #102 Are all European Girls who Love Japanese Idols this Shy?
Continuing on from my article last week, in April 2014, I attended Italy's largest Japanese pop culture event, ROMICS, for the first time since fall, 2011.

It's an event that attracts more than 100,000 people and is now even being held twice a year: once in spring and again in fall. For me, this was my first time to attend the spring ROMICS. Whenever I give talks at events like this, I often take with me a video letter from Japanese artists who I think fans overseas are just dying to see and I play it to the audience.
Everybody has a limit to what they can do in their given schedules. There are many times when I too have wished I could have been somewhere but couldn't due to such schedule restraints. I want to create a portal for all the people overseas who come to these events that gives them access to as much of Japan as possible. This is why I decided to incorporate video letters into my talks and I'm grateful to all the artists who support me in this cause.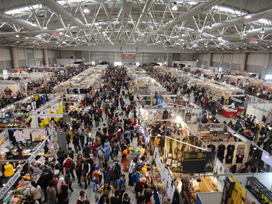 Inside ROMICS.
For this year's spring ROMICS, I received a star-studded collection of video letters to take with me, including those from Hello! Project's Morning Musume '14, Berryz Kobo, ℃-ute, and for the first time, S/mileage and Juice=Juice.
What's your impression of Italy? What kind of places would you like to visit?
I want to try authentic pizza and pasta and gelato… There's certainly a gap between the way these girls speak so frankly about such things and the way they pull off perfect dance routines in their music videos. It's this "gap" that draws people to Japanese idols and I'm sure that the video letter I played for the girls in Italy, who do their best to keep up-to-date with their favorite idols and read their blogs in Japanese, was a valuable gift to them.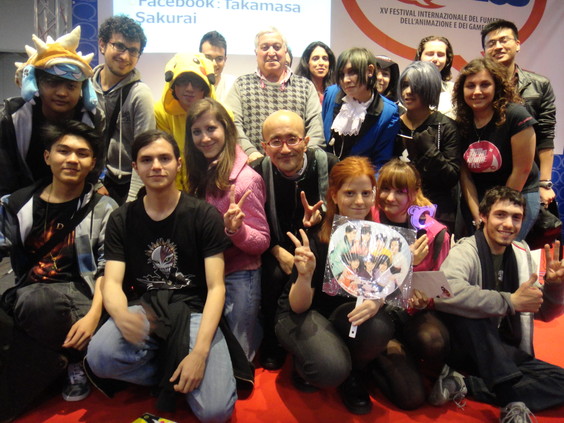 A photo with the ROMICS event goers.
This time, a university student came all the way from Venice, in northern Italy, to hear my talk. Chiara (19) is a student at the University of Venice where she studies Japanese.
I first met Chiara in February 2012, in Paris. She is a huge fan of ℃-ute's Suzuki Airi, and went to Paris with a friend to see Airi perform with her other unit, Buono! Not surprisingly, we met up again in July 2013 when ℃-ute performed in Paris.
Chiara left her home in Sicily to pursue Japanese at the University of Venice – an institution renowned for Japanese language studies. And at the root of it all is her love of Suzuki Airi and Japanese idols.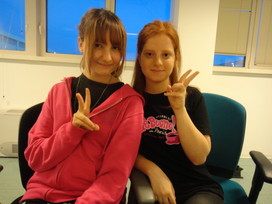 Chiara (left) and Valeria.
This time around I interviewed Chiara, along with the friend who accompanied her to ROMICS, Valeria (17), a high school student and Rome local. Valeria is a big fan of Berryz Kobo.
"I first found out about Airi from a link that a friend sent me of a Buono! music video. After that, I found out about ℃-ute and became infatutated with Airi." (Chiara)
"For me it all began with Buono! singing the opening theme song for the anime "Shugo Chara!" From there I got hooked on Berryz Kobo and its members Tsugunaga Momoko and Natsuyaki Miyabi." (Valeria)
In a past interview with Suzuki Airi and Buono! she spoke about how she felt that singing the anime theme song with Buono! was a key factor in helping her understand how to reach people throughout the world. Anime is like a large portal that links Japan with the rest of the world.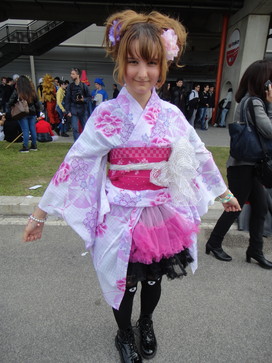 The Institute of Japanese Culture and the Japanese Embassy in Italy ran a
yukata
booth. "I've always wanted to try one on." (Chiara)
Anime, Manga, Cosplay: Portals Connecting Italian Girls to Japan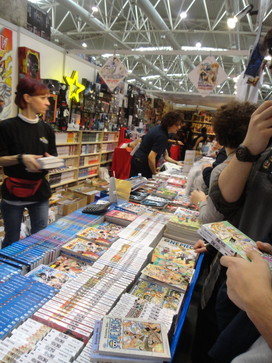 Italian versions of Japanese manga being sold at the event.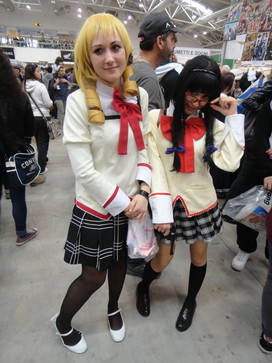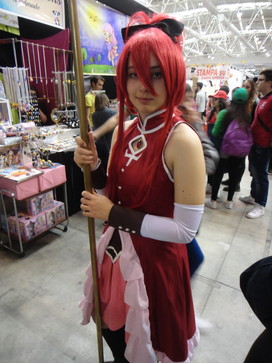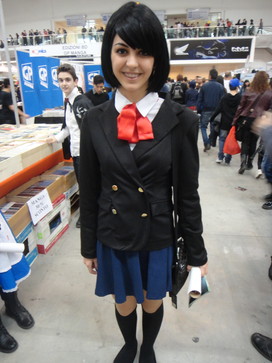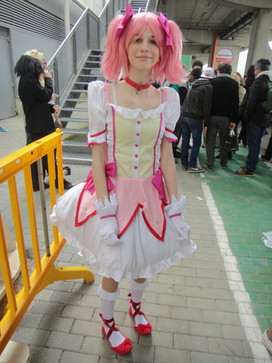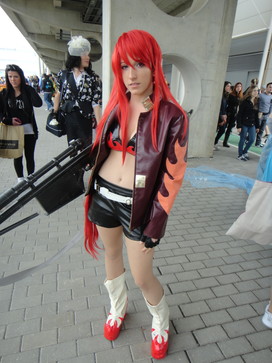 I Recommend Combining a Trip to ROMICS with Sightseeing Around Rome