[JAPAN! JAPAN! JAPAN!] #104 Idols' Challenge to Rock: A Concert Coming to Shibuya this Summer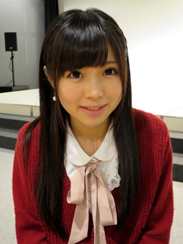 ▲Himesaki Ami.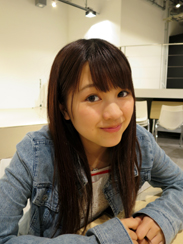 ▲Takaki Yuumi.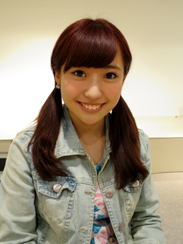 ▲Yamaki Ayano.
I asked the members of LinQ about their thoughts on the upcoming concert.

-What's your impression of rock?

Yamaki Ayano "My impression is it's cool, and at times, intense. And the fashion: black."
Himesaki Ami "You can feel the strength of the emotion behind the musical performance and the feelings behind the lyrics. "These are the feelings I want to express, so here they are in song" That's my impression. Personally, I think that ani-song and rock are two different things."
Takaki Yuumi "It's always full-force and it feels like there's an intense story behind it all."

-What's your impression of Shibuya, where the concert showdown will take place?

Yamaki "Lots of young people."
Takaki "Shibuya is like the Tenjin of Fukuoka. It's where I want to generate a storm with all the rock people."
Himesaki "It has convenient public transport (lol), and I hope that a lot of people come out to see us."

- As members of LinQ is there anything you're currently trying to improve on?

Yamaki "Everyday I think about what I can do to become the best entertainer I possibly can. I think about things like how to use expression in my singing or dancing to better engage the audience, how to captivate people."
Takaki "There are so many idols already and everyone is aiming for the top. It's a difficult task but everyday I think about what we can do to spread the word about LinQ to as many people as possible."
Himesaki "I think that would be getting all the members to feel the same thing – that we can do it."

-Is there anything particular you want to try at the upcoming concert?

Himesaki "When we get the crowd fired up, I would like to try it in a different way than usual, a more intense way."
Yamaki "Even if we perform the same songs, I would like do them to different choreography – a more high-energy dance perhaps. I would like to discuss ideas with the other members who will be performing. At any rate, I want the song we perform with DOMINO88 to be really full on. You'll have to wait until the day of the event to find out what song that will be, though."
Takaki "The situation is completely different to what we're used to, so I want to try all the things that we don't usually get to do. I even want to try the things that make us go, "What? We're going to be doing THAT?!""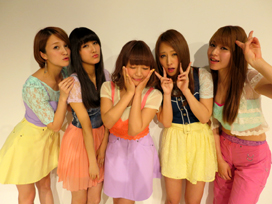 ▲THE Possible in idol-battle-mode.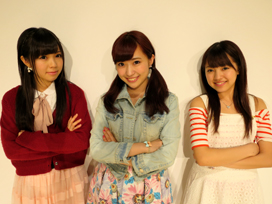 ▲LinQ in idol mode.
I also asked THE Possible leader, Okada Robin Shoko, as the group representative, how she feels about the upcoming concert.
Okada Robin Shoko
"[Idol Vs. Rock] – it's a pairing of genres that couldn't be further from each other. Lately, THE Possible have been performing with a live band so now we have quite a few more rock-flavored songs, but an actual face-off like this is a little daunting. There's no way we're going to lose, though! We're going to set the event hall on fire!"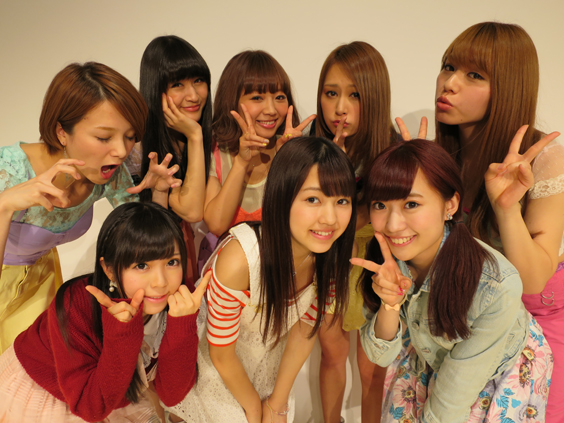 ▲THE Possible (back line), and LinQ.
The war of words amongst the artists set to perform has already begun on Twitter and is quite amusing to watch.
I hope that both rock fans who don't give any regard to idols and idol fans who don't usually listen to rock come out to see this concert. With the chemical reaction that can be achieved with everyone gathered under the one roof, we can create another passageway that connects Japan with the world.  
Details on the concert can be found here → 
http://cytv.jp/taiketsu
A new article every Wednesday!
Next time: Overcoming setbacks and the battles idols have fought to get where they are today.
Related Articles
J Pop Culture Observations
- Back Number

Columnist: Sakurai Takamasa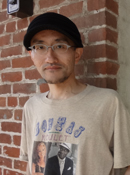 Contents Media Producer, author, journalist, managing director of Contents Street Inc. Chief Editor of iPhone magazine "Tokyo Kawaii Magazine" (ASCII Media Works), World Cosplay Summit Executive Advisor, Chief Researcher at Kodansha/Kodansha BC China Management Laboratory.
Cultural diplomat producing events in 103 cities in 24 countries. Books include "Galapagos-ka no susume"(Kodansha), "'Suteru' de shigoto wa umakuiku"(Diamond-sha), "Nihon wa anime de saiko suru
"(ASCII Shinsho), "Sekai no kawaii kakumei " (PHP Shinsho), and "Anime bunka gaiko "(Chikuma Shinsho). Writes regular columns in the weekly magazine "ASCII" and Yomiuri Shimbun.

●twitter http://twitter.com/sakuraitakamasa/ http://twitter.com/sakuraitakamasa/
PRESENTS
All the info. on asianbeat's present campaign!