[JAPAN! JAPAN! JAPAN!] #104 Idols' Challenge to Rock: A Concert Coming to Shibuya this Summer
I first began my work in cultural diplomacy in 2008 and since then I've visited a number of universities overseas and had discussions with students on one topic in particular.
"In the past, a lot of people throughout the world have been of the opinion that Japanese anime shouldn't be shown to children because it contains a lot of violence and sexual content. What are your thoughts on that?"
The opinions I received from the university students, regardless of whether they were anime fans or not, were all clear-cut:
"Why even limit the discussion solely to "anime"? There are plenty of action movies and Hollywood films that portray violence and sexual content. But no one goes around saying that Hollywood films aren't appropriate from an educational perspective so they shouldn't be shown to children. The people who object solely to anime are generally those who have never even seen a Japanese anime."
A lot of students also said things like:
"Are there even any other mediums that advocate the stupidity of war or the meaninglessness of fighting as much as Japanese anime?"
I'm of the same opinion. War is one of the themes constantly dealt with in Japanese anime.
So then how did this gap in the divergence of opinions come about? It's because the understanding that "animation is for children" has been firmly rooted in people's minds since the 20th century. Perhaps the only people who chose to ignore this notion and decide to make what they wanted to make and pursue the possibilities of visual expression to address some of the bigger issues in the world were the people behind Japanese anime.
But this gap is not just an overseas issue, nor is it limited solely to anime. Even within Japan, there are many things that lumped into categories; many of which are things that are accepted overseas as being uniquely Japanese.
This includes things like anime, manga, cosplay, and Harajuku fashion. But in actual fact, even within each of these genres there are multiple individualities. The various individualities exist within the overall framework of the genre, but they're not something that you can easily determine unless you actually take an interest in the genre yourself.
But I guess you could say that, when it comes to "creating," it's those minute details that Japanese are so particular about.
The same goes for idols. There was a time when I too was guilty of lumping "idols" into the one category. And that period of my life when I thought that way was so long that I can also understand that "gap" in differences of opinion, too.
But really, within the one genre there is infinite individuality, and that diversity of the Japanese mentality is a whole living, breathing world of it's own. Just as no one these days discusses rock as though it were one category, idols shouldn't be discussed as one general category either.
As a producer I want to approach that issue of individuality head on, and I'm continually meeting more and more idols who make me feel so, too.

On July 8th, two idol groups will go head-to-head with a rock band at a concert to be held at Shibuya live house, "duo MUSIC EXCHANGE," and produced by yours truly.
The groups to take up the challenge include two idol groups: THE Possible, an idol group who after many years have steadily risen to popularity; and LinQ, the Fukuoka-based group which I've introduced in this column on a number of occasions and who are now regular chart-toppers on the national music charts; and the bands: Urbangarde, a group with a strong theatrical flavor and an ever-increasing overseas following; and DOMINO88, a ska band returning to the stage for the first time after a lengthy hiatus.
I say they're going "head-to-head," but it's not about deciding a winner. My intention as producer, rather, is the chemical reaction amongst the performers and crowd that follows.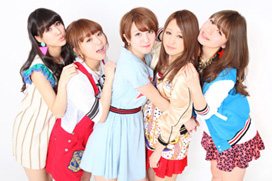 ▲THE Possible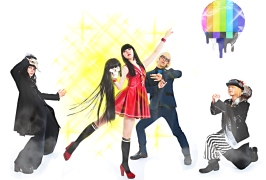 ▲URBANGARDE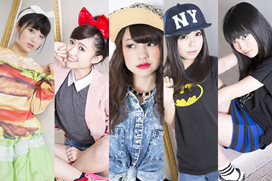 ▲LinQ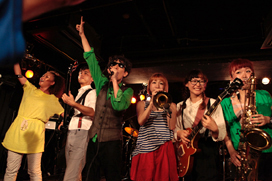 ▲DOMINO88
THE Possible also performed at another of my genre-bending concerts, Japan Pop Culture Carnival, held last year. And while I was aware of the girls' potential as live artists, as a producer, as I watched their performance, I had a feeling as though I still had unfinished business with them. It was a concert that featured an array of collaboration performances amongst all the various artists after all, and I still wanted to see the kind of chemical reaction that could be achieved if THE Possible were to perform with an artist from outside the idol genre.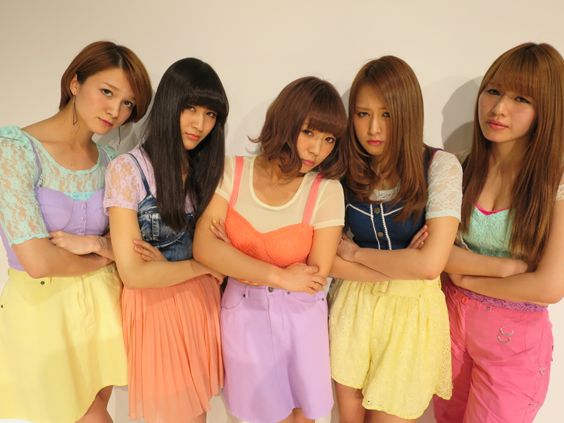 ▲THE Possible in battle-mode.
This will also be the first time that LinQ, one of the "local idol" groups paving the way for a new form of individuality in the idol genre, will be performing in one of my concerts. The potential of idols isn't limited to Tokyo alone. There are ways to spread Japanese culture throughout the world without going through Tokyo. Local idols, for one, have enormous potential to inform the world of the diversity of Japan's local "regions."
And so, I had these two idol groups who I wanted to appear on stage, throw down the challenge to these two bands that I talk with on a regular basis.
Both Urbangarde and DOMINO88 are bands who I believe want to be the ones to break down the barriers surrounding "rock" and "bands" all over the world.
The theme of this concert is "chemical reaction," so I won't just be getting each of them to perform songs already in their repertoire. THE Possibly and Urbangarde, and LinQ and DOMINO88 will be performing together on stage for the first time. And of course, I'll have all four groups perform together as well. But what songs they choose to do battle with and what songs they collaborate on is just something you'll have to wait and look forward to.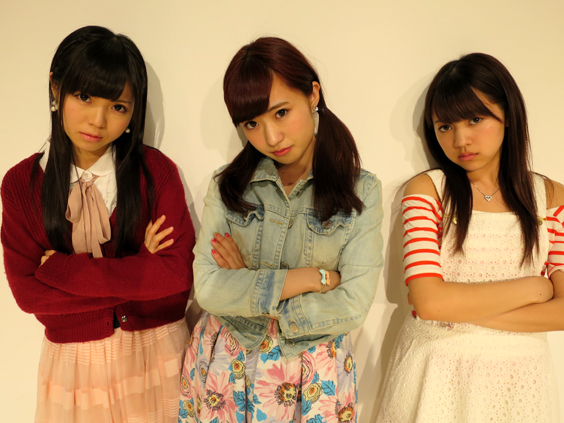 ▲LinQ. Battle-mode.