#54 Buono! Live in Paris – Report #3 Interview with Airi Suzuki
Buono! fans from in and around France flocked to Paris to see the three girl unit perform live in what was a spectacular concert.
The day after the concert I continued on to Hong Kong and the three girls from Buono! went back to their daily lives in Japan. After I returned from Hong Kong and just before leaving again – this time for Turkey and Jordan – I scheduled an interview Airi Suzuki.

"Paris was just so different to what I'm used to. It was like a dream." Airi said, speaking again of her first experience performing overseas.

"I had heard about the passion of overseas fans from the members of "Berryz Kobo" and "Morning Musume" who had already experienced it for themselves, but it was still even greater than what I had imagined. I was really moved that we have such loving fans overseas."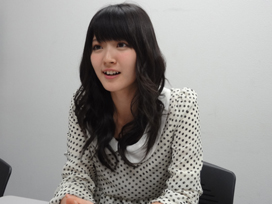 Airi says she has a deep respect for John Lennon.
Since I've been involved in this line of cultural diplomacy, I've frequently witnessed just how passionate overseas fans can be towards Japan, but as mentioned previously, this was Airi's first ever international performance and her first time to gauge the emotion of her international fans. I think the decision to dive head first into such an experience is really going to have a big impact on her life from here on.

"I never really thought that travelling to Europe would be a part of my life somehow. I want to study abroad someday and I have friends who have come back from America after living over there for a period of time, but for me Europe was like a world inside a painting, and even when I was told we'd be performing there it took a while for it to actually sink in."

I can still remember the look on Airi's face as she exclaimed to me at the end of the autograph session the day before the concert, "That was so much fun!"

"I now understand the saying 'you'll never know if you never go.' There were a lot of girls who cried when they saw us and I really sensed that they were always thinking of us regardless of the vast distance to Japan. After seeing for myself I now know just how important it is to go out and see the rest of the world. We have so much that we need to pass on to people overseas. And the fans won't truly know what a Japanese idol concert is like unless they get to experience for themselves also."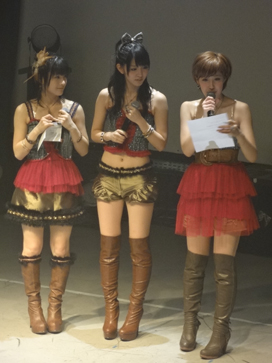 Reading a letter in French at the concert.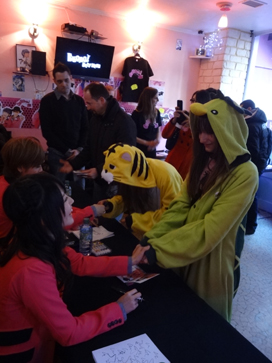 Autograph session held at a café in Paris. They said that after this experience they learned the importance of studying a foreign language.
All overseas fans say how they want more Japanese idols to visit them. K-POP artists, on the other hand, are frequently visiting different countries and appearing in media all over the world just like it's a regular part of their jobs as performers. I asked Airi Suzuki what she thought about Japanese idols and the overseas market.

"The main problem, I think, is English ability. After all of this I've learnt just how important foreign languages are for Japanese idols. The fans who came to our autograph session tried so hard to communicate with us. You only get one chance at these things and if the feelings the fans are trying to convey don't get through to the artist, I think that's pretty sad. It made me seriously want to improve my English ability. I want to be able to speak with people all over the world.
Even when we read out the letter in French at the concert, I learnt that the more understanding there is between the fans and performers, the more they enjoy the performance."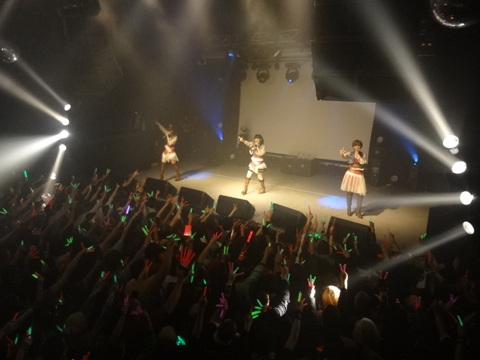 The concert. The fans' enthusiasm far exceeded Airi's expectations.
After seeing their live performance I developed an even stronger awareness of this cultural product that is the Japanese idol and I decided to relay some of my own thoughts on the success of idols overseas.

"Idols are a part of Japanese culture and I think that we should be showing the world just what Japanese idols are. Buono! is a blend of "idol meets rock," but after seeing the performance I understood how important it is to maintain that Japanese originality. The power of anime can also be quite significant. The fact that Buono! perform the theme song to "Shugo Chara!" (aka "My Guardian Characters") was one of the reasons people came to know who Buono! were in the first place."
"Shugo Chara!" is a highly popular series in France and even made the top spot on a list of favorite anime in a survey of high school students conducted by the Japanese consulate in France.

"There are times when I've felt like I've lost all confidence in what I'm doing, but I believe that idols are a part of Japanese culture and I want to be able to say that to people with confidence. I don't want everyone in France to think that now that Buono! have been to visit they won't be back again. Idols can't just be waiting around for another opportunity to present itself either. We should be actively trying to participate in functions and events overseas. I want to be able to create more of such opportunities myself too."

Not just Buono! either; there are a lot of fans all over the world hoping that one day "C-ute" will come and perform for them also. I spend the better part of a year in the company of young people in various countries all over the world, so I like to think that I have a fairly good understanding of how these fans feel.

After speaking to the very articulate Airi Suzuki and voicing my opinions on Japan, I eagerly await the day when Japanese idols aspire to a place on the world stage.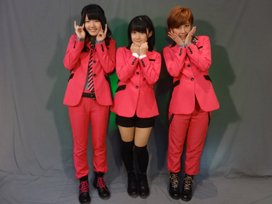 The Buono! three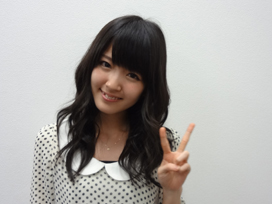 "The croissants were to die for"
Out Every Wednesday!
Next time: My visit to Jordan's capital, Amman, and the youth I met on my first trip to the Middle East in four years.
Columnist: Sakurai Takamasa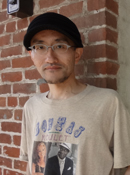 Contents Media Producer, author, journalist, managing director of Contents Street Inc. Chief Editor of iPhone magazine "Tokyo Kawaii Magazine" (ASCII Media Works), World Cosplay Summit Executive Advisor, Chief Researcher at Kodansha/Kodansha BC China Management Laboratory.
Cultural diplomat producing events in over 100 cities in 23 countries (as of July 1st, 2012). Books include "Galapagos-ka no susume" (Kodansha), "'Suteru' de shigoto wa umakuiku" (Diamond-sha), "Nihon wa anime de saiko suru
" (ASCII Shinsho), "Sekai no kawaii kakumei " (PHP Shinsho), and "Anime bunka gaiko " (Chikuma Shinsho). Writes regular columns in the weekly magazine "ASCII" and Yomiuri Shimbun.

●twitter http://twitter.com/sakuraitakamasa/