#10 Sumire Uesaka and Yun*chi Talking About the Anime and Anison that they Love so Much(1/3)

I first met Sumire Uesaka in 2010. Back then, it was Uesaka who took interest in my cultural diplomacy activities more than any other, and together, we've had countless conversations about Japan and the world, and we travelled to Qatar and Moscow for cultural diplomacy. We've even co-authored a book, "Sekai de Ichiban Yuniiku na Nippon dakara Dekiru koto – Bokurano Bunka Gaikou Senden" (Parco Publishing).
[JAPAN! JAPAN! JAPAN!]
#13 Interview with Voice Actor, Uesaka Sumire - Her Love of Russia and Aspirations for the Future
#39 Cultural Diplomacy with Voice Actress, Uesaka Sumire, in Qatar.
#84 Sakurai Takamasa & Uesaka Sumire's New Year's Discussion – Part One – "Even in Different Countries, Otaku are Otaku. We're the Same all Over the World"
As she builds a career for herself as a voice actress, last year, Sumire Uesaka also began activities as a solo artist. Another who professes to be a big Uesaka fan is singer and model, Yun*chi, who's currently active both at home and on the international scene.
Together, Yun*chi and Uesaka wrote the lyrics for "Your song*," the end theme song to the anime series, "Log Horizon." So I decided to have these two dear colleagues of mine perform together at my event, Japan Pop Culture Carnival in Matsudo 2014.
They will perform Uesaka's hit song, "Genshi, Jyoshi wa, Taiyo Datta." It's the theme song to the anime "Genshiken 2" and it was written by Uesaka's idol, Haruko Momoi.
Both girls are huge anime fans and this was the first time I had them get together for a chat.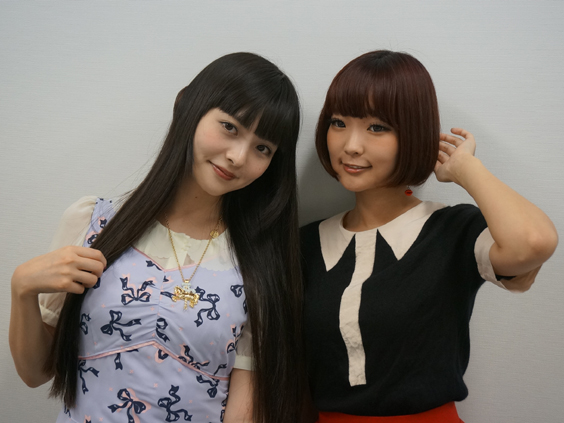 ▲Left: Sumire Uesaka Right: Yun*chi
PRESENTS
All the info. on asianbeat's present campaign!
* "A local specialty set discovered during the trip to Tagawa Area giveaway! Apply by Mon. 11 Jan. 2021 (JST)!