#26 From Maid Café's to Idol Fanatics – Mexicans Love Japan(1/3)

My First Cultural Diplomacy Visit to Mexico in 4 Years
Around mid-April 2015, my work in cultural diplomacy took me to Mexico. My activities this time around were as the Executive Office Director of the International Otaku Expo Association (IOEA) that Ambassador Akira Yamada and the good people at the Embassy of Japan in Mexico and I helped form. As a former otaku diplomat to Spain, Yamada-san is loved by the local youth there and not only is he a mentor for my diplomatic activities, but he's a dear ally as well.
I found out first hand just how many young people in Mexico are crazy for Japanese idols, J-rock and Harajuku fashion when I visited in 2011, as well as through social media upon returning to Japan, so I was really looking forward to my latest trip to Mexico, but the fervor I experienced this time around was possibly even greater than what I saw in 2011.
Someone who has had an interest in my cultural diplomacy activities for some time now is hitomi, a popular maid and owner of Akihabara maid café, "@homecafe." Hitomi has told me previously how she wants to herself be more active in helping to spread Akiba culture throughout the world, and when she heard I was going to Mexico she made the hasty decision to join me.
I was quite certain that the young people in Mexico would be excited to welcome her, but their excitement far exceeded all expectations. It was a three-day visit that brought back memories of my global pilgrimage with the 2009 Ministry of Foreign Affairs appointed Kawaii Ambassador, Misako Aoki.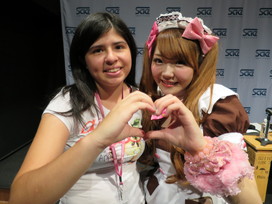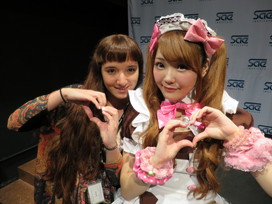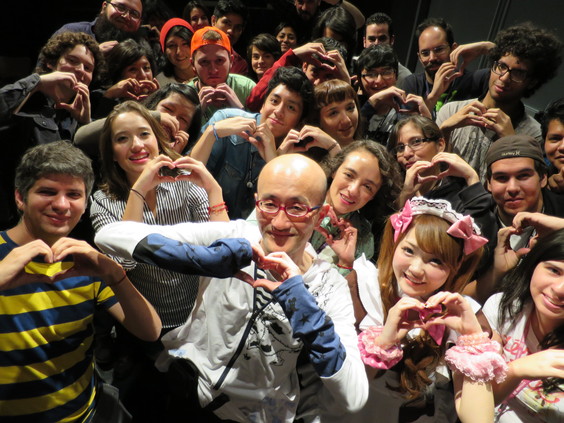 With the students at SAE. The heart pose is a universal gesture.
The first appearance that the Japan Embassy prepared for us was at the SAE Institute – a technical school that specializes in audio engineering and programming. Here we took part in a Q&A session with about 50 of their students. I myself teach classes at Digital Hollywood University's Graduate School, so it was really fun to communicate with students at a school of a similar vibe. Speaking with the students it occurred to me that the certain aura that young people trying to become creators give off is the same wherever you go, regardless of facial features or what language they speak. It's just like when I go to otaku events overseas. I know that every part of the world is different, but at these events you feel like there's nothing that different about us at all and we're all really quite the same no matter where you go. And it's these moments that give me the energy I need to keep traveling the world and advocating cultural diplomacy. It's also why giving talks and lectures at universities and technical schools are such an indispensible element in my cultural diplomacy activities.
The young people I met here hope to one day be involved in the creation of something that will move the hearts of people all over the world.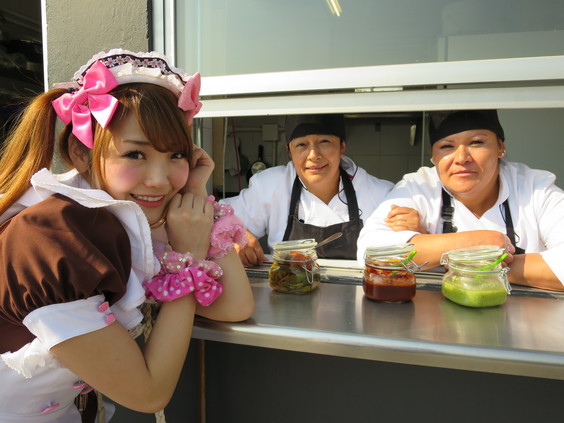 At the rooftop café at SAE. This is one of my favorite shots from the trip.
The next stop on our itinerary was the Universidad Nacional Autónomade México (UNAM) (National Autonomous University of Mexico). Here I gave my first cultural diplomacy lecture in Mexico since 2011. About 4500 students turned up for the lecture (a few even having to stand and watch).
One of the great rewards of my job that allows me to keep going down the path of cultural diplomacy is being able to share the various aspects of Japanese culture that are loved by people throughout the world and the reasons behind that love of Japanese culture with the audiences that come to my lectures.
These young people and lovers of Japanese culture the world over develop their interest in Japan through watching anime or various other avenues online. Most of these people have never been to Japan or even seen a concert by a Japanese artist. That's also why their level of enthusiasm is so intense.
And there are loads of people throughout the world who love Japanese culture just as much as they do. That's the message that I want to keep trying to relay to young people wherever they may be, and to tell them that I want them to not lose sight of that dream to one day make it to Japan.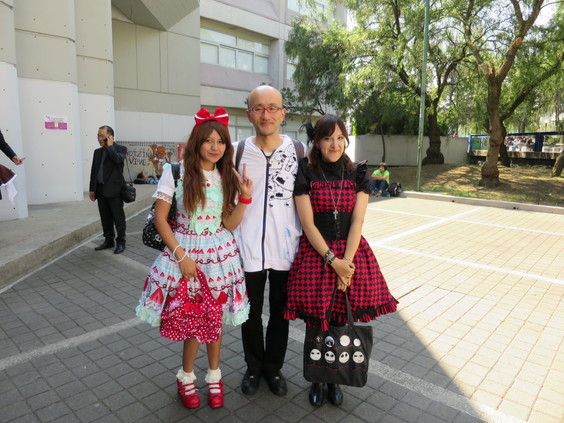 With the Mexican lolitas who came to my lecture at UNAM.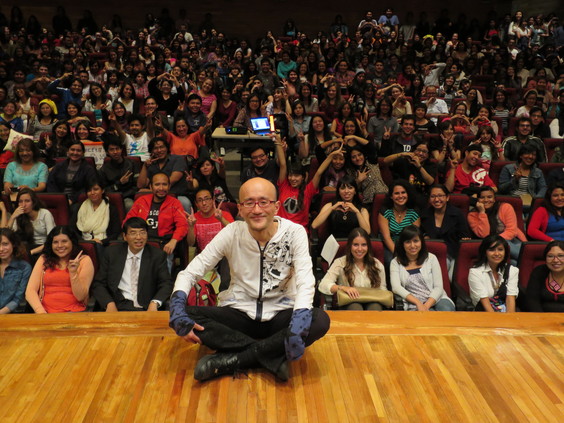 After my lecture at UNAM. That's Ambassador Yamada in the front row.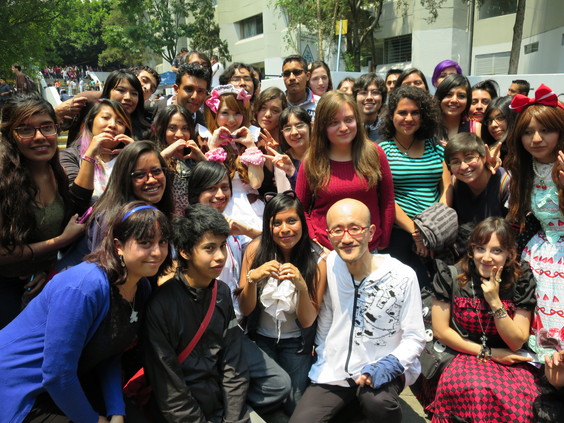 With the students after my lecture at UNAM.