Interested in finding out more about Batten Girls? Here are some tracks you have to check out!

From classic idol tracks to cutting-edge sounds... The group are known for songs that have a cool vibe and explore various outlooks on the world!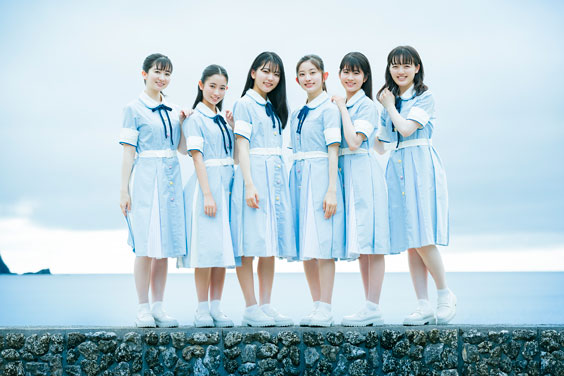 BATTEN GIRLS
(From left) Haruno Kiina, Yanagi Miyu, Ueda Riko, Seta Sakura, Aoi Rirua, and Kiyama Ai
BATTEN GIRLS are a six-piece idol group based in Fukuoka / Kyushu, Japan. Over seven years have passed since the group first formed in June 2015. Two new members, Aoi Rirua and Yanagi Miyu, joined last year. This marked the start of a new era for BATTEN GIRLS. The music that BATTEN GIRLS released during their early years can be characterized by rock rhythms and lyrics sung in a distinctive Hakata dialect. Whether it's classic idol songs or cutting-edge beats that they've created with some leading figures in the Japanese music industry... The group are known for releasing tunes that have a cool vibe and explore various outlooks. And don't forget their amazing stage performances!

This article aims to tell you a little bit more about some tracks that will give you a feel for the music that BATTEN GIRLS have been making for the last seven years and the new style they have been developing since the addition of the two newest members!
虹ノ湊 (Kouno Minato, Released in 2022)
*BATTEN GIRLS Official YouTube Channel
This single was written and composed by
Rinne
, an up and coming rapper from Munakata City, Fukuoka Prefecture. The track was released in June 2022 and takes its name from Kouno Minato in Munakata. The group's recent Japanese-style hits such as "OiSa" and "YOIMIYA" made way for this refreshing, up-beat track!
YOIMIYA (2022年)
*BATTEN GIRLS Official YouTube Channel
This song was produced by Kenmochi Hidefumi, a member of the musical unit "WEDNESDAY CAMPANELLA." Kenmochi has an exceptional skill set and the ability to constantly create unique dance tunes. The song features dance beats layered on top of traditional Japanese musical instruments. The composition also has a wonderfully emotional quality. Their cool dance moves will surely transport the audience to another world. It's like you're at party the night before a "matsuri" festival! You've got to see them live!
Watashi, Koi Hajimetatteyo! (2021)
*BATTEN GIRLS Official YouTube Channel
This dance tune explores the emotional turmoil of a girl in love. Just like with the track "OiSa," Watanabe Shinobu from ASPARAGUS provided the music while the Fukuoka-based choreography team "Furitsukekagyou air:man" were responsible for the dance routines. In the music video, the group perform a unique mechanical-inspired dance to a track with a soft melody. It has the vibe of of girls chatting about bittersweet feelings associated with love. You can spot all kinds of emotions conveyed in the video, including robotic expressions to beaming smiles!
Barikata Pride (2021)
*BATTEN GIRLS Official YouTube Channel
This was the first single that BATTEN GIRLS released following the addition of Rirua and Miyu to the group. This is a bit of a throwback to one of their original ska-style rock tunes. The track is full of local "barikata" pride and strong expressions of emotion. It definitely makes you want to throw your hands up in the air and party. The group livestreamed a "free to view real time live performance" of this song utilizing 5G technology! This was the first time that this had been done Japan, so it has become something of a hot topic!
OiSa (2020)
*BATTEN GIRLS Official YouTube Channel
This has to be the track that most people associate with BATTEN GIRLS! The ambitious number signalled a big shift for the group. It saw them move from a rock sound to Japanese-style dance music and it has been really well received on social media. It is incredible to hear how the group's vocals intricately intertwine in the song. You'll also hear the the super catchy phrase "Oisa!" (a term that is associated with Fukuoka's "
Hakata Gion Yamakasa
" festival) called out over and over again!
Related Articles