A special exhibition called "GeGeGe Exhibition" is being held to celebrate Mizuki and provide a retrospective of his work!

Explore valuable pieces of work and resources to gain insight to Shigeru Mizuki's quest to define real happiness!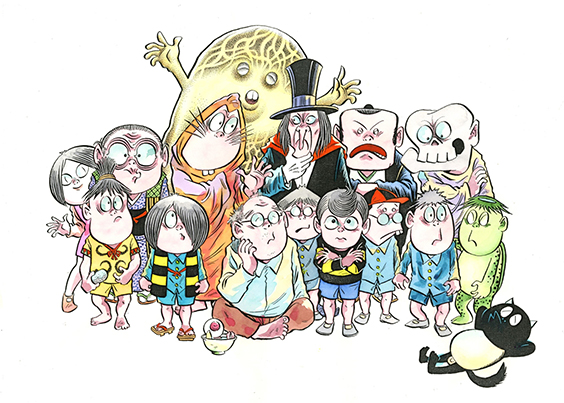 水木しげるとその作品たち (Ⅰ) 2010年頃
(lit.: Shigeru Mizuki and his works (I) - from around 2010)
The manga artist and yokai (spiritual monster) specialist Shigeru Mizuki was widely recognized for an amazing ability to create funny, charming characters in his creations. Mizuki sadly passed away on 30th November 2015, leaving behind an incredible body of work and research. A special exhibition called "Tsuitou Mizuki Shigeru: GeGeGe no Jinsei-ten" (GeGeGe Exhibition) is being held at the Fukuoka Prefectural Art Museum to celebrate his life and provide a retrospective of his work. The event started on Friday 27th October and will run until Sunday 10th December.
With around 390 items on display, the size and scale of the exhibition is truly impressive. The pieces featured have been split into different sections corresponding to various times in Mizuki's life. The categories of the exhibition include "Chapter 1 (Childhood) Sakaiminato's Genius Boy Painter," which focuses on his youth, a time when he became interested in "unseen" phenomena, "Chapter 2 (Military Service) Private Mizuki: Witnessing Heaven and Hell," "Chapter 3 (Poverty) A Battle Against the God of Poverty," and "Chapter 4 (Busy with Work) The God of Fortune Arrives!" These sections cover Mizuki's work as a much loved artist. He is well known for his fantastically creative pieces of work, but he also did a great deal of research into Japanese folktales and yokai. This aspect of his life is covered in "Chapter 5 (Yokai Researcher) A Fascination with yokai." The exhibition then comes to a close with final segment, which is titled "Epilogue: Shigeru Mizuki, with us Forever."
バナナを食べる水木夫妻 1989年
(lit.: The Mizuki's eating bananas - 1989)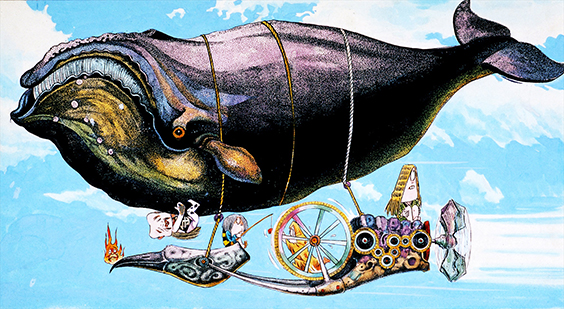 「ゲゲゲの鬼太郎」 (妖怪飛行船巨鯨号) 1968年
"GeGeGe no Kitarō" (lit. Yokai Giant Whale Aircraft - 1968)
Pick-up fun items and cool merchandise at the special "Gegege no Hyakkaten" store!




Hand-dyed towels (1,620 yen each / including tax)​
The "Epilogue" section of the exhibition will provide insight into Mizuki's private life. This area will feature an interview with his wife Nunoe, who wrote the autobiography GeGeGe no Nyobo (GeGeGe's Wife), as well as messages from a number of famous people (active in various fields). Through these exhibits, we can learn about the impact that Mizuki had on society, and what he wanted to convey in his work.

A special "Gegege no Hyakkaten (ゲゲゲの百貨店)" store has also been set-up at the venue, offering visitors limited edition goods related to the exhibition! A special section has also been created that gives guests the chance to take a photograph to remember their day. Make sure to stop-by to get your commemorative snap!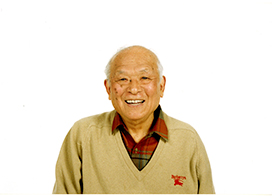 Shigeru Mizuki
I am sure there are a lot of people intrigued by the strangely mysterious world of yokai, which was brought to our attention by Mizuki's wonderful creations! I'm sure I'm not the only one! This exhibition gives guests the opportunity to see some of Mizuki's personal possessions, such as his images / statues of yokai and spirits. I can't wait to explore his yokai world! (Editorial Dept.: Gon)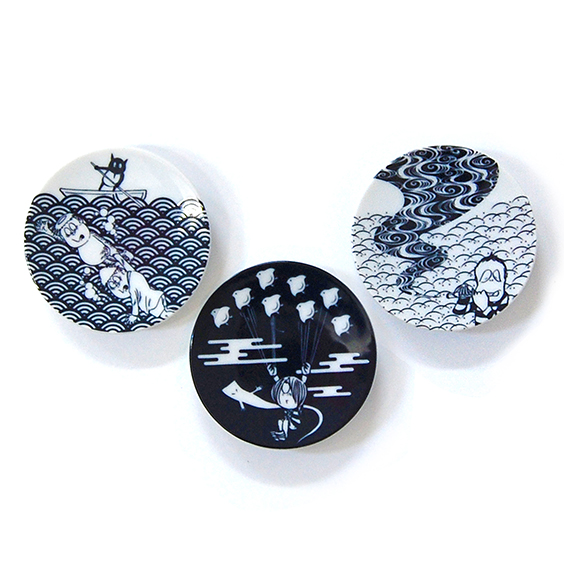 Set of three small plates (1,620 yen / including tax)
「追悼水木しげる ゲゲゲの人生展」("GeGeGe Exhibition")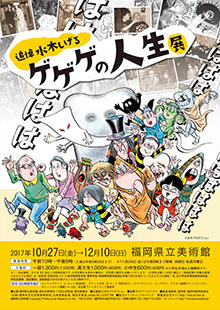 Dates: Friday 27th October to Sunday 10th December 2017 (Closed every Monday)
Venue: 3rd Floor Exhibition Room, Fukuoka Prefectural Art Museum
Times: 10:00 to 18:00 (Final admission: 30 minutes before closing) (Open until 20:00 on Friday 24th November 2017)
Organized by: Fukuoka Prefectural Museum of Art, The Nishinippon Shimbun Co., Ltd., TVQ Kyushu Broadcasting Co., Ltd., The Asahi Shimbun Company
Planning and cooperation: Mizuki Productions
Sponsored by: Live Art Books
Cooperation (Event planning) from: Mizuki Productions
Sponsored by: Live Art Books
Cooperation from: Techno Net Co., Ltd., CrossTec Inc.
Entrance fee: Standard - 1,300 yen (1,100 yen) / High school and university students: 1,000 yen (800 yen) / Elementary and junior high school students: 600 yen (400 yen) / Children younger than elementary school students: Free
*Please note: () Indicates price of tickets purchased in advance, and cost per person for group bookings of 20 or more.
Official exhibition website:
http://mizuki-ten.jp
Related Articles
External Links