Enjoy lots of fun, cultural activities in Kyushu and Okinawa! Introducing "MUSEUM Excursions Pass"!

Don't miss out on lots of great discounts! Enjoy your museum tours conveniently with the pass!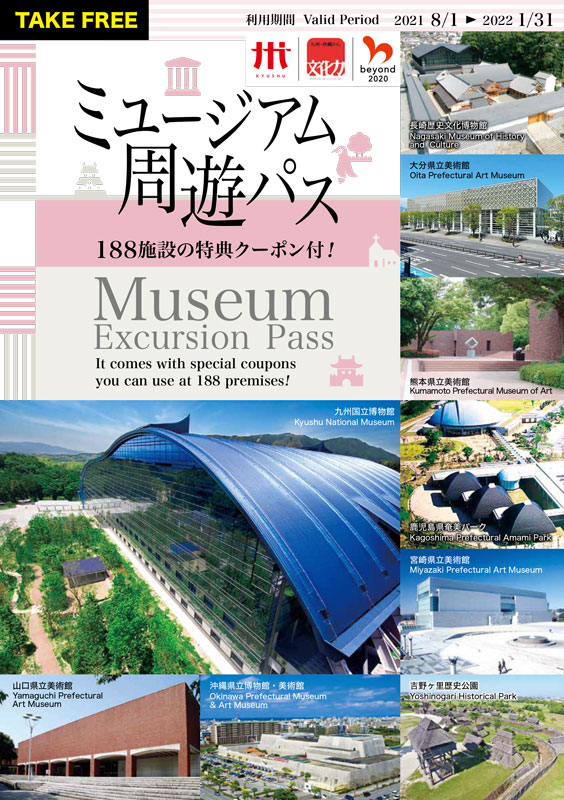 The 2021 version of the "MUSEUM Excursions Pass" which you can get a good deal and enjoy cultural facilities such as art galleries and museums is now available! This version has included plenty of contents such as the latest information on 188 facilities in Fukuoka, Kyushu, Okinawa, and Yamaguchi prefectures, basic information such as opening hours and access to each facility and discounts coupons on admission fees and gifts of souvenirs! Also, in the special feature "World Heritage Sites in Kyushu & Okinawa", detailed information and the highlights of the four World Heritage Sites in Kyushu and Okinawa are introduced. The pass can be used until Monday 31st January 2022, so let's use the "MUSEUM Excursions Pass" and go on a fun museum tour at a great deal! (Dept. Editorial: Harty)
Museum Excursion Pass Outline
- Length of campaign: Until Monday 31st January 2022
- Available at: Art galleries and museums featured, as well as tourist information centers, municipal offices in Fukuoka Prefecture, and hotels, etc.
- How to use coupons:
1. Present the "Museum Excursions Pass" booklet's "coupon page" at the relevant ticket counter/reception desk OR
2. Download the coupons from the link below to your handheld device (smartphone or tablet), and present them at the ticket counter/reception desk.
The "MUSEUM Excursions Pass Coupon" can be downloaded from the URL below.
- Fukuoka Prefecture Official Website "MUSEUM Excursions Pass" information:
https://www.pref.fukuoka.lg.jp/contents/museumpass.html
- Please note:
* Photocopied coupons are not valid.
* Coupons are not valid with any other offers.
* Some establishments only accept coupons from the book.
* Since some establishments limit the number of admissions, be sure to check on the page that has information on each establishment.
- Please wear a mask and keep a sufficient distance when viewing.
Related Articles