Get the "Kyushu Expressway Pass" for a Bargain Driving Holiday!

Drive in Kyushu and take in the Fall season!
As the weather gets chillier every day, the feeling of Autumn has arrived. For me, Autumn means one thing momiji (maple leaf) viewing. The crisp air and beautiful blanket of colors on the mountains really lets you feel the season.

This time in [Culture Watch] we're recommending a service that gives visitors to Kyushu from abroad the chance to gain a deeper experience of one of Japan's four seasons: the "Kyushu Expressway Pass (KEP)."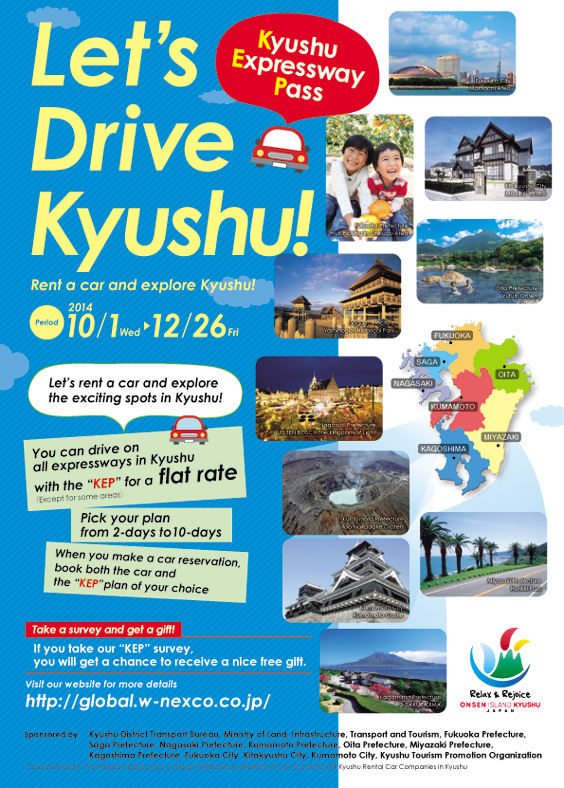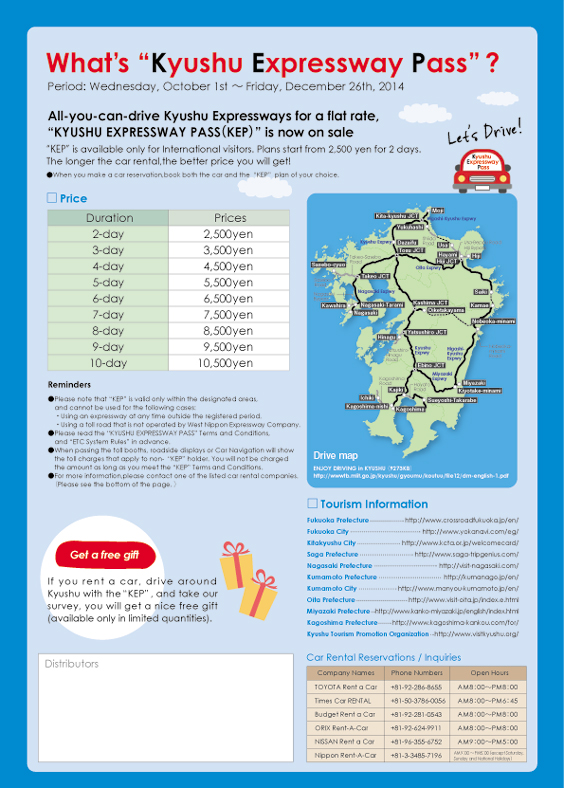 ▲Kyushu Expressway Pass (KEP) English Language Pamphlet
(Traditional Chinese and Korean pamphlets are also available)
Download HERE!
The "Kyushu Expressway Pass (KEP)" is on sale from NEXCO-West and offers a discount for international visitors making an excursion to the Kyushu area. For the KEP users can use expressways run by NEXCO-West in Kyushu as much as they like using a rental car (limited to cars with an ETC [Electronic Toll Collection System] device), with tickets available from 2 days to 10 days.
This deal is recommended for international visitors who find themselves saying "A package tour's not enough!", "I want to be able to go where I want", "I want to visit lots of different places" and want to make their own plans.
The offer ends on Fri. December 26 so if you're considering a trip to Kyushu you should check it out before it's too late. Also, before you use the service make sure you register with one of the supported rental car companies. (For more details contact the designated car rental companies directly)
For more usage details on the area, prices and designated car rental companies please visit this site,
http://global.w-nexco.co.jp/kep/
. You can also download a pamphlet.
I'd like to take this opportunity to say how pleased I am that visitors from abroad will have the chance to take in the four seasons of Kyushu and its nature spots, as well as being able to visit Kyushu and Fukuoka with a plan that fits them. (Editorial Dep't.: 93a)
External Links