One of the biggest of its kind in Japan! Combining a water fountain display with 3D projection mapping, the "ONE PIECE Water Spectacle" is here to adorn the winter at Canal City Hakata!

Combining video and audio… This is a shape-shifting water fountain show that is a real must-see!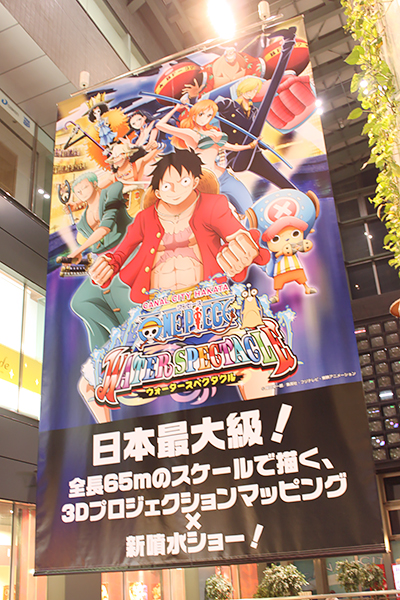 A shopping and entertainment complex that has become a symbol of Fukuoka, Canal City Hakata has refurbished the "Sun Plaza" event space that lies within the facility, as a part of their 20 year anniversary celebrations. Included in this refurbishment initiative, is the introduction of an experience-based attraction called "Canal Aqua Panorama," which makes use of 3D projection mapping (at 2,500 inches this is one of the biggest in Japan), illuminations, audio and water fountains. The new fountain devices are incredibly sensitive and dynamic, meaning that audience will really be able to enjoy the productions. The new display was unveiled to the public on Saturday 19th November, but just before that there was a preview for the press on Thursday 17th November and asianbeat went along to check it out!
All the colorful lighting makes the venue look even more stunning!
At the preview, the Canal Aqua Panorama featured the "ONE PIECE Water Spectacle" (8 minutes) and the "Aqua Illumination Show" (4 minutes), which will be running until the 15th January next year. The Canal Aqua Panorama's first showcase will be an original story from ONE PIECE, which has proven to be a tremendously popular manga/anime all over the world. This "ONE PIECE" world can only be experienced here and is not something to be missed out on! At an astonishing 65 meters, the 3D projection mapping that they operate shows images on of the largest scales in the whole of Japan. The vivid, brightly colored light production mix together with the splendid water fountains reflecting the illuminations to create a fantastic and magical world.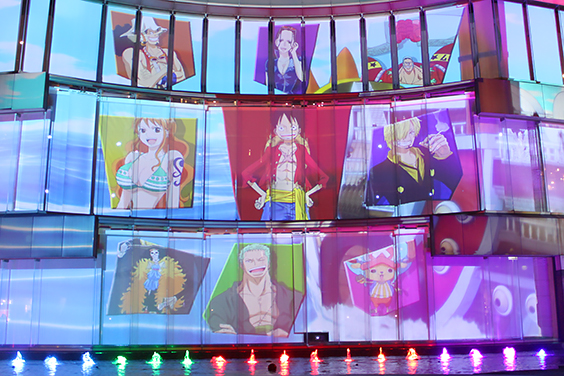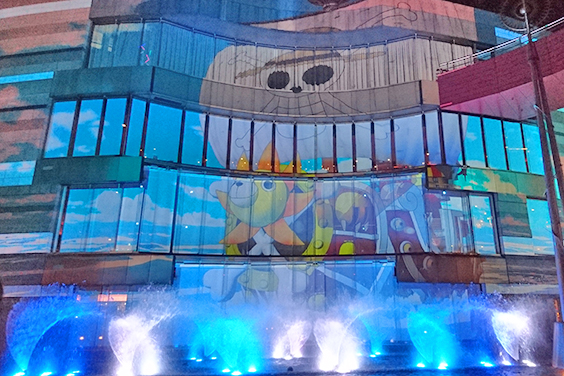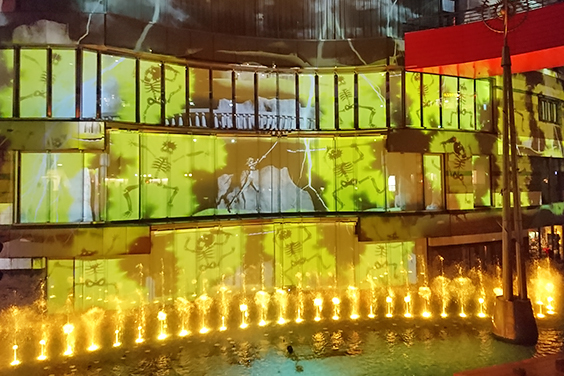 This shape-shifting water fountain show is accompanied by music, and with wonderful colors used to tell the stories, onlookers will find themselves totally transfixed. When the fountains get really high, if you edge your way a bit closer to the action, the light reflecting against the sprays of water look so beautiful! From one of the floors higher up, you can make out the projections in their entirety, which is a charming and unique experience.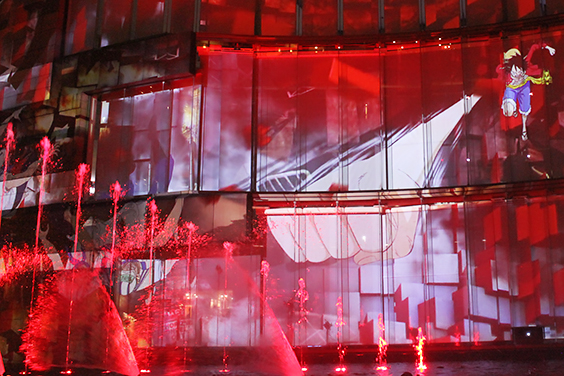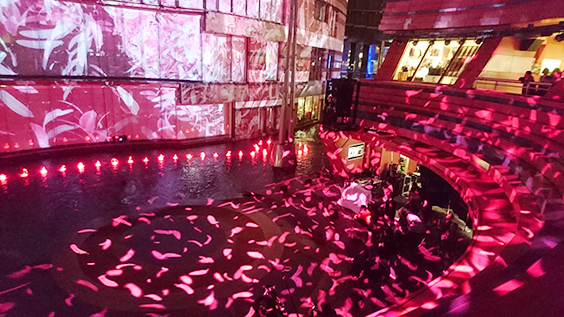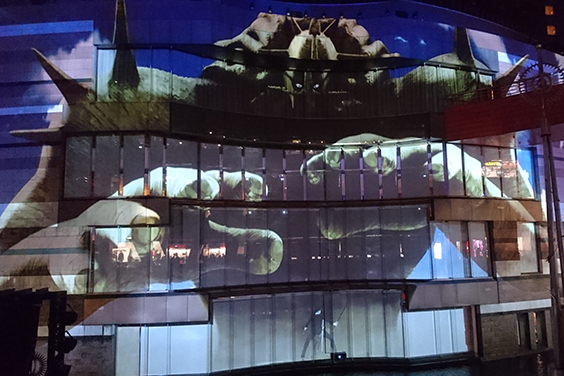 The newly installed fountains form an attraction that has simply been called "Dancing Water." The moving images and audio are in perfect sync, creating a magnificent sight! The more you take it in, the more you get wrapped up in the beauty of all the changing shapes and forms.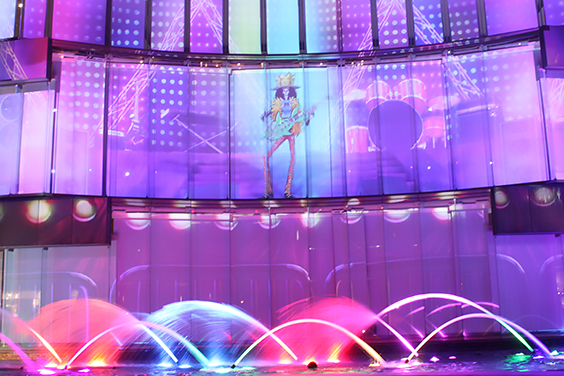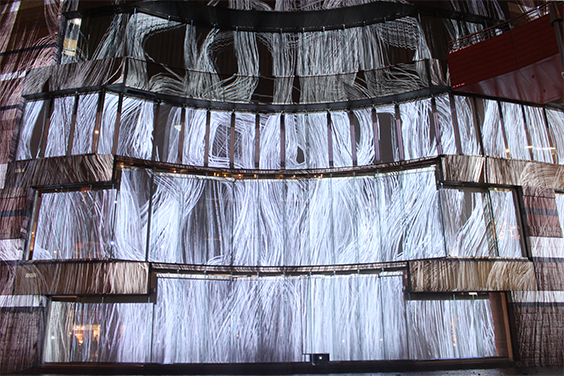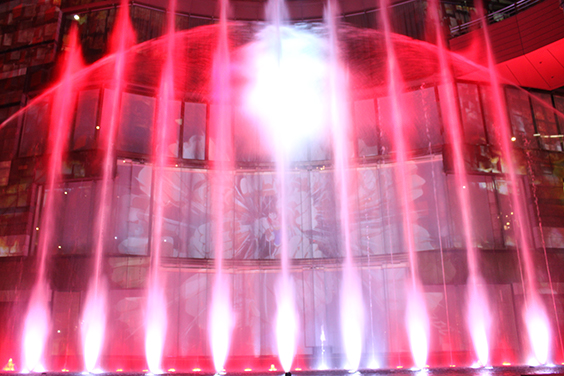 At the event, the manager of Canal City Hakata, Mr. Yoshihiko Miyazaki, said that this comprehensive, integrated production was created using water fountains, moving images, audio and illuminations, based on the conviction of "wanting to take our 20th anniversary as an opportunity to offer a new emotionally stimulating experience for the people of Fukuoka, as well as those who visit Canal City Hakata," as well as a firm commitment to" wanting to surprise and amaze people who haven't yet seen this commercial facility."

In his remarks, he also said that "working towards the next 10 or 20 years, starting with 'Canal Aqua Panorama,' we will continue to do our best to make sure that as many people as possible can experience the excitement.'"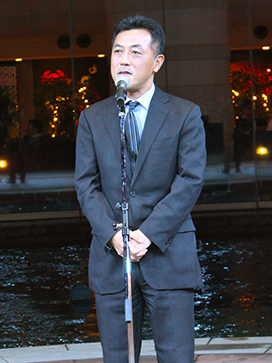 Mr. Yoshihiko Miyazaki, Canal City Hakata
Building on from the "Canal Tourist Lounge," an information center for international tourists that gives people the chance to really experience Japanese culture, (asianbeat covered the center before, for further info, click
here
!), there are new places popping up in Canal City Hakata, which are going down a storm with people visiting from abroad. With this year marking 20 years since their opening, there's no doubt that the ever growing and evolving Canal City Hakata has much more fun in store for us in the future! (Editorial dept.: Gon)
©尾田栄一郎/集英社・フジテレビ・東映アニメーション
Canal Aqua Panorama "ONE PIECE WATER SPECTACLE"
Running from: Saturday 19th November 2016 - Thursday 18th May 2017
Show times: 18:00/19:00/20:00/21:00 (November to February) 19:00/20:00/21:00 (March to May) (*Scheduled times)
CANAL CITY HAKATA
Address: 1-2 Sumiyoshi, Hakata-ku, Fukuoka-shi, Fukuoka-ken
Closed: Open all year round
Opening hours: 10:00 - 21:00
Related Articles
External Links
PRESENTS
All the info. on asianbeat's present campaign!