The film "your name." is set to hit North American cinemas on 7th April 2017! Written by "RADWIMPS'" Yojiro Noda, English versions of the theme songs will also be out soon!

Special screenings! The film, featuring English theme tunes, is set for a two week run starting from Saturday 28th January!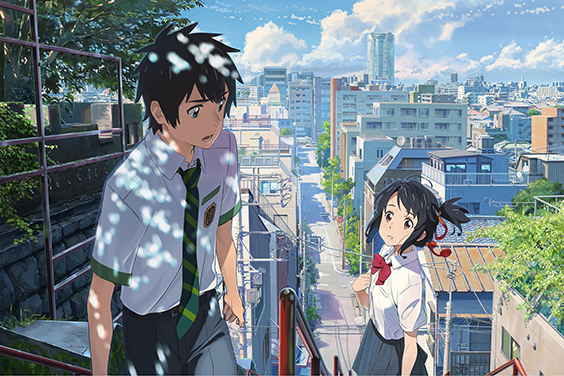 ©2016 YNFP
Since its release in August last year, "your name." has quickly gone on to become a global smash hit. After its initial success in Japan, the film went on to create a whirlwind of excitement all over the world! And on Saturday 7th April the film will finally make its way to North America (via Funimation Entertainment), playing at over 200 screens across the U.S. and Canada.

What adds extra depth and meaning to the piece is the theme songs by "RADWIMPS," who are in charge of the film's music and are gaining high praise for the originality of their music. Fusing together film with music, in the hope of seeing people get the most amount possible out of the "your name." world, "RADWIMPS" lead vocalist Yojiro Noda has written English versions of the 4 theme songs for the upcoming release, with "Dream lantern," "Zenzenzense," "Sparkle" and "Nandemonaiya" set to go on sale nationwide soon. They will be available in digital format from Friday 27th January, and on CD from Wednesday 22nd February.

From Saturday 28th January to Friday 10th February 2017, the movie, featuring the newly recorded English language tracks and English subtitles, will be screened in TOHO Cinemas across Japan for a limited two week run! The only theater scheduled to be screening the film in Kyushu is "TOHO Cinemas Tenjin (Fukuoka City)," so if you want to hear the new songs in a cinema setting, or even if you're just curious about what the English version of the tracks sound like, make sure to get to one of the participating movie theaters near you! Please check the official website to find-out more details about which cinemas are showing the film and the times of the screenings. And for overseas fans, the international release of the "Your name. (deluxe edition / Original Motion Picture Soundtrack)" is set for Friday 27th January in digital format, with CDs going on sale from Friday 10th March 2017. So be sure to make a note in you diary! (Editorial Dept.: Gon)
Comments from Director Shinkai
Melody and lyrics must be something inseparable for RADWIMPS. For all that, I cannot respect and thank them enough for making these wonderful English versions to entertain international audience. In "your name.", songs, lines and the story are in complete harmony. Lyrics represent characters' cry of the heart. I hope these alternative versions will lead the audience to a better understanding of the world of "your name."
Film "your name." (君の名は。)
Original Work / Screenplay / Director: Makoto Shinkai
Animation Director: Masashi Ando
Charactor Design: Masayoshi Tanaka
Music: RADWIMPS
Cast (Character's Voices):
Ryunosuke Kamiki, Mone Kamishiraishi, Ryo Narita, Aoi Yūki, Nobunaga Shimazaki, Kaito Ishikawa, Kanon Tani, Masami Nagasawa, Etsuko Ichihara
Production:「君の名は。」製作委員会 "Kimi no Na wa. Production Commitee" (Toho Co., Ltd., CoMix Wave Films Inc., KADOKAWA, JR Higashi Nihon Kikaku, Amuse, voque ting, Lawson HMV Entertainment, Inc.)
Production Company:CoMix Wave Film
Distributed by: Toho Co., Ltd.
Official Website (Japanese):
http://www.kiminona.com/
---
Screening of "your name." featuring English theme tunes, participating cinemas:
"your name." featuring English theme tunes (and English subtitles)
[Period]
28th January to Friday 10th February 2017
[Screened at]
Hokkaido: Sapporo Cinema Frontier
Miyagi: TOHO Cinemas Sendai
Tokyo: TOHO Cinemas Roppongi Hills, TOHO Cinemas Shinjuku, Ikebukuro cinema rosa
Kanagawa: TOHO Cinemas LaLaport Yokohama, Yokohama Burg 13, TOHO Cinemas Kawasaki
Chiba: TOHO Cinemas LaLaport Funabashi
Aichi: TOHO Cinemas Nagoya Bay City, Midland Square Cinema
Osaka: TOHO Cinemas Umeda, TOHO Cinemas Namba
Kyoto: TOHO Cinemas Nijo
Hyogo: OS cinemas M-INT KOBE
Hiroshima: Hiroshima Baltic 11
Fukuoka: TOHO Cinemas Tenjin
Theater List:
http://www.toho.co.jp/theater/?no=195
Related Articles
External Links