The "Early Spring Collection of Animals and Small Puppet Exhibition" opened at the "Fukuoka Yokamon Hiroba!"

Animals rich in expression, shining with the individuality of those who created them!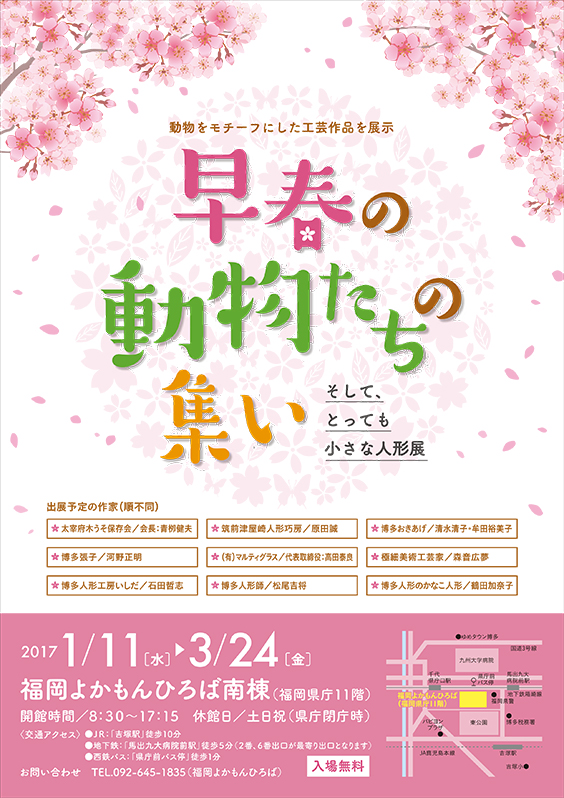 A wonderful display where you can really sense New Year and Spring, the "Early Spring Collection of Animals and Small Puppet Exhibition," opened on Wednesday 11th January and is being held at the "Fukuoka Yokamon Hiroba," which is located on the 11th floor of the Fukuoka Prefectural Government Offices. Inside there is a wide selection of expressive works that animal lovers will surely find irresistible! The exhibition will be running until Friday 24th March and is free to view. Depending on the artist, the pieces on show are due to change over during the time it is on, so why not stop by a few times and view the full range of their Fukuoka Prefecture handicrafts! But if you want a little preview before that, keep reading to find-out what kind of exhibits are on display!
---
○ Hakata Ningyo Workshop Ishida (博多人形工房いしだ) - Satoshi Ishida (石田哲志)
The "Eto (Japanese Zodiac) Macarons," (above) which feature animals of the zodiac sitting on top of tasty looking macarons, are "Hakata Ningyo (Hakata Doll)" pieces that are an example of traditional Fukuoka Prefecture handicraft. The pale and gentle pastel shades are highly innovative!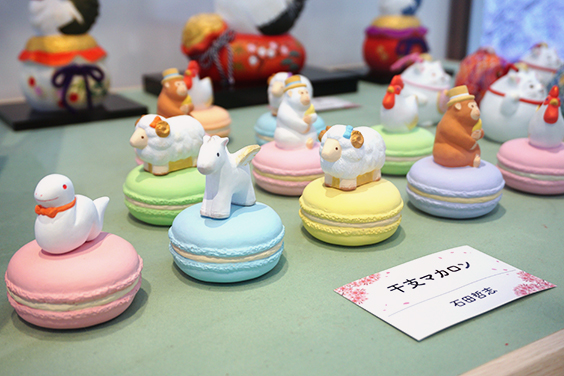 You'll definitely feel the urge to collect all the different colors of the "Eto Macarons!"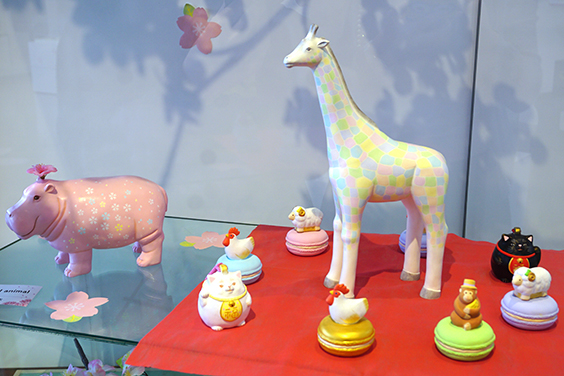 Keep an eye out for the soft, slightly subdued expression on the face of the hippopotamus and the flower on its head!
---
○ Multi Glass – President Taira Takata (高田泰良)
Made by layering vivid, brightly colored glass, "Multi glass" has been designated as one of the Fukuoka Prefecture Governor Specified Specialty Crafts. This animal for this year's zodiac is the "rooster" and here two of them can be seen facing each other in a bold, dignified manner. If you had to describe them in just one word, it would have to be beautiful! And characteristic of glasswork, their appearances change depending on the light. They are absolutely a must-see!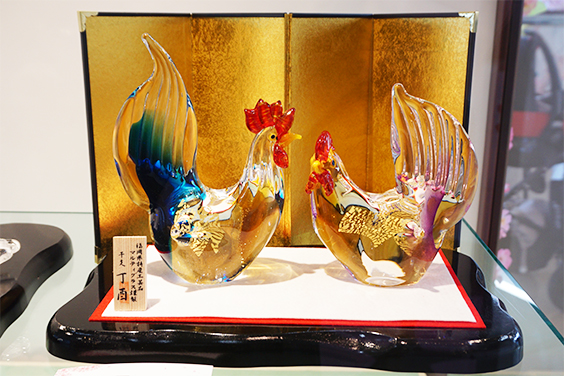 Here is the "Hinototori Pair," with a bright golden screen shining in the background.
---
○ Hakata Okiage - 清水清子・牟田裕美子 Kiyoko Shimizu / Yumiko Muta
These mice, which like they are about to jump into action at any moment, are examples of finely crafted an oshie (raised cloth picture), which is known in Fukuoka as "okiage." This work, which depicts mice brimming with life and energy, is a new piece that was created for this exhibition. This photo is only one section of the wider piece of work, which you have to see at the venue to really be able to fully appreciate!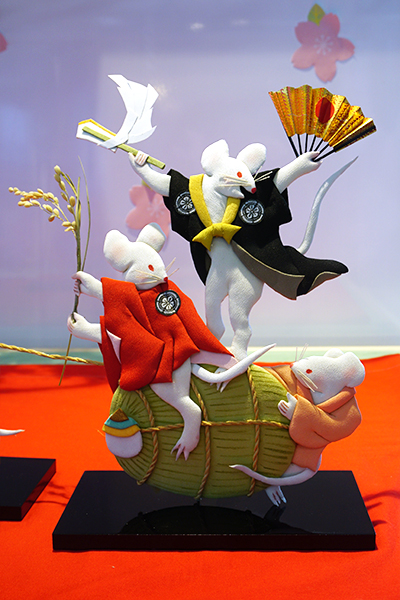 In the past, the themes were mostly based on Kabuki. However, in these works you can feel the artist's enthusiasm for preserving tradition, while also trying to broach new subject matter.
---
○ Hiromu Morine's (森音広夢) Miniature Miniature Handicraft Artwork
The size and delicacy is astonishing! The work on display by Morine, a specialist in fine arts and crafts who is active in Yame city, Fukuoka Prefecture. Why not try viewing his intricate work through a magnifying glass! There will be a number of pieces out on display for the first time in Fukuoka and Kyushu! Make sure you don't miss them!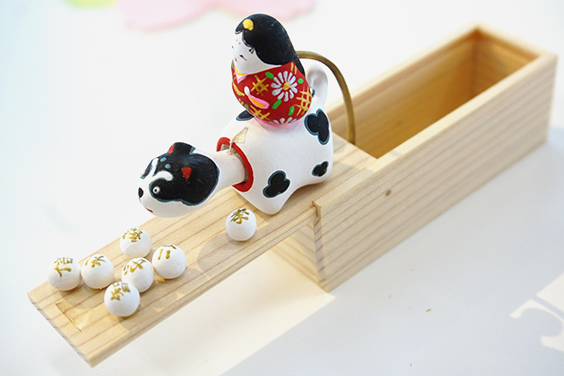 The theme of this neat little trick box is old Japanese folktales, with the design and mechanism based on 南総里見八犬伝 (Nanso Satomi Hakkenden: epic Japanese novel). When you open it up Princess (Fusehime) jumps out, sitting on the back Yatsufusa!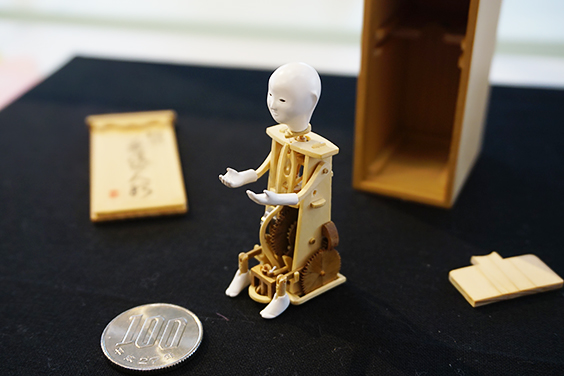 This "Cha-hakobi Ningyo (Tea carrying doll)" is an extremely high quality piece of that has been made using only carefully selected wood.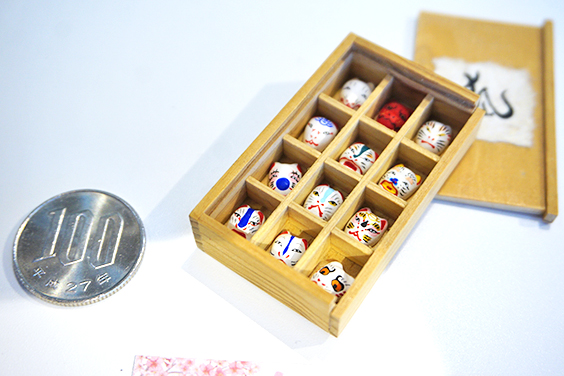 These "狐面 (Kitsune Men / Fox Masks)" are example of papier mache miniatures that can be found, in some form or other, across the country. All of the masks above have different facial expression!
Yamauchi, from the "Fukuoka Yokamon Hiroba", who are in charge of this exhibition, said "as this is running until March, make sure you come along to visit, I would love to see everybody take in the artwork at their own pace, while enjoying the Spring." After you've seen all of the cool bits and pieces that Fukuoka has to offer in the "Fukuoka Yokamon Hiroba," why not check-out the "Fukuoka Yokamon Café." Located on the same floor in the North wing, it received the first Minister of Agriculture, Forestry and Fisheries Award in the Prefecture and is highly praised for the dishes they serve, including the bento boxes, which are made with ingredients that are produced inside the Fukuoka Prefecture. It's the perfect place to take a break, why not experience it for yourself! (Editorial Dept.: Gon)
『早春の動物たちの集い そして、とっても小さな人形展』 The "Early Spring Collection of Animals and Small Puppet Exhibition" - Overview
- Period:Running from Wednesday 11th January to Friday 24th March
- Venue: 11F, Fukuoka Prefectural Government Building South Wing, 7-7 Higashikoen, Hakata-ku, Fukuoka-shi, Fukuoka-ken
- Opening Hours: 8:30 to 17:15 (Weekdays)
- Closed: Saturdays, Sundays and National Holidays (closed the same days as the Fukuoka Prefectural Government Offices)
- TEL: 092-645-1835 Telephone number: 092-645-1835
- Entrance fee: Free
- Fukuoka Yokamon Hiroba Facebook >>
https://www.facebook.com/fukuokayokamon
(Available in Japanese)
* Yokamon Cafe is open from 8:30-17:15 (Lunch is served between 11:30-14:00)
Related Articles
External Links