A procession of people dressed in traditional Japanese clothing, we went along to enjoy the "Akama-shuku Matsuri!"

Seeing the "Hanayome Dochu" is like being transported back to the Edo Period!
The "19th Akama-shuku Matsuri" took place on Saturday 18th and Sunday 19th February 2017. The festival took place in Akama-shuku, a former shukubamachi (post town) during the sankin kotai (system of alternate residence for daimyo) that existed in feudal Japan, which is located along the Karatsu Kaido road in Munakata City, Fukuoka. The main event of the "Akama-shuku Matsuri" has to be the Hanayome Dochu (Bridal Procession). Every year, 2 real brides and grooms are selected out of many applicants to join a morning / afternoon procession that includes the head of the village, as well as participants dressed as samurai, okami, and machi-musume (local girls). There was even overseas participants involved, from countries such as Syria, Thailand, and China. Together they parade along the road to the sound of camera shutters and cheers from tourists who line either side.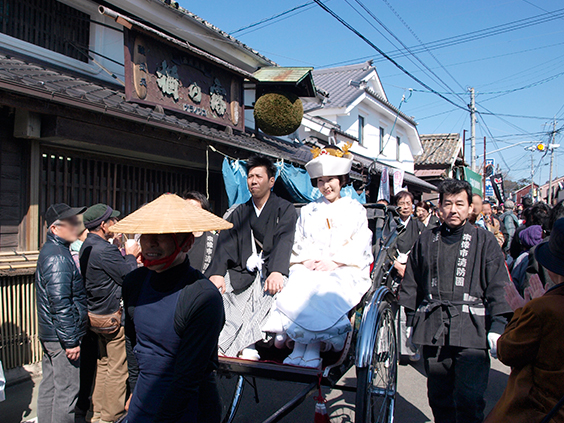 Here is the Hanayome Dochu as it proceeds through the Karatsu Kaido road in Akama-shuku.
The final destination is Suga Jinja Shrine, where the bride and groom's wedding ceremony finally comes to an end. The couple gets there on a rickshaw, which is led by a Shinto priest and young maidens from the shrine. Making their "debut" as a couple, they receive blessings from all the participants and performers at the venue.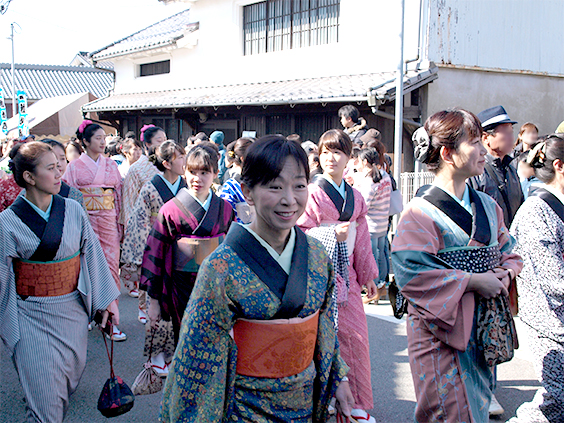 The women who have black collared kimonos are the okami, while those whose collars are not black are the machi-musume.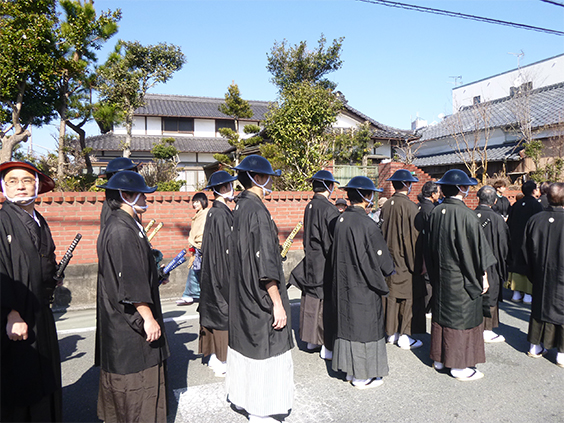 Around 60 shops lined the road in Akama-shuku, including people selling seafood, yakitori and handmade goods. On the 19th, the birthplace of Sazo Idemitsu, the founder of Idemitsu Kosan Co., Ltd. who the story "Kaizoku to Yobareta Otoko (A Man Called Pirate)" is based on, was opened to the general public. The event was blessed with beautiful weather and across the 2 days approximately 23,000 people visited, including people who live both inside and outside of Munakata City! Overall, the festival was a massive success!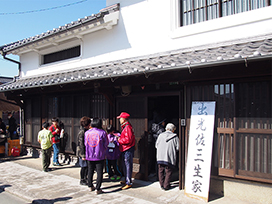 This is the family home of Sazo Idemitsu. It is located along the Karatsu Kaido road, in Akama-shuku.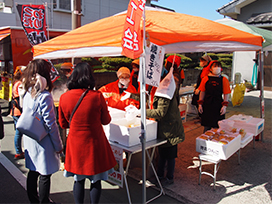 It's not just during the "Akama-shuku Matsuri," you can rent a kimono at the "Kaido no Eki, Akamakan" and wear it as you walk around this charming former post-station town. There are few options to choose from; visitors can take part in a matcha (green tea) experience, as well as guide-led walking tours, so you can adjust your sightseeing trip to suit your own taste and needs! (Editorial dept.: Sassy)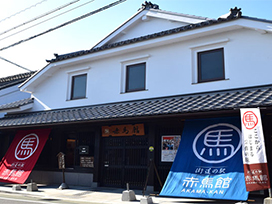 Here is the "Kaido no Eki, Akamakan"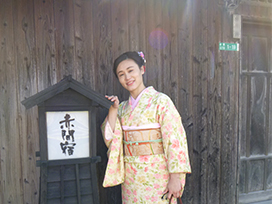 街道の駅 赤馬館 (Kaido no Eki, Akamakan)
- Address: 4-1-8 Akama, Munakata City, Fukuoka Prefecture
- Telephone number: 0940-35-4128
- Website:
http://www.akamakan.info/
Kimono Experience (Make-up is not included)
- Basic Plan: 2,000 yen (assistance getting dressed) (*simple hair styling set: 2,500 yen)
- Matcha Experience Plan: 3,000 yen (assistance getting dressed, simple hair styling, and 60 minute matcha experience)
- Akama-shuku Walking Plan: 3,000 yen (assistance getting dressed, simple hair styling set, and a 2-hour guided walking tour around Akama)
- Munakata City Bura-ri Plan: 2,500 yen (assistance getting dressed and simple hair styling) (*3 hour rental) (*Additional 2,500 yen is charged and will be refunded providing there is no damage done to the kimono when returned)
Related Articles
External Links