Let's toast with ice-cold beer! The "15th Kurume Beer Festival" will be held from 31 May (Fri) to 2 June (Sun)!

Live it up with draft beer from the barrel and local dishes!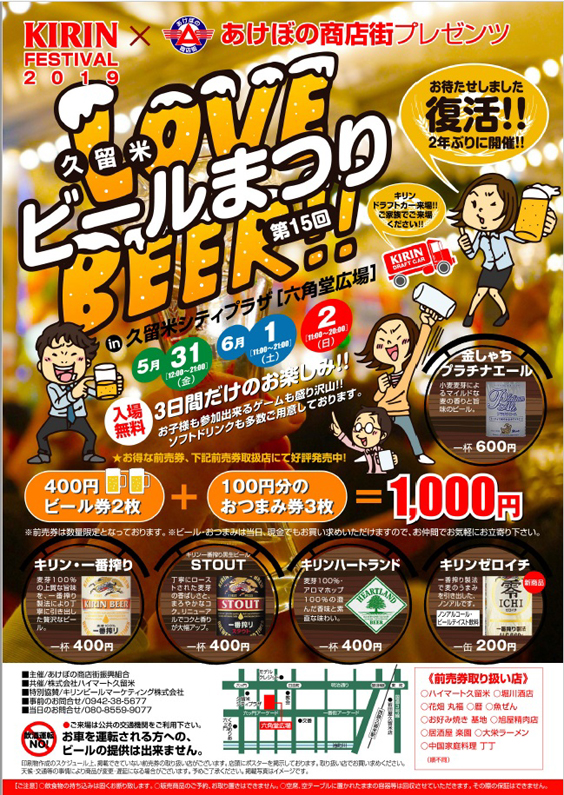 The beginning of summer is the ideal season for enjoying a beer outside your home! For that reason, we recommend the 3 day event, "15th Kurume Beer Festival", to be held at Rokkakudo Hiroba in Kurume City Plaza, Kurume City, from Friday 31st May to Sunday 2nd June. Since this is the biggest KIRIN Beer event in western Japan, a KIRIN draft car serving draft beer straight from the barrel will make an appearance, serving three types of draft beer at 400 yen a cup.
Also, there is a new kind of kraft beer available for the first time in the western Japan area, alongside Kurume local dish yakitori, etc. Aside from these, local restaurants serve dishes with cross-generational popularity, such as short ribs, karaage, okonomiyaki, kebabs and so on. There are also a plethora of stage events, so no doubt the festival mood will break out. In the heat of early summer, come to Kurume and have a taste of boisterous fun! (Editorial Dept.: nika).
◎ Drinking Notices
Related Articles
External Links