"Next Stars Circle vol.5" will be held on 18th July (Sunday)! A chance to meet famous voice artists in Fukuoka♪

Meet 3 voice artists from "THE IDOLM@STER CINDERELLA GIRLS"♪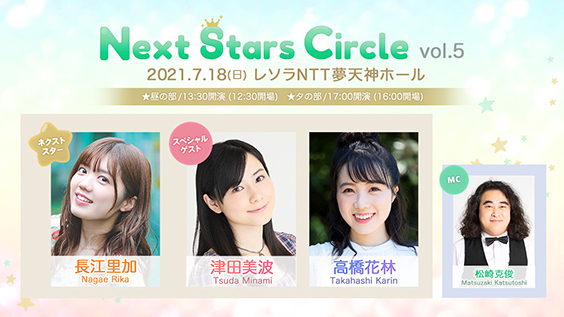 Originated in Fukuoka, "Next Stars Circle" is a special event that allows you to get up close to the power of voice actors, as it gathers professional and up-and-coming voice actors (Next Stars)♪ "Next Stars Circle vol.5" is scheduled to be held on 18th July (Sunday) at RESOLA NTT YUME-TENJIN HALL in Fukuoka City. There is a chance to meet three of the cast from "THE IDOLM@STER CINDERELLA GIRLS" (anime/video game): Nagae Rika (as Hisakawa Hayate), Tsuda Minami (as Kohinata Miho), Takahashi Karin (as Morikubo Nono)!
Nagae, who will be attending as a Next Star, has been voicing over Hoshino Hinata in "
Watashi ni Tenshi ga Maiorita!
" and Kanna in "MAZICA PARTY". Besides, we will also see Tsuda, who is known for playing the role of Arata Shin in "
Shinkansen Henkei Robo Shinkalion Z
" and Funami Yui in "YURUYURI"; Takahashi who voiced Suika in "Dr.STONE" and Soramachi Haru in "
Sora to Umi no Aida
". In addition to the interaction between senior and junior voice actors, one of the highlights of the event will be the Q&A session, which is expected to focus on their personal stories! Isn't this a great chance to know more about your favourite voice actor?♪ As a "tradition" of the event, there will also be a corner that allows the audience to join the fun by using penlights! It seems like the video of the event is scheduled to be released in the future, too! Check the official site for more information >> (
HERE
)! (Editorial Dept.: Nika)
* Please note: This event will be carried out in Japanese.
Related Articles