NUMBER SHOT TENJIN STORE
INFORMATION

In order to prevent the spread of COVID-19, some of the facilities might have taken various measures such as reducing business hours or temporarily closing their doors. For more information, please check the relevant facility's official website or social media account.



You will find many extraordinary dishes on the menu, like the potato salad with black truffles served in a Manekineko-cat shaped wafer!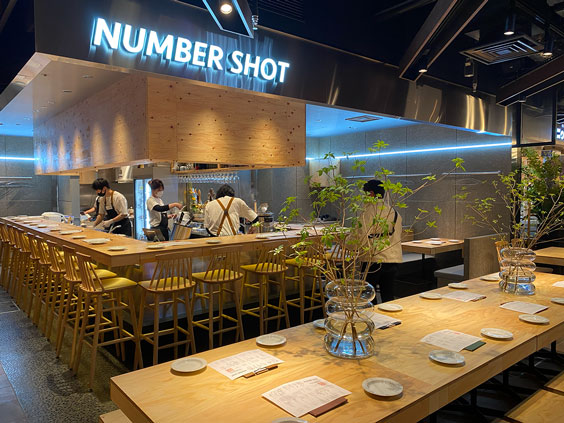 Produced by Fukuoka-native chef Matsushima Keisuke, who is active all over the world, the second branch of "Robata NUMBER SHOT" izakaya in Tenjin Inachika, an underground dining zone in the Tenjin Business Center, Fukuoka City. The restaurant is known as a "genre-less" bar, offering a wide range of snacks that go well with alcohol. You can start enjoying your drinks as early as 11 am with unique dishes such as the "black truffle potato salad" served in a Manekineko-cat shaped wafer! The design of this restaurant is bright and stylish, with wood that emanates warmth. Spend some pleasant time with exquisite dishes that you can enjoy with all senses, transcending boundaries of cuisine genres.

* The content of the article is as of the time of the interview/photoshoot. Please check the official website / social media accounts of the store for latest information.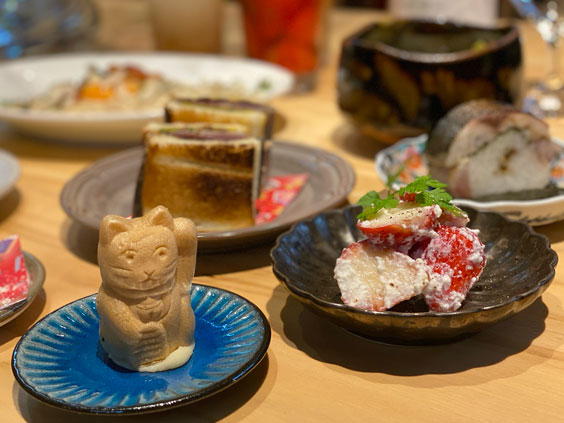 The cutest "black truffle potato salad" you have ever seen (front left of the photo). "Hakata Amaou strawberries and ricotta cheese Shirae" (front right of the photo), the perfect combination of tangy saltiness of the cheese and the sweetness of the strawberries.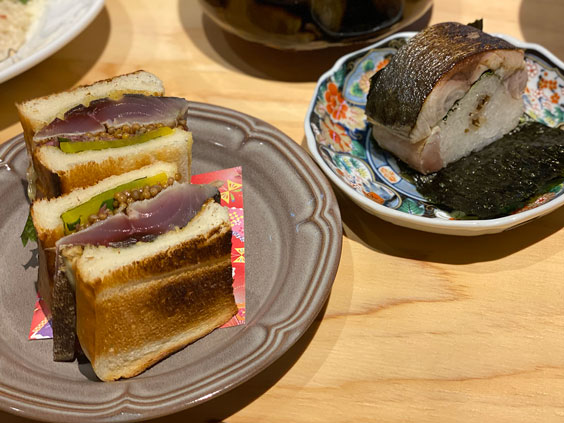 "Saba (mackerel) sandwich" (left) and the chef's recommendation "Saba-stick sushi" (right). The restaurant uses fresh wild caught fish purchased at fish auctions every morning!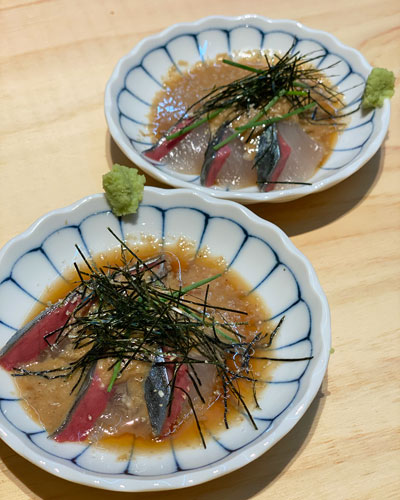 Fukuoka's speciality "Hakata Gomasaba" with home made sesame sauce! (* This photo was taken after sharing it on small side plates)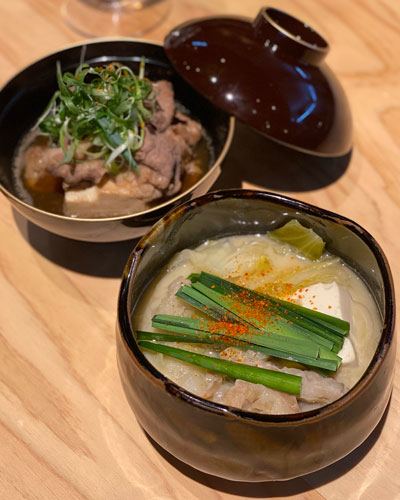 "Hakata Motsu-nikomi (offal stew)" and "Japanese black wagyu beef with Tofu" are popular dishes.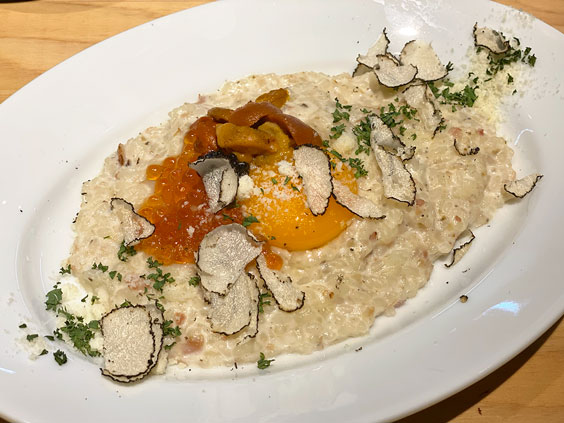 Delicious looking and tasting "egg risotto" with sea urchin, salmon roe, caviar and truffles!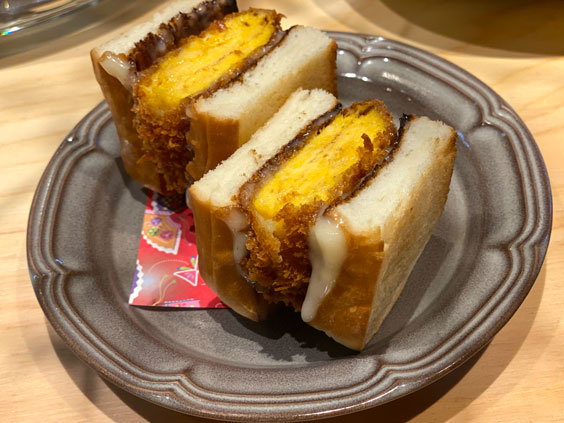 "Chikushino-egg katsu sandwich": fluffy egg omelette, crumbed and deep fried!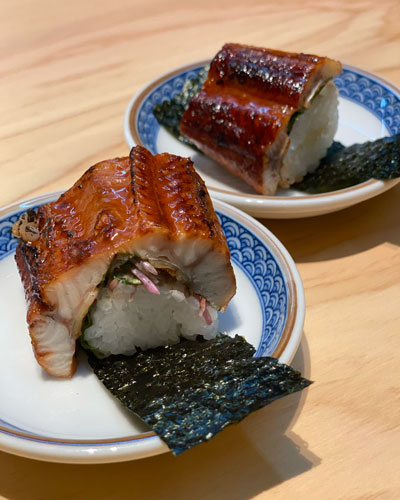 We had this delicious "eel bo (stick) sushi" as an appetiser!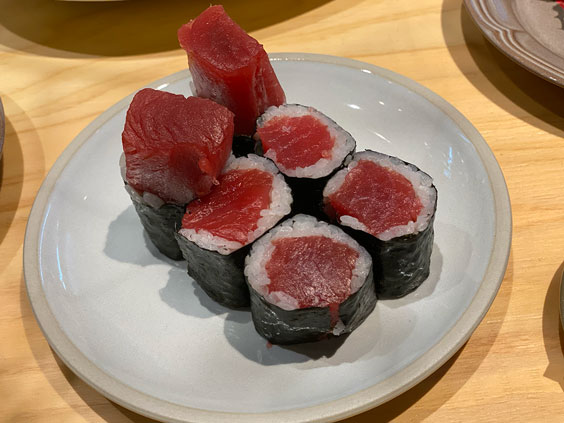 You will definitely want to take a photo of this generous serve of "tekka-maki" sushi.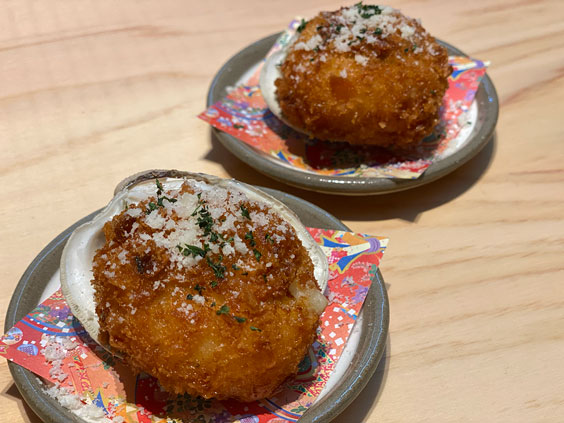 Look forward to discovering a whole clam in this "clam chowder croquette"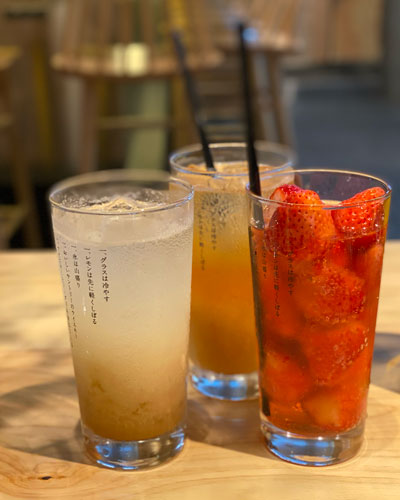 They have drinks that are unique to Fukuoka: "Yame-tea craft cola" (photo below) and "Fukuoka Hakata Amaou strawberry sour" (photo above; on the right)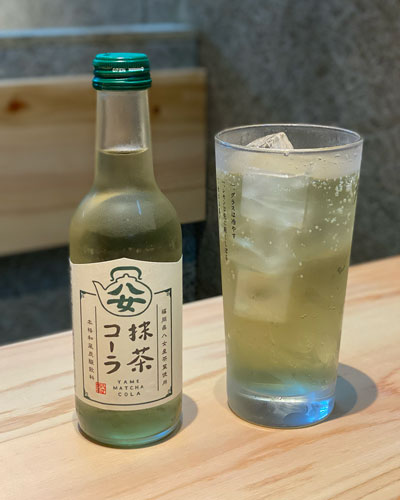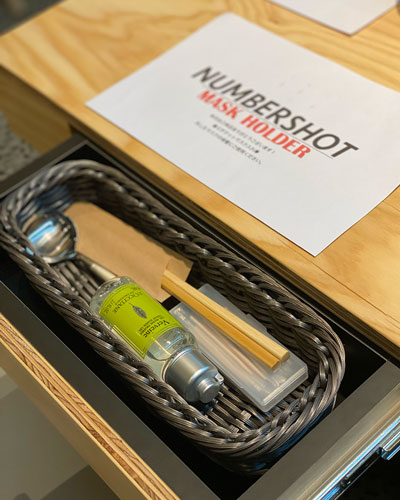 Each seat has a drawer with chopsticks, cutlery, disinfectant gel and other useful things!
INFORMATION
NUMBER SHOT Tenjin Store
- Address: Inside Tenjin Inachika, B2F Tenjin Business Center
- Tenjin Inachika Official Website (NUMBER SHOT Tenjin Store Info):
https://tenjinbc-shops.jp/shop/99/
- Instagram:
@NUMBERSHOT_tenjin
---
Tenjin Inachika / 天神イナチカ
- Address: 1-10-20 Tenjin, Chuo-ku, Fukuoka-shi Japan (B2F Tenjin Business Center)
- Tenjin Business Center Official Website (Tenjin Inachika Info):
https://tenjinbc-shops.jp/
* All information correct as of April 2022. The information for this article was gathered during a media preview that took place prior to facility's opening. There are occasions when the layout / menu of the store differs from the current.
- Hot spots around this area! -