Hatsune Miku TIROLIAN Shine Muscat flavor

Enjoy all the different angles of the unique Hatsune Miku TIROLIAN!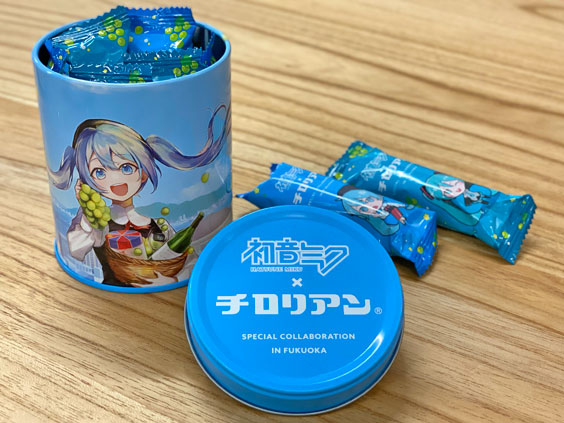 One of the representatives of Fukuoka confection, "TIROLIAN" was born in 1962. TIROLIAN is western-style baked cookie with smooth cream fillings, inspired by a traditional recipe from the Tyrol region of Europe. Many generations have loved this confection and it is still loved by many to this day. Now, TIROLIAN is collaborating with world-famous virtual singer Hatsune Miku! The flavour that might be most interesting is the Shine Muscat flavour, which is associated with the image colours of Hatsune Miku: blue-green! It is a special item in flavour and design, coming in a beautiful tin can designed and illustrated by illustrator Hassan, who handles many Miku's illustrations.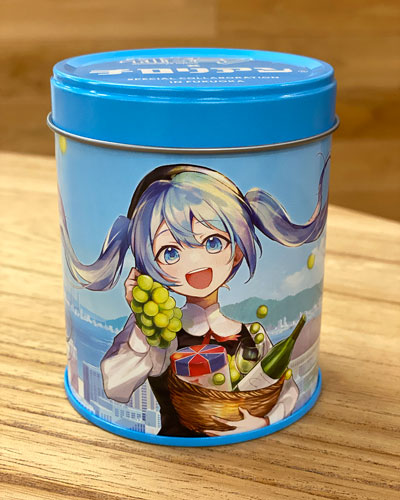 When you have a closer look at the can, you will notice familiar areas in Fukuoka City, like the Momochi area, where Fukuoka Tower is located, Hakata Bay and Island City area (Higashi Ward). This beautiful cityscape background is complementing Miku's bright friendly smile perfectly. In addition to the Shine Muscat grapes, a round TIROLIAN tin can container can be found in Miku's basket that she is holding fondly to her chest.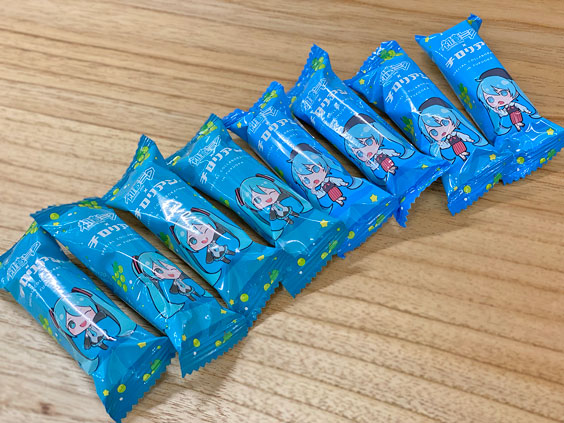 8 individually wrapped pieces per container, two different patterns showing Miku from head to toe!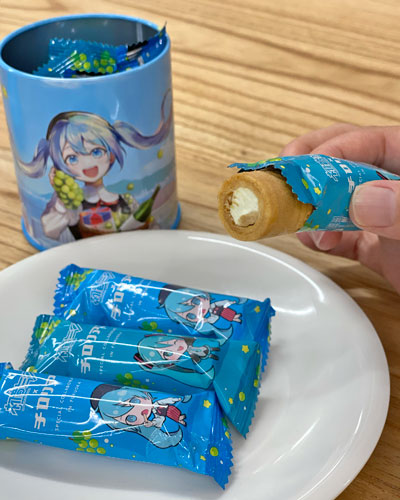 When you open the wrapper, the sweet, Shine Muscat scent is deliciously soft. The combination of a crispy and light cookie wrapped around cream that melts in your mouth is exquisite. The sweet sour taste of Shine Muscats leave a refreshing taste in your mouth.
* CHIDORIYA YouTube Channel | "TIROLIAN×Hatsune Miku Collab CM"
Surprisingly, Miku even appeared in the TIROLIAN video commercial, singing the familiar commercial song! The sound producer is Fukuoka-native "VOCALO P" who is known for producing songs like "Ghost Rule" and "The Vampire", DECO*27! This gives yet another joyful angle to the unique composition of Hatsune Miku's TIROLIAN! It can be stored at room temperature and has a long shelf life. It is also small enough to fit in the palm of your hand, which makes it perfect as a souvenir from Fukuoka!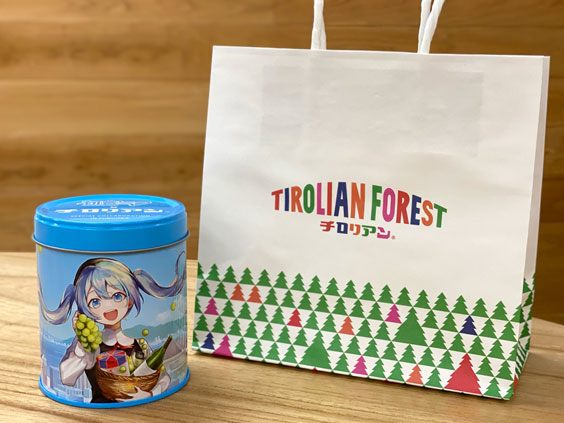 ©千鳥饅頭総本舗 / Art by 八三 ©CFM
- Related articles: delicious Fukuoka confectionary!