Interview Now - Shota Nakama (Video Game Orchestra General Producer) -(2/3)

The foundation for everything is that we enjoy it!
ab:Why was it that you started to focus on game music?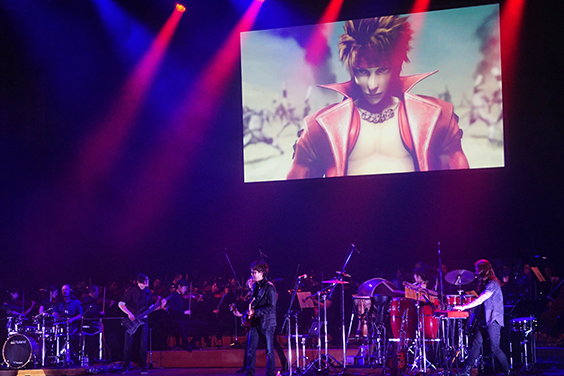 Well, it goes without saying that it was popular (lol)! Once it became popular, I also got into it, and as I did it more and more, I thought it would be really cool to share the fun with people. I never wanted to do just game music. Rather than distinguishing between genres, I just go off whether something is good or bad, and if I think it's good, I'll do it. I'm 34 years old, so there are probably not many guys from my generation who haven't played video games (lol)! When I was younger, it was the golden age of the Super Nintendo (SUPER Famicom) and games like "Super Mario" and "Street Fighter," and we all played them. And I guess that has had an influence. Aside from the VGO, I'm also in other bands and do music for things such as anime and films.
ab:In terms of game music, what are the titles are you interested in at the moment?
I would say "Final Fantasy XV." I was involved in composing and arranging music for it. We recorded in Boston.
ab:The "FINAL FANTASY XV Original Soundtrack" was released just the other day! Is there any music that made an impression or you felt an attachment to?
I think you have a special feeling for all music you are involved with, but the most memorable piece for me from "FFXV" is "Bros on the Road," which I composed. I was on guitar; Louis from VGO was on base and 19 year-old Okinawan native Shunsuke Uehara, who studies at the Berklee College of Music, was under my care on drums. And our company SoundtRec Boston recorded and mixed the track, so it turned out to be my type of band music.
And the other is "Hellfire," which my friend Yoshitaka Suzuki composed. Personally, I think it's a really awesome song and I don't think it's an exaggeration to say it's one of the greatest pieces of boss battle music in the history of "Final Fantasy." It's a fantastic track and I think you can really hear how amazingly talented he is by listening to it.
ab: You've done a great deal of work as a composer and guitarist, but as a performer and producer, what is it that you are striving for?"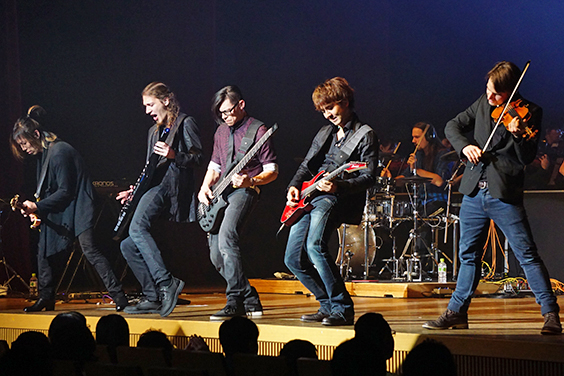 Of course, in situations like rehearsals, I give directions like other people would do. But more than that, the foundation for everything is that we are all enjoying it, and that's what I'm most concerned about. I've always said that "all enjoying it," means that we make it possible so that fans, staff, performers, and everyone involved can have a great time. That being the case, if you can't manage to do it, then it won't be any fun (lol)! I say to the performers that the concerts and live shows have to be both musical and entertaining, once you have both you can really call it a "live performance." I always say that it's a way more enjoyable experience when you have both!
ab: Where have you toured so far? In terms of the response you get and who's watching, have you noticed any distinctive characteristics in the places you've performed?
I've been invited to a few other places by myself, but with the VGO I've performed in China, Taiwan, America, Mexico and Japan. With audiences in the U.S., it's a country where you can kind of do what you like, so the crowds tend to go wild (lol)! Mexico has a sort of party culture, so as you can guess, the fans also get super excited. That's how our concerts always end up in the end. We recently performed in Kumamoto and Oita, and in Kumamoto everyone was up on their feet by the second song, which was awesome to see! Live performances are fun for everybody. Our shows are not classical concerts, as they are rock concerts we always tell everyone to join in with the fun, and they seemed to do that in Kumamoto (lol)!
ab: The concerts in Japan have been hugely successful! With the Fukuoka performance soon, there's a great deal of excitement!
I thought that in Japan it might take the crowds a bit longer to get really get into it, but it's not been like that at all, they've been on their feet and really enjoying themselves right from the start. So I'm sure it will be the same in Fukuoka.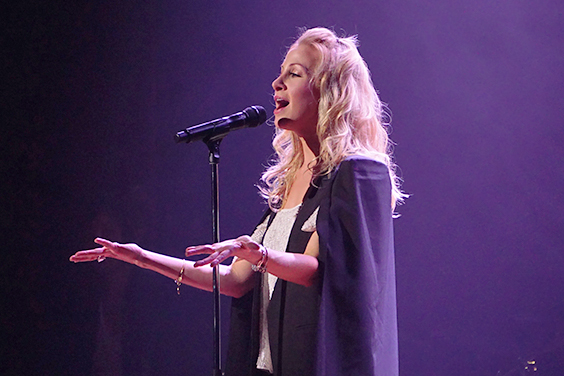 Ingrid Gerdes (Vocal)
ab:With "rockestra" style music, you are fusing together rock and orchestra, are there any difficulties with that?
It's difficult when you're writing the music. Depending on the band, the sound might not fit, and when it doesn't work, it can be difficult to create the right balance. I think that's why our engineers are always struggling (lol)!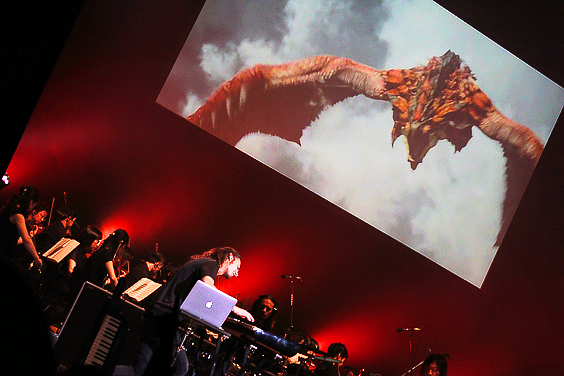 ab: Are there any differences in the instruments that you use? Do you use any instruments that are unique to game music?
We use sound, but just because its game music doesn't mean there's a machine. To be honest, I'd like to put in more (sounds). I like to do cool rock concerts, so if there are aspects from games, such as cosplay, I think it becomes more of a pleasant kind of concert, and I am not really so into that, that's why I think getting the balance is quite difficult. I like shows where everyone can have a good time, gaming fans as well as the general public. It may sound a bit extreme, but it's just that I don't want to do something that focuses on one aspect. For example, you can connect and use a game boy as a sound source, but I try not to do it that much.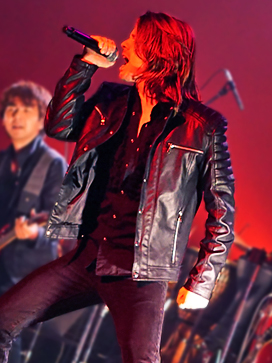 David Vives (Vocal)