Fukuoka City | 門田提灯店 (Kadota Chouchin-ten)

Trying out lantern decorating at an old store that has been making lanterns continuously for over 100 years!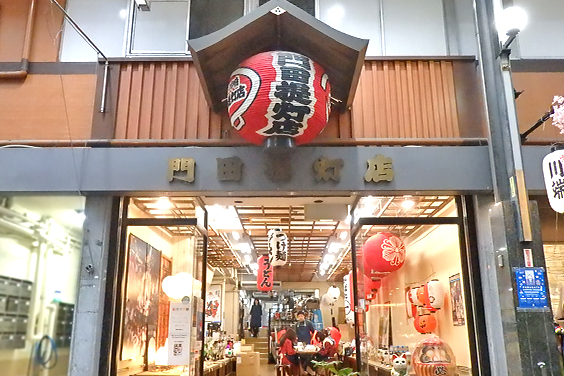 You come upon the store immediately upon entering Kamikawabata Shopping Arcade from Meiji Street. The store also makes lanterns for the Hakata Gion Yamakasa Festival.
Kadota Chouchin-ten (Kadota Lantern Shop) was established in 1895, and is an old store that has been making lanterns detailed with handwritten characters, a craft in decline in Fukuoka City. The store offers a lantern-decorating experience between September and April, so as to let foreigners visiting Japan experience Japanese culture. The four Chinese and Vietnamese Kawaii Ambassadors took on this challenge!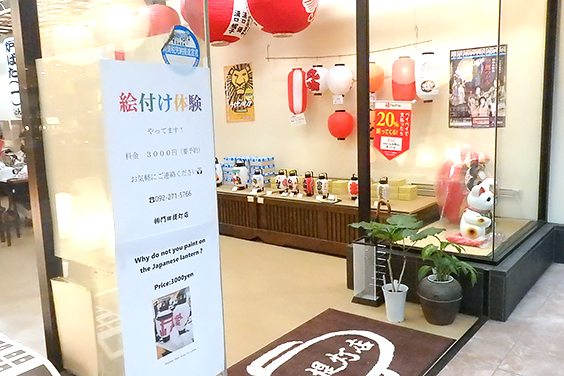 Mr Kadota Koutaro, the fifth generation owner, instructed us on the lantern decoration. To make the process easily understandable to foreigners, he explains the steps while showing us a book of sample patterns and and pictures taken with a smartphone of completed lanterns.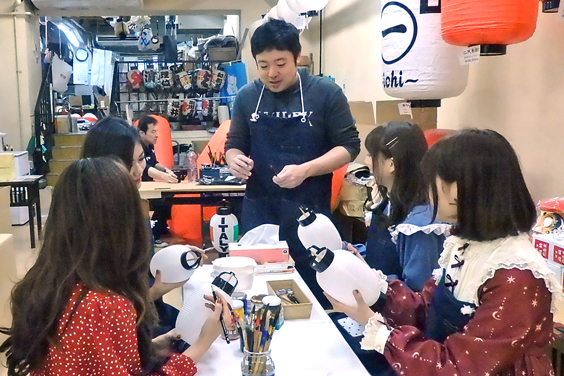 Giang: The surface of the lantern is hard to tear, but it very thin and a little rough, so we drew on it carefully. I drew carp streamers, which showcased traditional Japanese culture, and the two countries' flags to represent the gradual deepening of the relationship between Japan and Vietnam! Inside the store, fans, daruma dolls, maneki-neko (Beckoning Cats, believed to beckon in luck), and other traditional handicrafts were also being sold!

Linh: On the lantern, I drew a pattern that would represent Japan and Vietnam. I was happy to receive advice and support from the store-person. The completed lantern has become an important thing that will remind me of this wonderful trip and my meetings with the kind people of Fukuoka!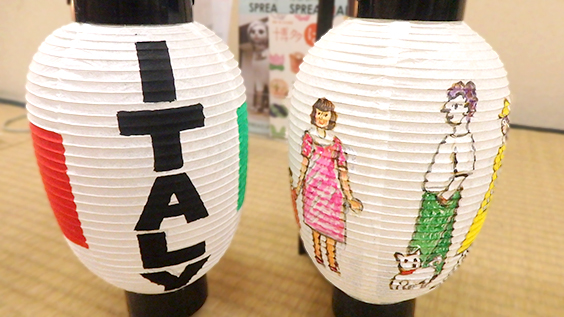 Lanterns made by tourists (samples)
Inside the store, orders are received from overseas and the work of making the lanterns is carried out.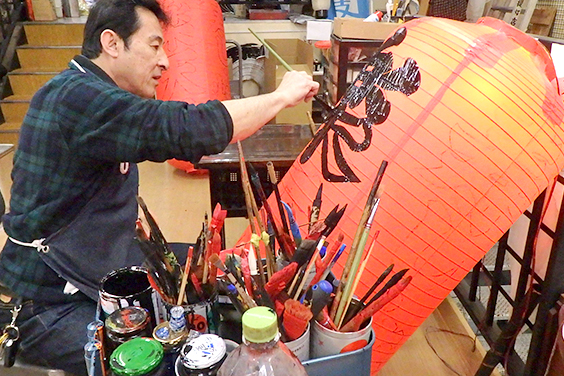 The fourth generation owner, Mr Kadota Akihiro is in the middle of putting characters on a lantern aimed at overseas customers.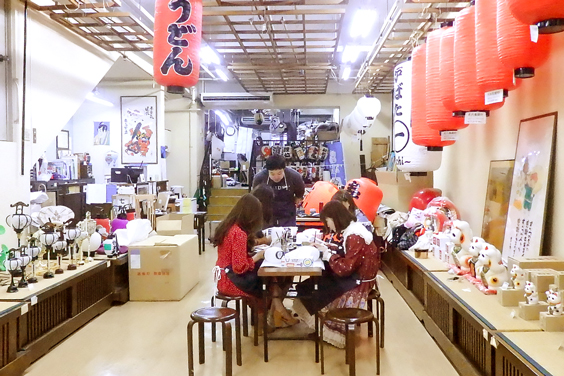 Inside the store, other than lanterns and maneki-neko, red daruma dolls, which are considered to be lucky charms, are sold. Perfect for presents and souvenirs.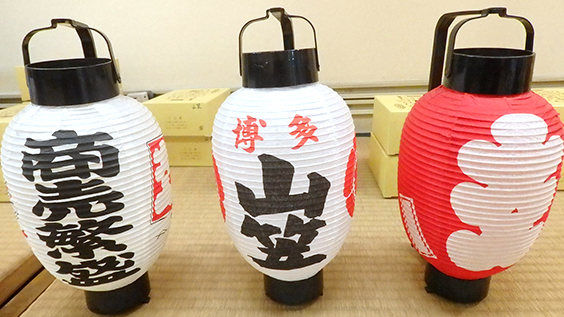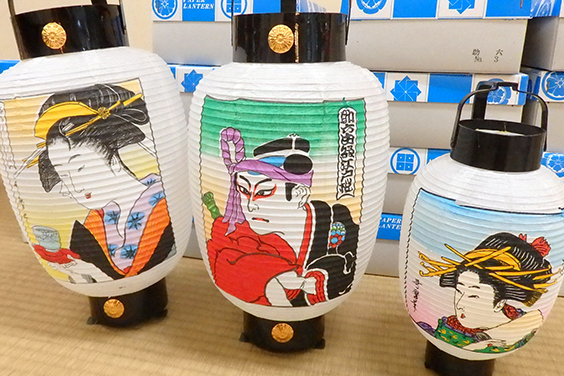 It seems that even though there are also paper lanterns in China and Vietnam, the shape is different. First, we determine the composition, then we draw our desired design.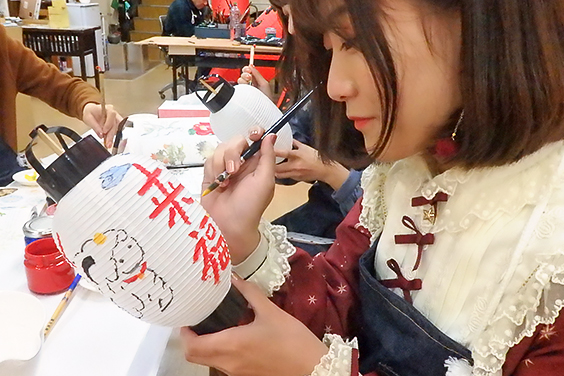 Yang Yang: I've liked to draw pictures since I was little. First, on one side, I drew a sheep that I had found in the book of samples, named "来福 (Come, wealth)". On the other side, I wrote in Japanese, "Delivering a warm heart". When I finished, the store owner dried my picture for me, and helped me to stick it on, completing it!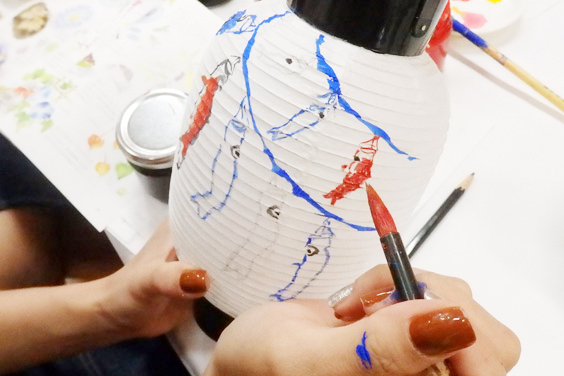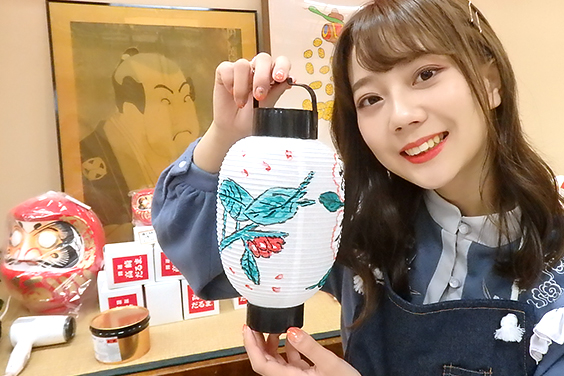 Yijun: I was excited for my first try at decorating a paper lantern! I chose one half of the design from amongst the pictures in the book of samples, and for the other half, I thought up my own, original design! The lantern paper was thin, so I did a draft in thin pencil first, and from there, drew the design in colour. The finished work was praised, making me happy!
Mr Kadota, who instructed the Kawaii ambassadors, was surprised by the high degree of completion that their lanterns demonstrated, the Ambassadors having implemented meticulous designs and added bright colours to make their pieces! The lanterns can be folded into smaller shapes, so you can bring them home as a souvenir for yourself. The Kawaii Ambassadors were satisfied with this experience, which you can only get in Japan!
門田提灯店 (Kadota Chochin-ten)
Address: 11-8 Kamikawabata-machi, Hakata-ku, Fukuoka-shi, Fukuoka-ken, JAPAN
TEL: 092-271-5766 (*Booking required. However, still accept participants without a reservation when capacity is available)
Period when you can book an experience: September to April
Official Website:
http://kadota-chouchin.com/company.html
Instagram:
@kadotachouchin

* All information correct as of March 2019.
2019 asianbeat・FACo Kawaii Ambassador | Vietnam & China Kawaii Ambassadors PROFILE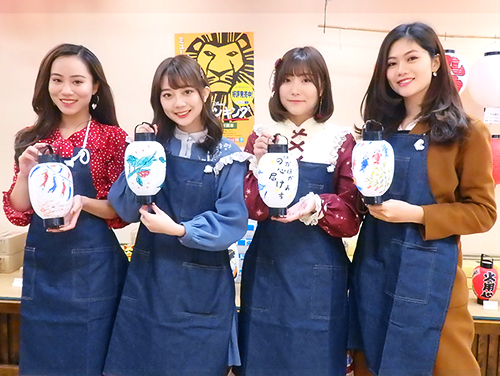 (From left) Ha Khanh Linh, 王依君 (Wang Yijun), 陽馨蘭 (Yang Xinlan), and Vu Huong Giang
The four who were selected as China and Vietnam 's representatives in the "2019 asianbeat・FACo Kawaii Ambassadors Contest" toured around Fukuoka City! Introducing detailed information on the Kawaii Ambassadors in the pages of "[Feature] FACo2019"!
>>
here!- Vietnam Kawaii Ambassador
■ Name: Ha Khanh Linh
■ Nickname: Linh
■ Link:
Facebook
■ Name: Vu Huong Giang
■ Nickname: Giang
■ Link:
Facebook
---
- China Kawaii Ambassador
■ Name: 王依君 (Wang Yijun)
■ Nickname: Yijun
■ Link:
Weibo
/
Twitter
■ Name: 陽馨蘭 (Yang Xinlan)
■ Nickname: Kei
■ Link:
Weibo
Related Articles
External Links