TOHO CINEMAS LaLaport FUKUOKA
INFORMATION

In order to prevent the spread of COVID-19, some of the facilities might have taken various measures such as reducing business hours or temporarily closing their doors. For more information, please check the relevant facility's official website or social media account.



Now available: Yogibo seats and GO/ON Theater! You will appreciate this new movie theater style!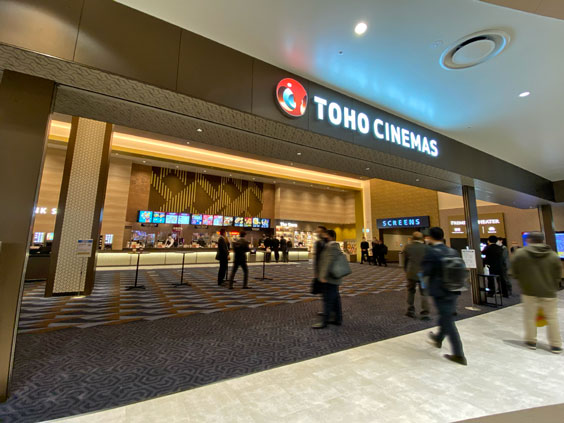 Visit a new large cinema complex in Fukuoka City! You can find the TOHO CINEMAS movie theater on the 4th floor of Mitsui Shopping Park LaLaport FUKUOKA. 9 screens (1322 seats in total) with state of the art equipment will give you an unprecedented movie experience.

All seats are about 30 percent wider than usual cinema chairs! Once you sit down in these chairs you feel comfortable in these spacious seats. You can even pay extra to use one of the seven Yogibo bean bag chairs that are available in the front row of the second screen theatre (admission fee +200 Yen). It is Japan's first Yogibo adoption in a movie theatre. Once you sit down in one of those Yogibo chairs, which are also known as "too comfortable - you do not ever want to move again - magical sofas" to watch a movie, you will forget that you are in a movie theater. They are that comfortable.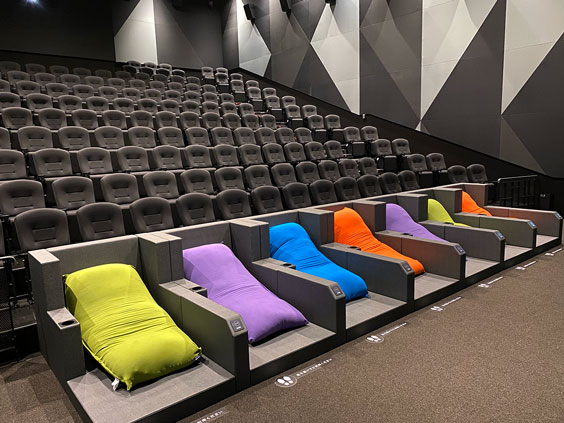 These Yogibo seats were customized especially to fit into this movie theatre.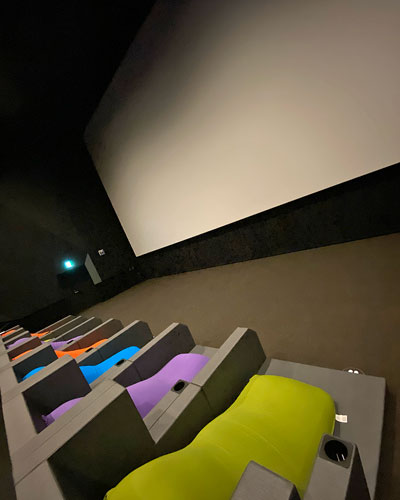 Another interesting fact we would like to mention here are the "W PREMIUM THEATER" and "GO/ON THEATER" options. The W PREMIUM THEATER (the 3rd and 4th screens) offers a high grade, high quality experience. On the other hand you could choose the GO/ON THEATER option on screen seven for an air trembling powerful sound experience that is accomplished by facing the speakers in this theatre to each other. There is no additional charge for "PREMIUM THEATER" and "GO/ON THEATER", so why don't you give it a try when you are next in town?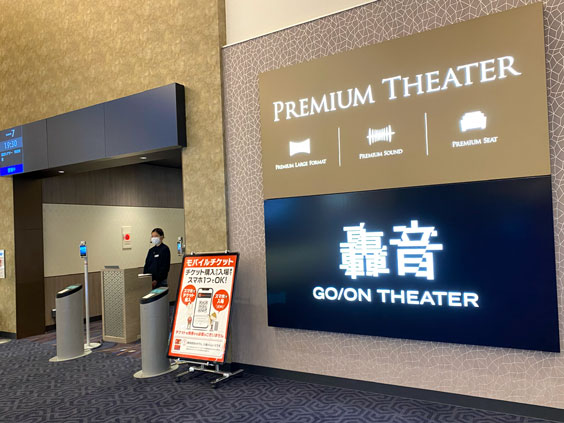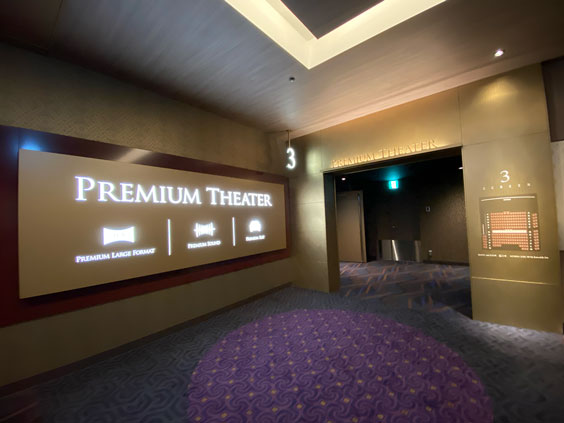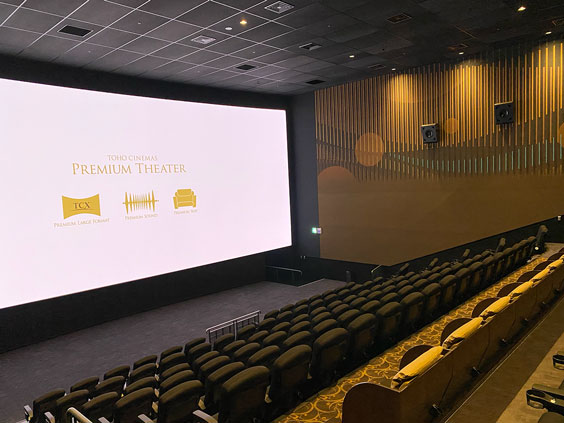 Here in the PREMIUM THEATER the sound is adjusted to the shape of the theater!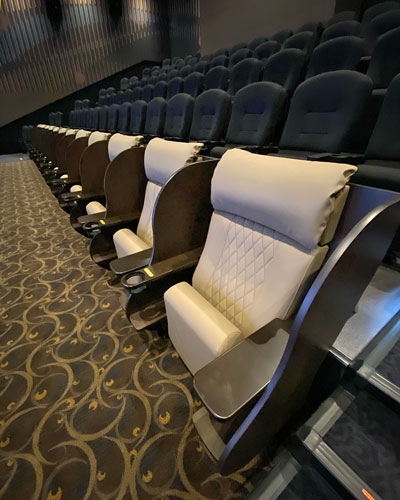 There are also premier seats available with a luxurious leather finish (*admission fee +500 Yen).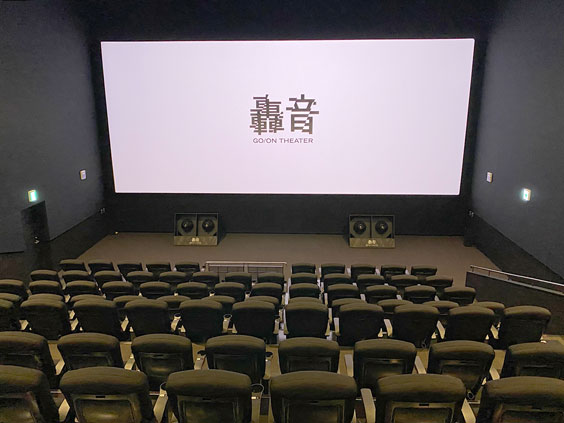 Look at these large subwoofers in front of the screen!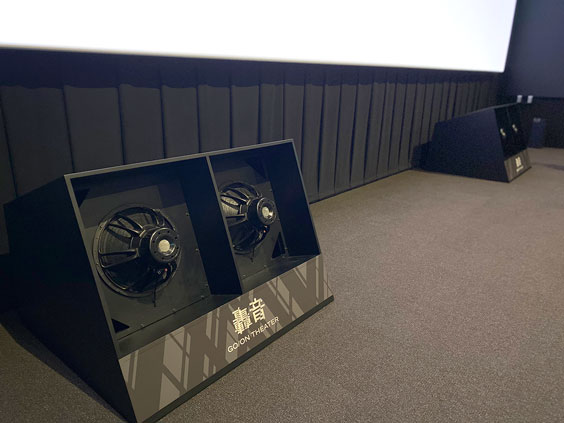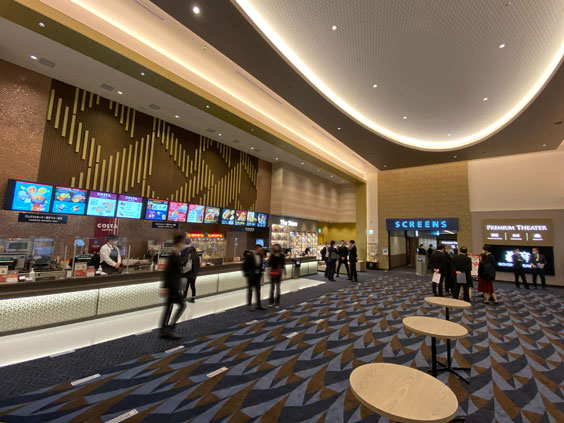 Everything is large here even the food/drinks and merchandise area!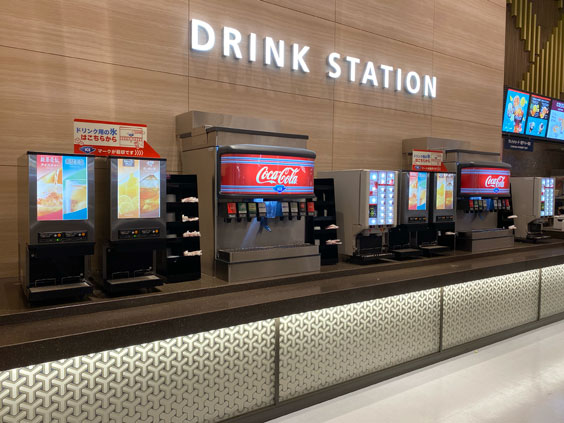 Introduced for the first time in Kyushu: a free refill drink station.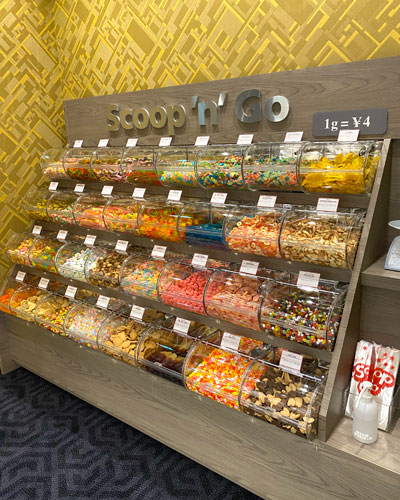 Candies and gummies are available, too (sold by weight)!
INFORMATION
TOHO CINEMAS LaLaport FUKUOKA
- Location: Inside the Mitsui Shopping Park LaLaport Fukuoka. In the vicinity of 6-23-1, Naka, Hakata-ku, Fukuoka-shi, Japan
- Official Website:
https://www.tohotheater.jp/theater/087/institution.html
---
Mitsui Shopping Park LaLaport Fukuoka
- Address: The site of the former Seika Ichiba site (Fukuoka-shi). In the vicinity of 6-23-1, Naka, Hakata-ku, Fukuoka-shi, Japan
- Official Website:
https://mitsui-shopping-park.com.e.act.hp.transer.com/lalaport/fukuoka/
* All information correct as of April 2022. The information for this article was gathered during a media preview that took place prior to facility's opening.
- Hot spots around this area! -