Episode 5 "Gomasaba"

This famous fish dish is unique to Fukuoka... An area that has an abundance of fresh "saba" (makerel)!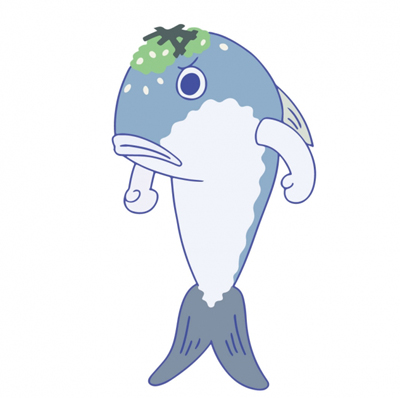 The gomasaba spirit, Gomasaba-kun.
A lot of Japanese speakers who hear "gomasaba" will think of a type of mackerel. But in Fukuoka, "gomasaba" evokes images of a popular local delicacy. "Gomasaba" is a sashimi dish that is made by marinating mackerel in a shoyu-based sauce. The fish is then topped off with sesame seeds.

Saba (mackerel) is a perishable fish, so it is usually grilled with salt or preserved in vinegar. However, Fukuoka has an abundance of fresh saba, so a lot of locals eat the fish raw with a soy sauce-based "tare." The fifth episode of the short "Hakata Mentai! Pirikarakochan" animation series focuses on the "gomasaba" dish. In Fukuoka, restaurants often prepare gomasaba in their own way, making use of different techniques and tare sauce recipes. Why not visit a couple of restaurants when you are next in town so that you can try a few gomasaba variations!
●Memo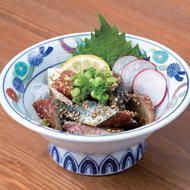 ● ごまさば (Gomasaba)
This local specialty consists of sashimi, saba (makerel), which is cut to bite size pieces, marinated with tare sauce, then mixed with shoyu (soy sauce), sake, mirin, and ground sesame. The sauce, which is imbued with savory, sweet, and salty flavors, combines with aromatic quality of the sesame to ensure that the fresh saba tastes even more delightful.
This dish can be enjoyed as an accompaniment to alcohol or as a meal with rice. Serving the fish on rice and then pouring dashi over top will turn your dish into a delicious "ochazuke" (simple, Japanese traditional meal that is made by pouring green tea, dashi, or hot water over cooked rice). All kinds of Japanese "yakumi" spices work well with this dish. Be sure to sample a few of them to try and find your favorite!
博多明太!ぴりからこちゃん (Hakata Mentai! Pirikarakochan)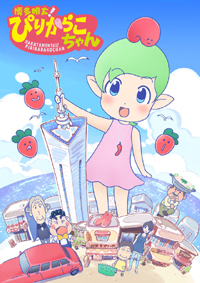 <STORY>
On a commercial street that might or might not be in Hakata, a variety of 'delicious' events occur!? A slapstick slice-of-life drama with food spirits!
<CAST>
Pirikarakochan: Hiyori Kono/Sousuke Ojisan: Kenichi Ogata/Motsunabe Oyaji: Chafurin/Baran-kun: Shun Horie/Amaou Trio: Hitomi Owada/Maya: Maaya Uchida/Caviar-kun: Natsumi Fujiwara/Shitsuji: Hironori Miyata/Koharu Obaachan: Marie Oi
■Broadcast starts from July 2019 (KBC Kyushu Asahi Broadcasting Co., Ltd.)
■Official Website:
https://en.pirikarakochan.com/
■Twitter:
@Pirikarakochan
■Instagram:
pirikarakochan_official
---
● Event Info
The "Hakata Mentai! Pirikarakochan POP UP SHOP in HAKATA MARUI" will be open from Friday 2nd August to Tuesday 13th August! The temporary store can be found in the 2F Event Space in HAKATA MARUI. Visitors will be able to check-out all sorts of exciting merchandise, including some fun original products. Make sure to take a snap at one of the cool photo spots! Take a look at HAKATA MARUI's official website for more information!


External Links