Dante no Hiroba / Taka Kanzeon Daibosatsu (暖手の広場 / 鷹観世音大菩薩)

Shake hands with world-class superstars!? A tourist attraction loved by fans!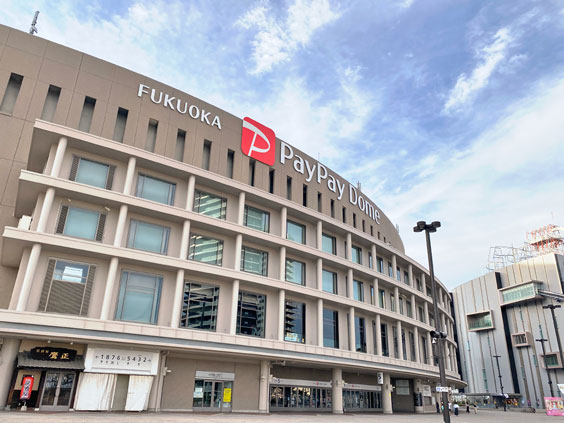 Fukuoka PayPay Dome is a multi-purpose facility where baseball games, concerts and events are held, and the home of Fukuoka SoftBank HAWKS (professional baseball team). Did you know there is an attraction loved by fans called "Dante no Hiroba"? It is created with the idea to cultivate children's dreams by shaking hands with the people they admire. Around the deck on the 3rd floor of the dome, there are more than 200 life-size hand monuments "暖手 / Dante" (warm hands), which are directly modelled from celebrities in various fields such as culture, sports, and art. You can even find the hands of Oh Sadaharu (chairman of the Fukuoka SoftBank HAWKS), Fujiko F. Fujio (the author of Doraemon), and world-famous superstar Michael Jackson!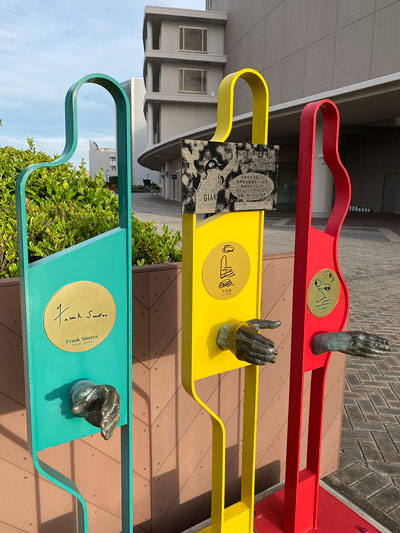 (From left) "Dante" of world-famous entertainer Frank Sinatra, chairman of the Fukuoka SoftBank HAWKS Oh Sadaharu, and manga artist Matsumoto Leiji.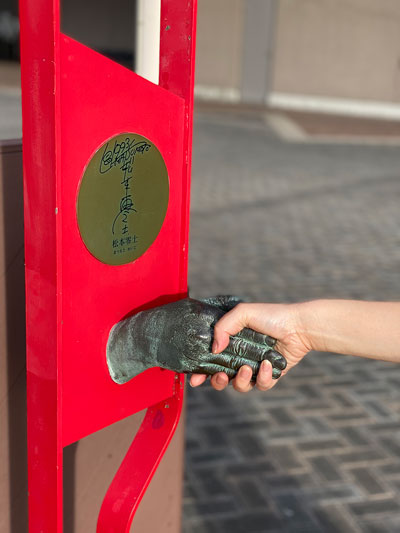 The author of "Galaxy Express 999", Matsumoto Leiji, is from Fukuoka!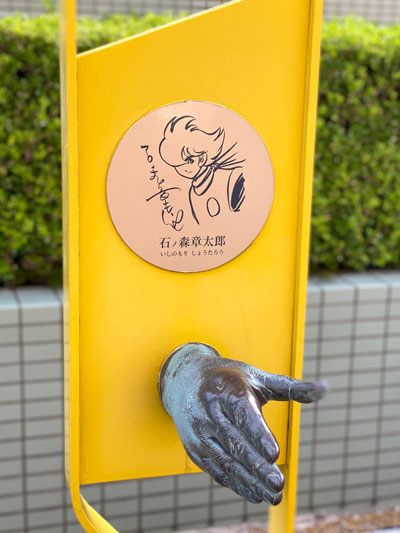 "Dante" of Ishinomori Shotaro who is known as the creator of "Cyborg 009" and "Kamen Rider".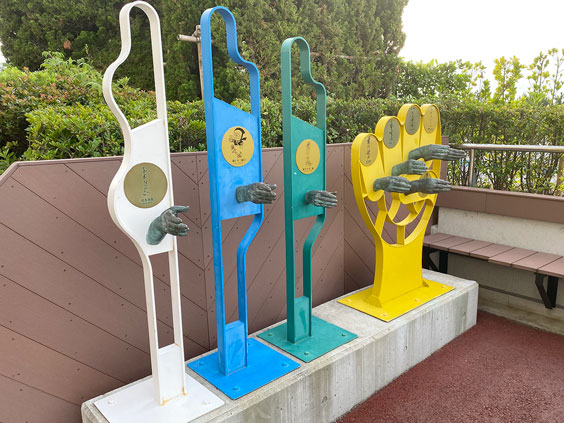 Feeling inspired after seeing the quotes and illustrations!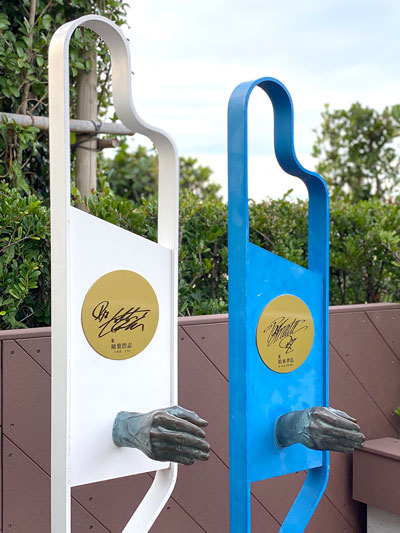 And the two B'z (one of Japan's leading rock bands) members too!
Whether it's the right or left hand, the way the fingers of each hand spread is surprisingly unique and amazing! Shake the "Dante" of the person you admire when you are there!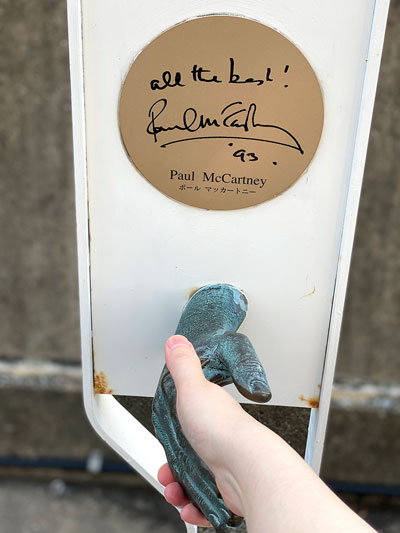 Paul McCartney who held concerts at Fukuoka Dome in 1993 and 2013.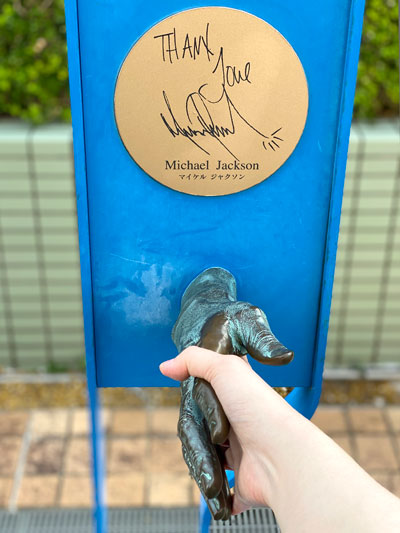 Michael Jackson, who performed at Fukuoka Dome twice in 1993 and 1996! This hand with wide open fingers really stands out!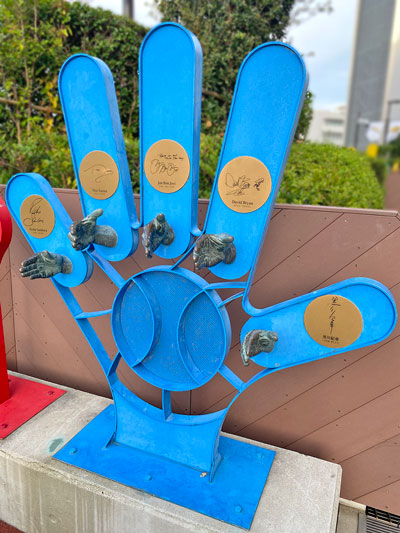 Famous American rock band BON JOVI and Kurokawa Kisho (Japanese architect).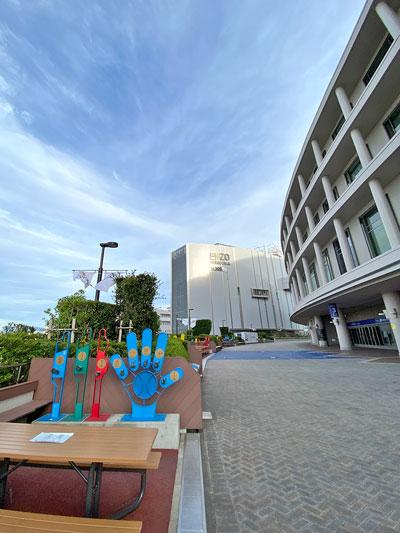 Taka Kanzeon Daibosatsu (鷹観世音大菩薩)
Another attraction of Fukuoka PayPay Dome is "Taka Kanzeon Daibosatsu (a.k.a. 'Taka Kannon')" which is located near the 8th gate. It is a unique Kannon statue that stands in front of the map silhouette of Kyushu and a pair of large wings of hawk, which is the symbol of the Fukuoka SoftBank HAWKS. As it is worshipped as the guardian deity of HAWKS, it has become a popular spot for fans, team members and staff to pray for the team's victory.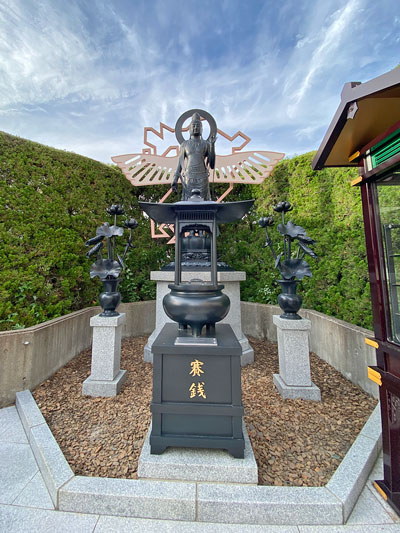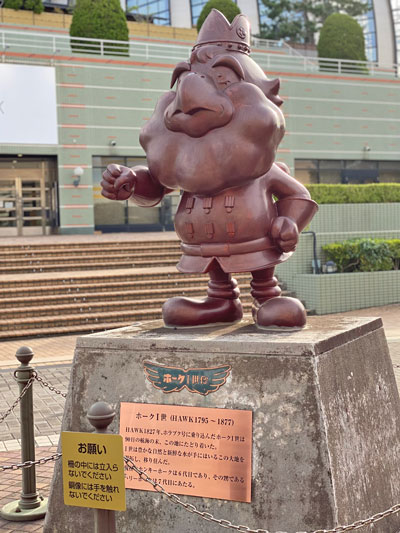 The statue of "HAWK I" ― the ancestor of Harry Hawk, one of the Hawks mascots!
Dante no Hiroba / Taka Kanzeon Daibosatsu
- Hot spots around this area! -