"Tsukemen": It's ramen with a twist!(1/2)

"Tsukemen": It's ramen with a twist!
When people think of "Hakata" they will most likely conjure up images of ramen. I myself am one of those people. But there is a much greater variety of noodles out there besides ramen! In this article I'd like to introduce you to ramen's weird cousin, "tsukemen," and a few of the restaurants serving up this local specialty. First up I visited "Gensuke," a tsukemen restaurant and branch of the famous Hakata ramen restaurant, "Ikkosha," to give it the taste test. The shop is conveniently located in Daimyo, near Tenjin, so if you're in the area doing a bit of shopping then you don't have to travel far to drop in for a bite. The restaurant seats 12 people and has a kitchen in full-view so you can watch as the chefs prepare your meal. The interior is neat and tidy and it doesn't have that very distinct smell of pork broth that you encounter at a lot of the ramen shops in Fukuoka, so it would also make for a good date spot or a place for girls to take their girlfriends.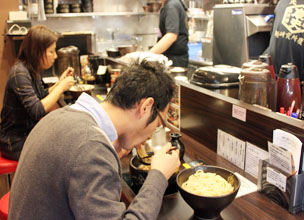 ● My first "tsukemen" experience!
One thing which I found interesting at "Gensuke" was the IH electric heaters that are installed in each of the tables. This is so customers can eat their meals at a temperature of their liking.

There's quite a lot of choices available on the menu but I decided to go for what I set out to try in the first place and ordered the tsukemen.


The noodles come in your choice of 200g, 250g or 300g. 200g is what's recommended for women, 250g is standard, and 300g is what they recommend for men who really want to fill up! The amount you order doesn't affect the price so I decided to go all out and order the 300g!

The noodles have arrived! (Photo: "Gensuke Special Tsukemen" – 1000 Yen) The noodles and the soup came out separately, just like I had seen on TV.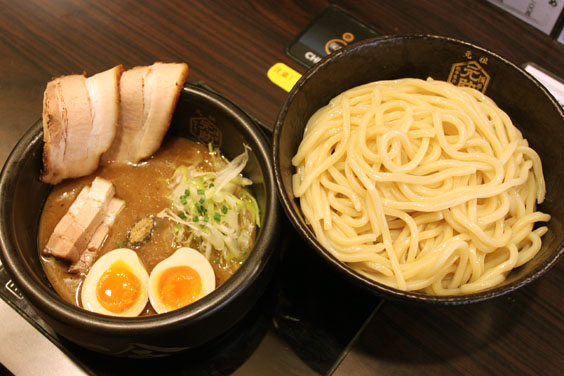 How to eat tsukemen
It's simple really; grab a small bunch of noodles with your chopsticks, dip it in the soup and then down the hatch! If you dip too many noodles at one time though, the taste of the soup becomes a little too overpowering. The staff recommend grabbing 2 or 3 strands of noodles at a time and dipping them in the soup. At first, I too tried to devour too many noodles at once and found that the amount of soup absorbed into the noodles was a bit much. The soup itself has a very dense flavor. Thankfully the owners of Gensuke have thought this through! If the flavor of the soup is too strong, weaken it down a little with the fish soup that is brought out as an addition to your order.
The meal is also laden with roasted pork fillet! Yum!
I initially thought that you could only get pork-based soup for noodles in Hakata but to my surprise Gensuke's soup is a combination of both pork and fish – and it tastes amazing! Unlike other noodle restaurants I've been too, the noodles here were rather firm and when I asked the staff their secret to maintaining noodle firmness all they could reveal to me was that the noodles are made in a "special way" at an "off-site location"…
The amusing thing about tsukemen is that there are so many ways of eating them. You can additionally dip them in vinegar and then eat them or add a little chili to give it a bit of a kick. Don't be too afraid to ask the staff about how best to eat your tsukemen though; everyone needs a helping hand the first time round!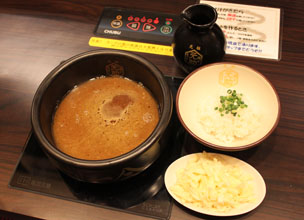 ● "Zousui" (rice gruel) 200Yen.
If you find that tsukemen alone isn't enough to satisfy you then I recommend finishing with a serving of "zousui" (rice gruel). Cheese, rice and three types of onion go into your remaining soup and you heat it on the electric hot plate in front of you.

Apart from tsukemen there's also ramen, mixed soba noodles, fried chicken and a whole range of other items on the menu.
In Fukuoka there's an abundance of ramen shops and tsukemen shops that will have a completely different taste to the soup-base prepared by the chefs at "Ikkosha/Gensuke." It would be a bit of fun to just go around trying out all the variations and seeing which one tastes best!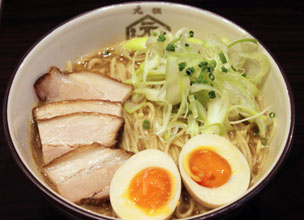 ● Gensuke ramen with boiled egg 850Yen. (pork/fish broth base)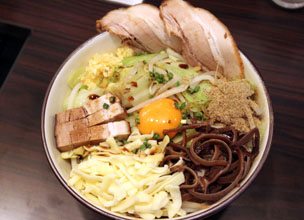 ● What the manager calls "Junk" soba. Special mixed soba 1000Yen.
I received a discount coupon from my visit to Gensuke so I'll be sure to go back again! People, make the most of your coupons!! (lol)
Gensuke - Nishi-dori Store INFORMATION
※ This restaurant closed down a few years ago.
The other restaurant where we can eat tsukemen is......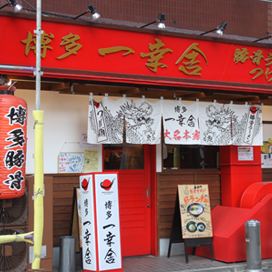 Hakata Ikkousha - Daimyo Branch
Click the image to read the article of Hakata Ikkousha.
Related Articles : Your Guide to Fukuoka and more "Noodles" articles!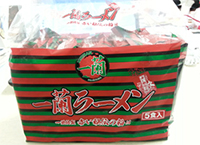 [Culture Watch] Fukuoka souvenirs and my new standards!
The Ichiran souvenir instant noodle packs went on sale at the end of June 2014!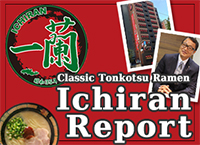 Classic Tonkotsu Ramen - Ichiran Report
Founded in 1993 and steadily gaining popularity ever since, in the summer of 2014 there are plans to open another Ichiran in New York.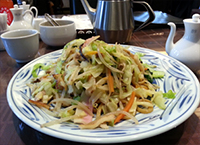 [Culture Watch] Fukuoka souvenirs and my new standards!
Everyone's Bound to Love "Hakata Sara Udon"!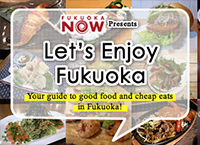 Let's Enjoy Fukuoka presented by Fukuoka Now
We've got restaurant reviews from a wide variety of cuisines from around the central Fukuoka area to help you make that all important decision – "what to eat?"