[ICON] Eico Hanamura - The Shojo Manga Artist Whose Works Cast a Spell Over the World(1/3)
Here is a girl who has big shinning eyes and long eyelashes. She is like a doll.
"Eico Hanamura" who is a famous cartoonist in the world and her every cartoon characters are cute and pop. Recently, people in the world are paying attention Japanese pop culture including cartoons or animation. In this history of Japanese cartoons, she has been working as pioneer of cartoonist about fifty years ago. She has been affecting on other young cartoonists and her drawing is still presenting not only in Japan but also in overseas, truly she didn't have a plan to be such a famous cartoonist. But why people in the whole world are fascinated by pictures of "Eico Hanamura"? We visited her own studio to search a key of this mystery and finally we found out one hint in her personality which is so cute and attractive.

I'm bad at making a drawing because I didn't want to comic artist!
asianbeat(ab):What was your opportunity to start to be comic artist?
?

Hanamura:When we've never seen any cartoon or comics, my brother got a magazine of the beginning drawing by "Osamu Tezuka" from Kodansha and I was so freak out when I saw it because I've never seen that kind of cartoon though I've seen "Sazae san" or "Norakuro". I thought he's amazing. But I didn't think cartoon world is good for me, and we didn't see a lot of cartoon or comics when we were little children, so I read many kinds of books and novels instead of comics, but I noticed I love drawings and I was absorbed in one illustration which was drawn in novels of "Junichi Nakahara" since I wanted to draw that kind of pictures, I went to art school.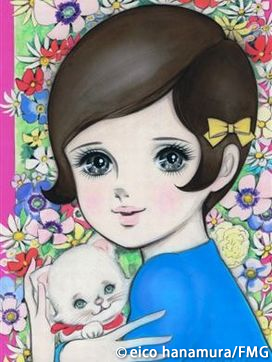 While I have been to school, my relatives invited me to join the workshop of drama and I began to crazy about this little by little and I also met one guy who is going to be my husband in the future and I was crazy about love as well but at the same time, I couldn't draw much of pictures. My parents didn't allow me to go to drama club and stay with my boyfriend. They just wanted me to go back to school, so we were running away from home together, but we couldn't find job to live because we were so young. We didn't have any part- time job system at that time.
So, we found one barnstormer in Osaka, and we asked them to join their company. While we have been staying at Osaka, we rent one room of the apartment, and 1F of that apartment was rental book shop, and the master of this shop was cartoonist. I often come by this book shop and one day, I showed him some pictures which I drew and he liked very much and he suggested me to draw more. I have never read any comics of course I have never draw cartoon characters. I was little nervous but he wanted me to create new story and make original cartoon. He taught me to
So I could finish my original picture book and the master took this book to publishing company in Osaka and they paid me copy money immediately. I was so happy to get money because of my strange picture. This was unexpected story. After that, the company kept asking me to draw new picture book, and I accepted. This job was going to be regular work and I knew this is good way to save money to live.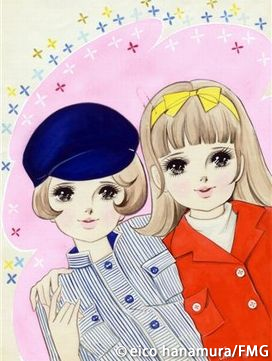 ab:It's amazing!

Hanamura:At that time, I was working with "Kazuo Umezu" who is very popular as a horror cartoonist in Japan. We were good friends anyway… while we have been working together, I had a chance to be a cartoonist at "kobunsha" in Tokyo so I was supposed to move to Tokyo and live near the company, but I wasn't going to be a professional. I was working just for money and I love to draw more than anything. After we came back to Tokyo for my husband's business, "NAKAYOSHI" which was published by Kodansha demanded me to publish new serial cartoon, but I still didn't want to be a cartoonist because I wanted to draw a illustration in novels for girls, so I was going to visit the publish company and tried to say 'no' but they said, 'you're going back the times, it's not good though.
You have to start new life as a cartoonist' and an editor also said, 'now , it's time for comics' Honestly, I didn't know what I want to do, so I said, 'OK! I will do this' I decided to work there. First of all, I started serial comic printing in "NAKAYOSHI" and I started "FRIEND" also "Shougakukan" and "Shueisha" almost in 2 years.
I didn't think I'm going to be a professional cartoonist but I already I am. I think I'm still bad at drawing.
But I got a lot of job from that time Idon7t know why!


I hit upon a good idea Strangely when I was the very last moment.
ab:What especially do you mind and to be particular about for your cartoonist around 50 years?

Hanamura: I always try to work for the deadline and I try to do my best for this all the time. When I had some weekly or monthly serial comics, I was late for the deadline, and I used to have troubled some people because of this and then big boss at the printing office came to my house, he was waiting for finishing my work until midnight. Afterword, I visited his house bringing "saki". I wanted to return something because I felt bad, but he said, 'it's all good, Miss Hanamura, I'm just feel sorry for the people who working at the binder office because they were expecting for just one piece such a long time. They didn't sleep at all.'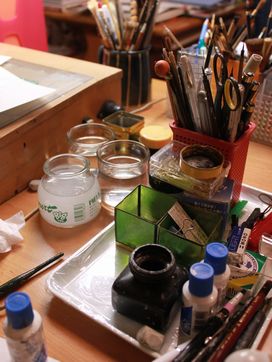 I was very shocked when I heard this and I thought this will never be happened again. Since that happened, I never late for the timeline.

ab:How much best number of title did you release?

Now I have 1 weekly serial comic and 2 monthly serial comics and sometimes I accept some complete comics, also some illustration, so I draw 250pieces of pictures in a month. During my assistants are finishing one piece, I start another one. Sometimes I'm confused because it's not easy to make original story. Strangely, I create new idea the last minute. I believe the god exists in me and he helps me all the time.