#10 Embodying all that is Japan. Kyary Pamyu Pamyu Live in Paris
In July 2012, I attended the Paris Japan Expo for the first time in two years.
In 2008 when I first attended the event, I met a number of young Parisians who were in love with this Japanese word, "kawaii," and it was these encounters and the support of the Japanese Ministry of Foreign Affairs that lead to the creation of the 'Kawaii Ambassador'project.
#59 Pop Culture Diplomacy pt.1 – Revelations in Saudi Arabia and the "World Kawaii Revolution" in Paris
It was also the time I spent with the Kawaii Ambassadors, Aoki Misako and Kimura Yu, in Paris in 2009 that became the starting point for my work producing fashion shows overseas.
#6 The Kawaii Girls of Shenyang and their Long Awaited Catwalk Debut!
At the Japan Expo in 2010 I witnessed Morning Musume perform live and came to understand the limitless potential of Japanese idols.
#34 Interview with Ai Takahashi Pt.1 – Becoming a Leader
At the Japan Expo in 2008 there were barely any Japanese to be seen at the event, but come 2010, the number of Japanese increased and a number of Japanese companies and organizations joined the list of participants.
In 2011 I didn't attend the Japan Expo because I decided to venture to new ground and take part in some events that other countries were running, but after returning to the Expo after two years, when it was all over I was reminded once more just how fun this event is.
This time I wasn't one of the producers of the event, I was able to take in the scenery just like all the other visitors, just like I did the first time I attended the event in 2008.
People people everywhere. Japan Expo 2012.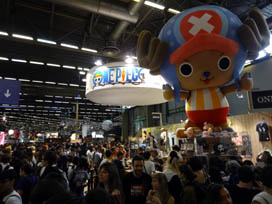 What needs to be done to spread Japan and Japanese culture even further throughout the world? I don't think there's a place that could be more inspiring to entertain such ideas than at this event. Today there are lots of guests from Japan and Japanese companies taking part in the event. The situation is different to what it was in 2008 and it's an inspiration to me to re-think how to go about strengthening relations between Japan and the rest of the world.
Putting the serious stuff aside for a moment though, just being in a hall with some 200,000 French people going crazy over Japan is incredible fun. It would be such a shame if you didn't get to experience this for yourself at least once. And I guarantee that if you do, from that day forth you're bound to experience a big change within yourself as well.
For me personally, the thing that left the biggest impression at this year's Japan Expo was the performance by Kyary Pamyu Pamyu.

Kyary took part in various aspects of the event, putting on a handshake session and even appearing on the French cable TV station "Nolife" (a station dedicated to delivering all the latest news from the Japanese music scene), but the performance itself was spectacular.

The scene at the Kyary Pamyu Pamyu concert.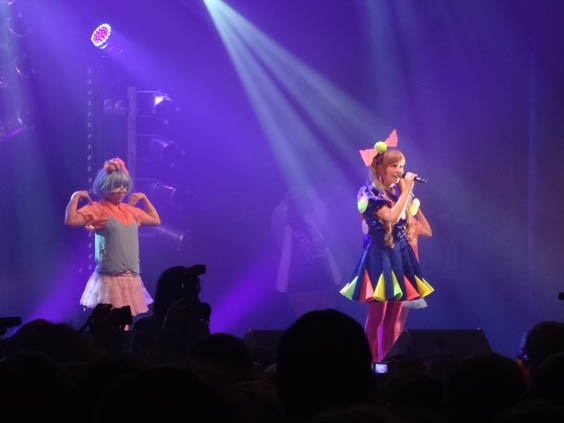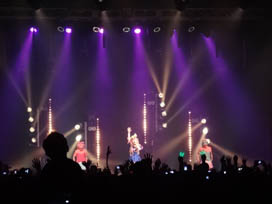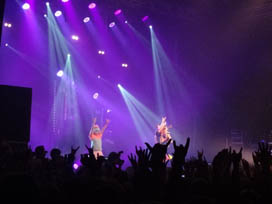 Her performance was a collaborative effort with the Harajuku fashion show and performed on the main stage on the last day of the event, but it was the solo performance she gave the day before that really left an impression on me. What she did went beyond the field of fashion and became a composite work of art.
Music, fashion and various elements of Japanese originality all rolled into one and expressed through live performance. It was a complete embodiment of all that is Japan.
I think there would be few live acts that could embody Japan as well as this one did. Various acquaintances of mine and all the Japanese parties involved who saw the performance all said the same thing.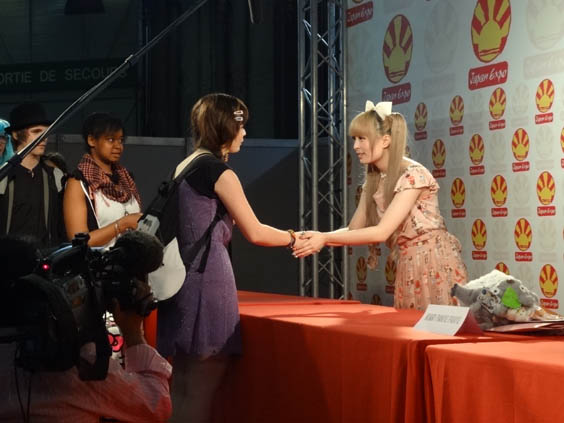 Everyone lining up to shake hands with Kyary.
Kawaii, Harajuku…Everything I've done these past number of years has been based on these two concepts in some way or form and to be able to share in both of these and witness "Japan" on stage for 30 minutes along with a crowd of 34,000 French people is something I consider to be beyond precious.
So, where to next? And how do we go about promoting Japan to the world from here on? Kyary Pamyu's performance gave me a lot to think about and I hope that through this column the answers to these questions gradually come to light.
A new article every Wednesday!
Next time: The scene at the 2012 Japan Expo.

Columnist: Sakurai Takamasa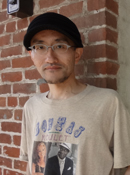 Contents Media Producer, author, journalist, managing director of Contents Street Inc. Chief Editor of iPhone magazine "Tokyo Kawaii Magazine" (ASCII Media Works), World Cosplay Summit Executive Advisor, Chief Researcher at Kodansha/Kodansha BC China Management Laboratory.
Cultural diplomat producing events in 102 cities in 24 countries. Books include "Galapagos-ka no susume"(Kodansha), "'Suteru' de shigoto wa umakuiku"(Diamond-sha), "Nihon wa anime de saiko suru
"(ASCII Shinsho), "Sekai no kawaii kakumei " (PHP Shinsho), and "Anime bunka gaiko "(Chikuma Shinsho). Writes regular columns in the weekly magazine "ASCII" and Yomiuri Shimbun.

●twitter http://twitter.com/sakuraitakamasa/