#17 Why Young People Everywhere Want to Visit Japan.
In November 2009, I helped organize the Japan Pop Culture Festival (aka. J Fest) in Moscow, but until I stood up on stage at that event, never did I think that Moscow would become like a home to me.
#60 Pop Culture Diplomacy pt.2 - Touring the globe with the Kawaii Ambassadors, visits to China, and encounters with Japanese idols
Come winter this year, I plan on returning there once more. I can't wait.
I've been to Moscow three times now, and I've made a lot of really good friends there. One of those friends, Maria, dreamed of visiting Japan and she made that dream a reality when she came to visit in summer this year. Maria always helps me out in any way she can whenever I visit Moscow and I consider her to be a fellow supporter of pop culture diplomacy. She studies Japanese on her own and her language ability just seems to get better and better every time we meet.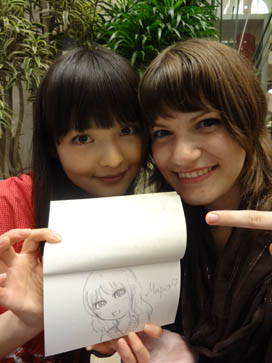 "Sumire's Russian is really good." Uesaka Sumire's portrait of Maria.
I have friends from overseas coming to visit Japan just about every month and while I would love to show them all around Tokyo, the time that I actually spend in Tokyo myself is very limited and unfortunately I often miss out on seeing these friends altogether. Thankfully though, my schedule during Maria's visit to Tokyo permitted me time to see her and show her around.
A lot of my friends in Japan, including voice actress, Uesaka Sumire, took time out of their busy schedules to help show Maria around Tokyo. If it hadn't been for the pop culture event held in Russia, though, I probably wouldn't even know Maria or Uesaka Sumire right now. Connections are rather amusing things.
#13 Interview with Voice Actor, Uesaka Sumire - Her Love of Russia and Aspirations for the Future
Younger Japanese aren't that familiar with places like Shitamachi (older, more traditional district of Tokyo), so when foreign friends come to visit, it's almost like a new experience for them as well to go and see these areas. It's a way that even we as Japanese can rediscover what it is that people from other countries find so special about Japan.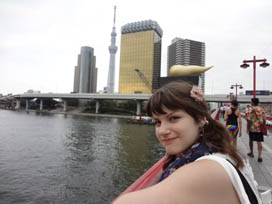 In Asakusa.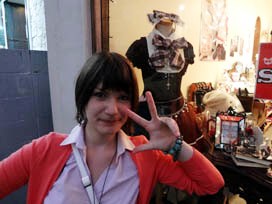 Walking around the Urahara area in Harajuku.
Once Maria arrived in Tokyo I met up with her at Laforet in Harajuku. This is one of the places I often use as a meeting point whenever friends from overseas come to visit. It's central enough to use as a base for guiding people around the Harajuku area, and if you get off the train at Harajuku and just say "Laforet Harajuku" to a passerby, just about anyone will be able to show you the way.

"Japanese people really are very kind. I asked for directions to Laforet and someone very politely explained how to get there."

That was the very first thing Maria said to me when we met.
We went to Ameya-yokocho in Ueno, walked around Asakusa, climbed Tokyo Tower and I also took Maria for her first ever 'monjayaki.' Seeing things from the point of view of a young foreign visitor like this, it's easy to see just how fascinating and original Japan really is.

Strolling around Ueno's Ameya-yokocho.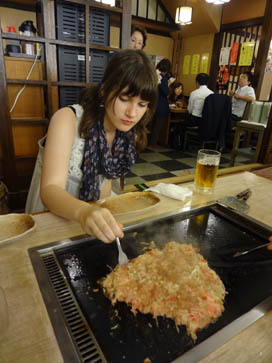 Maria tries 'monjayaki' for the first time.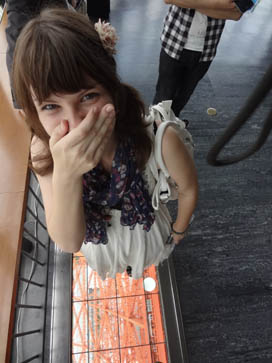 Atop Tokyo Tower. Seems Maria's not that fond of heights.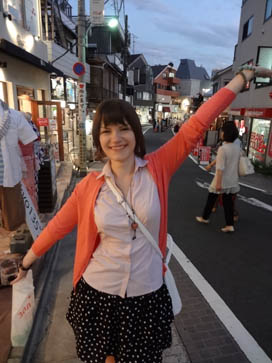 In Urahara, Harajuku.
For Japanese people everything about Japan is commonplace, but take a step outside of Japan and you begin to see just how blessed in originality and creativity we really are. We should be proud of the fact that we're an island nation of more than 100 million people located at the edge of eastern Asia. It's the perfect environment for conceiving all these one-and-only creations.

To tell you the truth, I never used to have much confidence in Japan's attraction as a tourist destination. It's hard to know what's unique and what's not when you're raised in a particular culture. But as it turns out, from an outsider's point of view, Japan is one big tourism resource.
So how then do we go about getting more people to come and visit Japan?
The Japanese government's "cool Japan" campaign, while effective in a sense, only highlighted certain aspects of Japanese culture. I think it's time we established a more comprehensive campaign showcasing more of Japan's inherent elements, and I'm reminded of this whenever I walk around Japan with friends from overseas.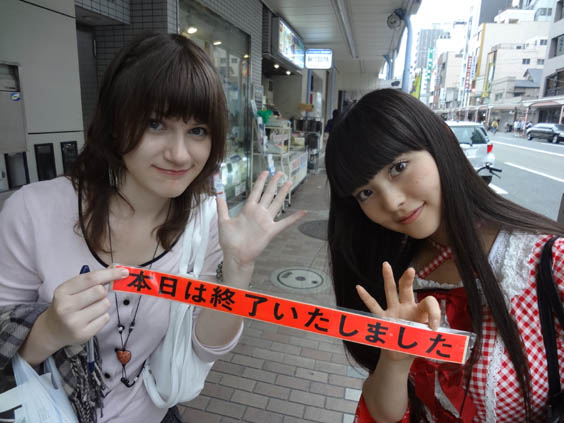 Looking around Kappabashi with Uesaka Sumire.
A new article every Wednesday!
Next time: The exchange students who come to Japan to study fashion design.

Columnist: Sakurai Takamasa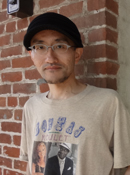 Contents Media Producer, author, journalist, managing director of Contents Street Inc. Chief Editor of iPhone magazine "Tokyo Kawaii Magazine" (ASCII Media Works), World Cosplay Summit Executive Advisor, Chief Researcher at Kodansha/Kodansha BC China Management Laboratory.
Cultural diplomat producing events in 103 cities in 24 countries. Books include "Galapagos-ka no susume"(Kodansha), "'Suteru' de shigoto wa umakuiku"(Diamond-sha), "Nihon wa anime de saiko suru
"(ASCII Shinsho), "Sekai no kawaii kakumei " (PHP Shinsho), and "Anime bunka gaiko "(Chikuma Shinsho). Writes regular columns in the weekly magazine "ASCII" and Yomiuri Shimbun.

●twitter http://twitter.com/sakuraitakamasa/
PRESENTS
All the info. on asianbeat's present campaign!