#18 Taking Back Harajuku! Fans Gather for An Cafe's First Concert in Nearly 3 Years
On the 8th and 9th of September 2012, Japanese rock band Antic Cafe (An Cafe) held a concert at Yoyogi National Gymnasium in Tokyo, Japan - their first since their performance at the Budokan in January 2010.
Their concert at the Budokan in 2010 really left an impression on me. In 2009, when the Ministry of Foreign Affairs appointed me the producer of the Kawaii Ambassador project, I discovered first-hand just how popular Japanese fashions are overseas. And it was at this An Cafe concert at the Budokan that I witnessed a convergence of all the various Japanese fashions that are so adored by people all over the world.
Shortly before this, when I was visiting Brazil with Kawaii Ambassador, Aoki Misako, I learned just how loved An Cafe are overseas and realized that while I've been travelling around to various countries giving talks and lectures, they've been hard at work themselves, spreading their music and Japanese culture throughout the world. Their live performance was a firm indicator of this.
Shortly after I met the group personally, they decided to take a break from their band activities and it seemed inevitable that during their hiatus I would have them join me in traveling around the world promoting Japanese pop culture. I travelled with bassist, Kanon, five times; three times with drummer, Teruki; and keyboardist, Yuki, joined me once on a trip to China.
Several of my travels with the group have also been serialized on asianbeat (see links below).
#1 Globetrotting with Overwhelmingly Popular Visual-kei Rock Band, Antic Cafe
#2 Reciting "Detective Conan" with Chinese School Girls! and Touring China with the Popular, An Cafe.
#20 Guests and Visitors All Staying in the Same Hotel!? Journey to New Jersey with Kanon (An Cafe)
#22 One Thousand Americans Dancing to the Beats of DJ Kanon's (An Cafe) Ani-song Mash-up!
#24 At the California KINTOKI-CON with Teruki from An Cafe!
Getting back to their comeback concert.
September 8th: concert opening day. The atmosphere in Harajuku on this day was different than usual. I arrived at Harajuku Station early because I was meeting up with an An Cafe fan (or "Cafekko" as they're known) who helped me out when I was in Mexico, but on this day there were far more Lolita fashion girls than you would normally see in Harajuku. Even more out of the ordinary were the girls in cosplay seifuku (not the regular seifuku fashion) and cosplay nurse outfits!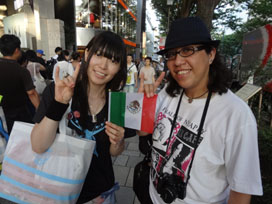 Japanese and Mexican Caffeko hitting it off in Harajuku. Posing doing the An Cafe "Nyappy" call/hand-sign.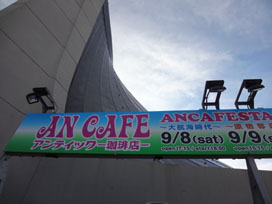 The concert at Yoyogi National Gymnasium.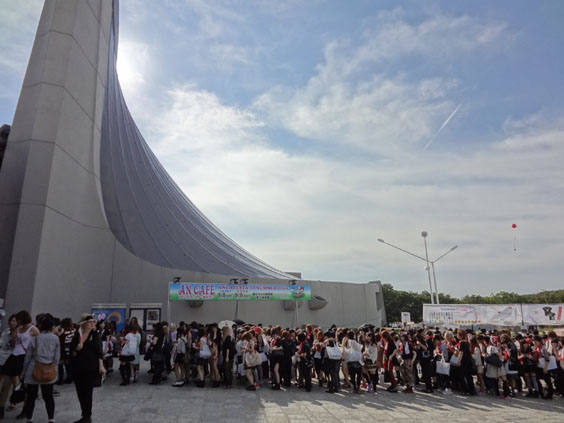 The long line of fans waiting for the doors to open.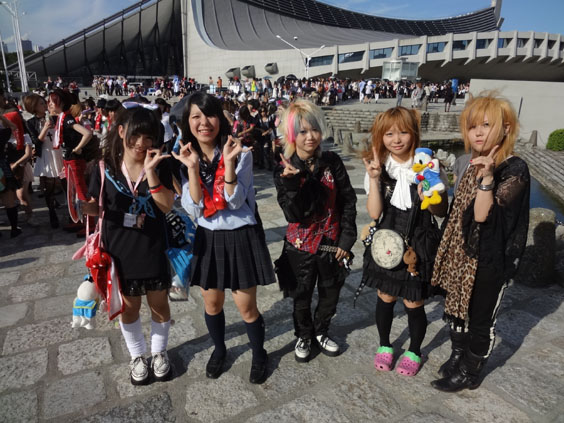 The day was like a celebration of style and individuality.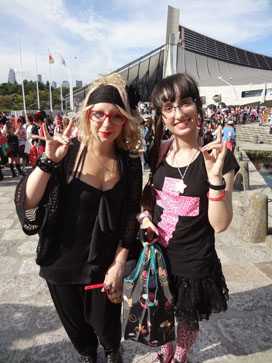 Reuniting with a Caffeko from Spain outside the Gymnasium.
The An Cafe members often compare their concerts to wonderlands. It's like they're urging the audience to forget about their daily troubles and just live in the moment. That was exactly the vibe in Harajuku on this day too. There are few live performances like it.
The second performance of their 2 days in Yoyogi was titled, "Harajuku Dakkan" ("Taking back Harajuku"), and I couldn't help but feel that their concert injected new life into the area.
As I was waiting around at the entrance to the event hall I also happened to run into another Caffeko who I first met in Barcelona. An Cafe is about to kick off their world tour but I guess she wanted to be there on this day to witness their comeback concert for herself as well.
Next week I'll be bringing you my interview with Kanon and Takuya and their thoughts on the An Cafe comeback concert.

A new article every Wednesday!
Next time: Interview with Kanon and Takuya of An Cafe.

Columnist: Sakurai Takamasa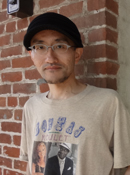 Contents Media Producer, author, journalist, managing director of Contents Street Inc. Chief Editor of iPhone magazine "Tokyo Kawaii Magazine" (ASCII Media Works), World Cosplay Summit Executive Advisor, Chief Researcher at Kodansha/Kodansha BC China Management Laboratory.
Cultural diplomat producing events in 103 cities in 24 countries. Books include "Galapagos-ka no susume"(Kodansha), "'Suteru' de shigoto wa umakuiku"(Diamond-sha), "Nihon wa anime de saiko suru
"(ASCII Shinsho), "Sekai no kawaii kakumei " (PHP Shinsho), and "Anime bunka gaiko "(Chikuma Shinsho). Writes regular columns in the weekly magazine "ASCII" and Yomiuri Shimbun.

●twitter http://twitter.com/sakuraitakamasa/
PRESENTS
All the info. on asianbeat's present campaign!