Vol.3 hitomi (@home cafe) "I want to use maid culture to build bridges across the globe!"

Maid's outfits are so kawaii, I love them!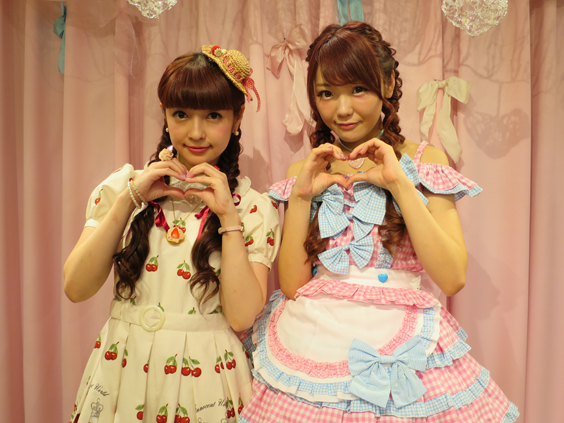 Misako Aoki, hitomi
Misako Aoki
What look have you gone for today?
hitomi
I'm wearing clothes from the brand "Seventeen Kiss," for whom I'm a producer. Since becoming a maid, I've been keeping an eye on fashion, so I try and incorporate my own "moe" things into my fashion style.
Misako Aoki
I've not seen many outfits as bright and lovely as yours!
hitomi
I love pink, so today I've gone for something pink.
Misako Aoki
I don't see that check pattern so often!
hitomi
 It's a design that I like personally, I try to choose clothes that are not quite so common. I guess the maid's perspective is still really important to me.
Misako Aoki
What are your thoughts about Lolita fashion?
hitomi
I think its so kawaii! Generally speaking maids tend to love kawaii clothes, and there's so many people who love Lolita fashion, and also so many people that love Harajuku fashion. I buy lots of accessories for my maid outfits in Harajuku!
Misako Aoki
What kind of clothes do you usually wear?
hitomi
 Well, that's for my maid outfits, you might think that I usually wear fluffy clothes. But basically, I just love fashion, I'm not too caught up in one style or genre, I just try wear what fits the occasion.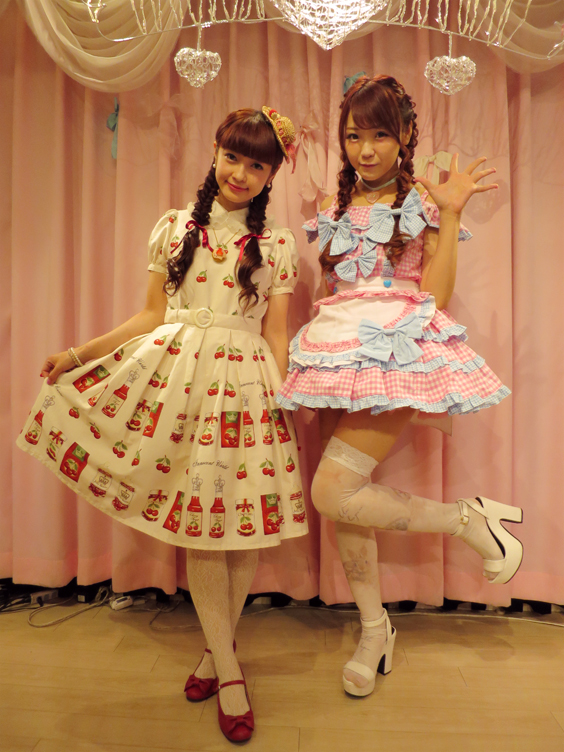 Using maid culture to build bridges across the globe!
Misako Aoki
There's also been an increase in the number of maids working abroad, right?
hitomi
The first time I went abroad was to a Japanese event held in Thailand. The next time was to an event in Singapore, where I had a chance to perform in a huge hall. I didn't think there would be so many people waiting for us, so I was so happy, I came to realize that there are people all over the world who want to take part in cultural exchange. I think I would like to use maid culture to build bridges across the globe. Thanks to Sakurai-san, who is the producer of this series, the other day I was able to join a trip to Mexico promoting cultural diplomacy.
Misako Aoki
What kind of thing did you do abroad?
hitomi
We kind of recreated @home café and built a replica of it on stage. I spoke about "Moe Moe Kyun" (a kind of magical blessing that the maids say before serving food and drinks) and introduced them to how this magic spell can make the drinks taste better.
Misako Aoki
I went to an event in Moscow the other day, and there was a maid café there. The Russian maids looked just like dolls!
hitomi
I want to go too!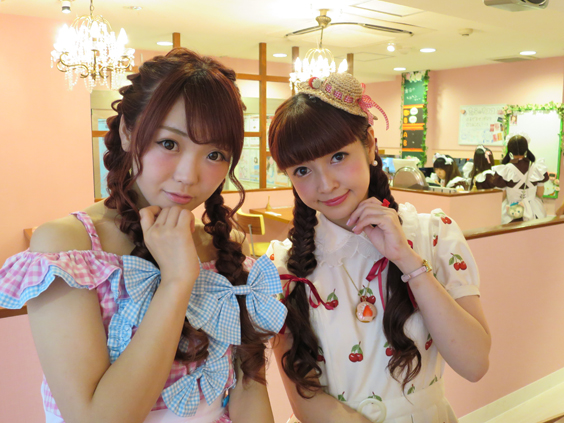 Japanese hospitality is number 1 in the world!
Misako Aoki
What were your lasting impressions of Mexico?
hitomi
I went to a maid café with Sakurai-san. What surprised me was that one of the maids there was my fan and she had even got hold of my publicity shot! Without ever going to Japan, the managers and maids at this café learn about maid cafés by studying about them on the internet. I realized that they really respect us and what we do. And because of these rare opportunities, I have been able to do @home café lectures. I carried drinks to the maids, the way I actually serve in Japan and showed them how we do it. It feels me with so much joy when I hear the other maids say "Right, let's do the same again tomorrow!" And it would be so great if we were able to transmit, even just a little, the essence and heart of Japanese hospitality to the Mexican people. I was really happy to see that they were very pleased with the experience!
Misako Aoki
I think Japanese hospitality is number one in the world. And I think that the hospitality of maids is particularly great, I really hope that you can share these things with people abroad.
hitomi
 Little by little I think we are letting people all around the world know about maid cafes and culture, as a professional in omotenashi, I want to continue visiting places overseas to spread the word (about maids), with great pride in Japanese culture.
Misako Aoki
Hitomi, you are so thorough and attentive in the hospitality you show others, right?
hitomi
We view maid cafés as kind of like theme parks. Where goshujin-sama (masters) and ojo-sama (princcesses) can really have the best possible time and have the most enjoyable experience. The aim is to create a space where you can only have those kinds of experiences.
Misako Aoki
Just from hearing you speak I've really been inspired..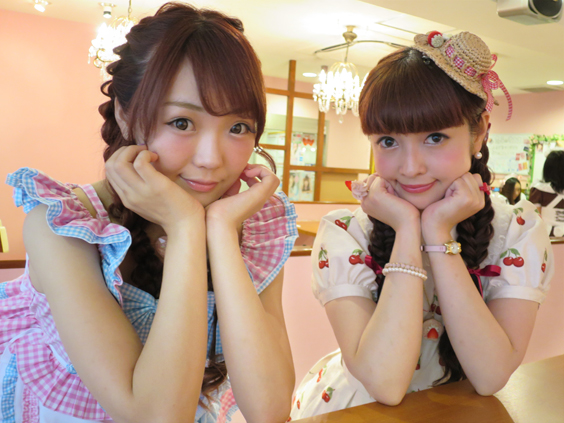 The fairies of the maid café
Misako Aoki
Your hair style is so kawaii! Is there someone in the café who does everyone's hair and make-up?
hitomi
We call them fairies! Fairies that cast a magic spell over us!
Misako Aoki
Do they meet the demands of the maids?
hitomi
 Oh yes, we are 3-dimensional (living in the real world), but in the maid cafe we also bring to life things from the 2-dimensional world, so I guess in a way we exist in a 2.5 dimensional world. That's why it's important that we don't have normal, everyday hair styles. I wanted to get across this kind of image today, so the fairies helped me do it.  
Misako Aoki
I'd like to have my hair done like your French braids, hitomi!
hitomi
In @home café the maids really take great care and pride in their appearance and styling themselves. And it's the same with our hair; I think it's really important to have these kinds of goals to maintain these standards. Even though we have worries and concerns, we work hard everyday and as a result those efforts shine in the words that we use when welcoming the masters and princesses.
Misako Aoki
That's really valuable to hear. Roughly how many customers are women?
hitomi
I guess around 30%. It often happens that princesses (women who visit the café) become maids. There lots of princesses, in @home café lot of the customers are foreign masters and princesses (men and women). And that's why, it's been decided that new maids have to have some training in speaking English. Aoki san, you've been abroad many times, what's the situation like over there, what's your impression?
Misako Aoki
I find there are a lot of maid cafes overseas, but they are not quite the same as the Japanese ones, don't you think? When we have gone abroad, the reception has been great, everyone gets really excited. So, I do not want to disappoint them. I will do my best to maintain the pride I feel for lolita fashion as a representative of Japan. I hope that people can really feel the appeal and charm of Lolita fashion.
hitomi
Oh yes, I really think that's true. I'm so happy we had the chance to speak today. And to this end, I think it would be wonderful if we could work together in the future. Aoki-san, you've been going abroad by yourself more and more frequently, I think that's really brave of you!
Misako Aoki
 I've gotten used to it (lol)! As a Kawaii Ambassador, I was always accompanied overseas by Sakurai-san without knowing too much about what was going on (lol)!
A Word from the Producer
When I visited Mexico with hitomi in April, 2015, I remember Misako Aoki visiting Brazil as Kawaii Ambassador. As places where Japanese kawaii was in demand, we visited Sao Paulo, Rio de Janeiro, Brasilia and Recife, and was warmly and enthusiastically welcomed. The idea that one person can help create bridges and connections across the globe was something that hitomi thought was fantastic, and she really started to recognize the power of maid culture, that is to say the power and appeal of "kawaii."
Takamasa Sakurai
Related Articles
hitomi Profile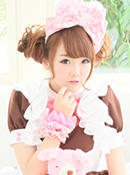 Currently active as maid, serves as the president of @home café, a popular maid café in Akihabara, which recently celebrated its 10th anniversary. Served as a maid for 10 years and has been a driving force for @home café, has appeared across various forms of media, including TV and magazines. Beyond sincere and devoted customer care, as a multi-talented singer, dancer and communicator provides great all round service. In 2005 made a debut as a member of the idol unit "Kanzen Maid Sengen" (Complete Maid Declaration), formed from maids working in @home café. Full-fledged artist debut in 2008, as a member of the dance unit "TEAM Junjo" (TEAM pure heart). In 2013 became President of Infinia Co. Ltd., which manages @home café.
Columnist: Misako Aoki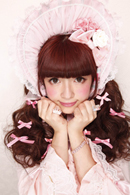 Started as an amateur model who appeared in Gothic Lolita magazines, triggering an interest in lolita fashion, which she now promotes with her charismatic personality. Appointed as a Trend Communicator of Japanese Pop Culture (Kawaii Ambassador) in 2009 by the Ministry of Foreign Affairs. Attended pop culture events in over 10 different countries and regions, has been featured in fashion shows and talk shows, promoting Japanese "kawaii culture."
Author of: Misako Aoki's Kawaii Kakumei "Lolita tokidoki Nurse" (Published June 16 2011 by TAKESHOBO Co., Ltd.)
Blog (Japanese):
http://ameblo.jp/ribbon-misa/
Columnist: Sakurai Takamasa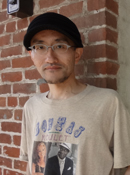 Contents Media Producer, author, specially-appointed professor of Digital Hollywood University / Digital Hollywood University graduate school, and International Otaku Expo Association Executive Office Director. Carrying out cultural diplomatic activities in over 140 cities across 27 countries/regions in total, has held numerous positions in various consultancy committees for the Ministry of Foreign Affairs. In 2009, served as a producer for the "Kawaii Ambassador" program, which was established by the Ministry of Foreign Affairs, has also pioneered cultural diplomacy that makes use of Japanese pop culture, such as anime fashion and music. Frequently invited as a guest to various Japanese events across the globe, has authored several books including, "Nihon ga Suki sugiru Chugokujin Joshi" (PHP Shinsho), "Sekai Kawaii Kakumei" (PHP Shinsho), and "Anime Bunka Gaiko" (Chikuma Shinsho). Has also worked as a television commentator, radio personality and contributed articles for newspapers, as well as web magazines. Currently writing the column, "Pop Culture Chronicles" for the asianbeat website (in Japanese, Chinese and English.)

-twitter http://twitter.com/sakuraitakamasa/
Pop Culture Chronicles: http://asianbeat.com/en/popculture/
Updated every 4th Thursday of the month!
*Next update: Thursday, the 27th of August
This comment section is for readers to leave opinions and comments. Inappropriate comments may be deleted, so please remember to be respectful. Thank you!