#79 What is in Misako's autumn bag?

A bag filled with cute and useful goods! Discover what I put in my bag when I go out!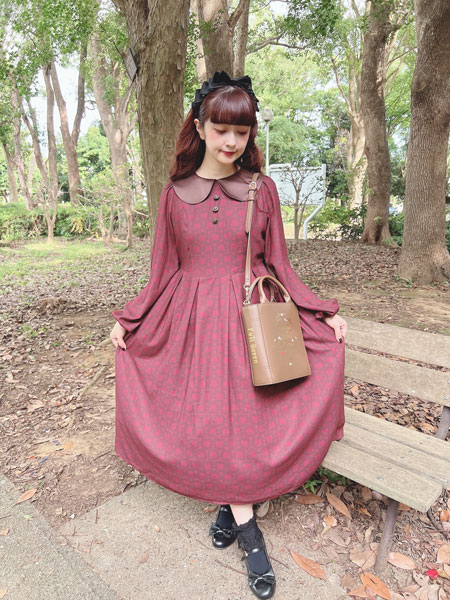 Seasons are changing and autumn has arrived. Finally the climate is comfortable again! I like going for a walk in autumn because it is pleasant. The cooler weather is more appropriate for wearing Lolita fashion, it is a lot of fun now. You could take photos in front of cute shop fronts or in parks. Another idea would be to go for a walk and discover new shops that you have never seen before! Summer might have been a little too hot to go for walks wearing Lolita fashion, but you can enjoy autumn and winter doing so.

What kind of bag do I find useful when I am wearing Lolita fashion to go out for walks? I prefer shoulder strap bags to keep my hands free, they are very convenient. So this time I will introduce the contents of my bag. There are many items that I consider "must-haves" for this season.
◎ Bag
This bag is shaped like a book. You can carry it 2 ways, in your hand or with the strap around your shoulder. Matching autumn colours, I have started wearing dark coloured and classic Lolita style clothes. This bag is also convenient because brown bags easily can be matched with those clothes.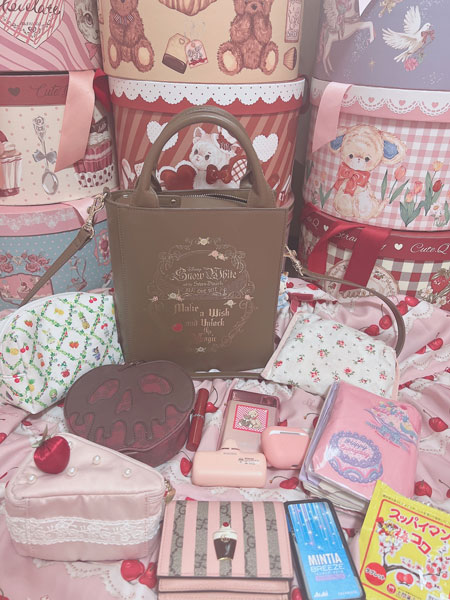 ◎ Cosmetic bag
I always carry a lipstick in my makeup bag. During the colder seasons I wear burgundy or brown-red lipstick colours to match my clothes, elegant colours that go well with many classic Lolita fashion items.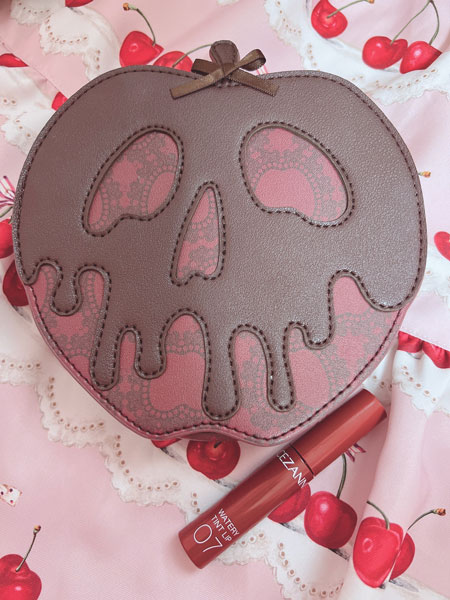 ◎ Eco bag
Recently, many stores charge you for throw away plastic bags so I always carry an eco bag with me. I consider this a "must-have" item because I go shopping often while I am taking a stroll outside. The eco bag is also cute and can be folded into a very small size so it is not bulky in my bag.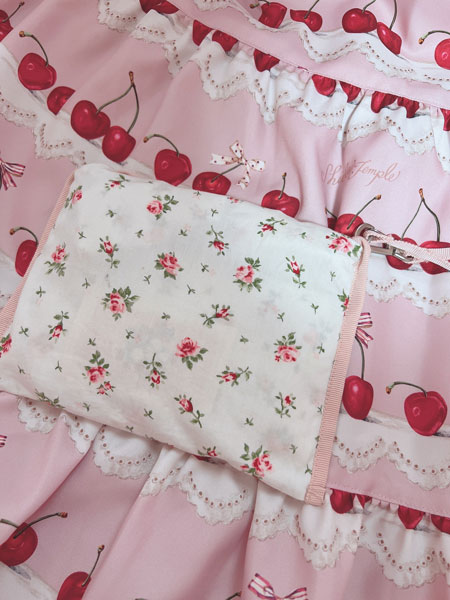 ◎ Pocket book
I have used this trusty old notebook for a long time. I use my smartphone calendar also but in combination with this handwritten notebook to manage my schedule so that I do not make any mistakes with scheduling.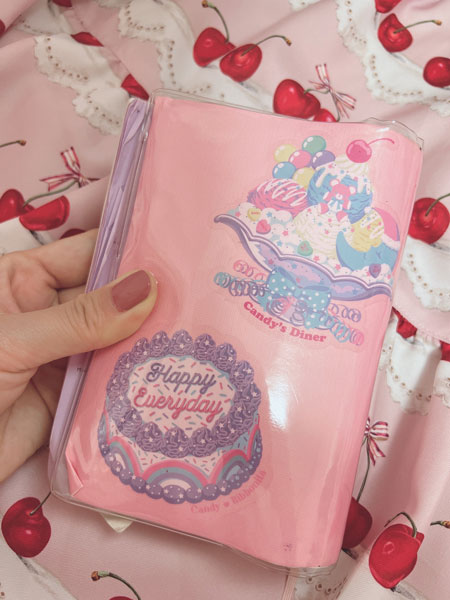 ◎ Snacks
I carry mint and ume (Japanese plum) candies. I love ume plum and citrus fruit flavours, they give me a boost in energy and refresh me: in between shoots or when I am very busy or when I feel a bit exhausted from wearing a mask.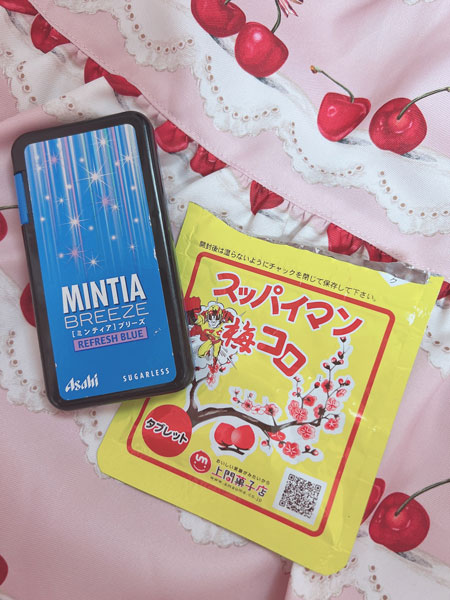 ◎ Cake shaped pouch
I use this to carry my medicine: cold and gastrointestinal medicine and pain relievers are always on hand. If you put your medicine in a cute pouch it might cheer you up when you need to take the medication, give it a try.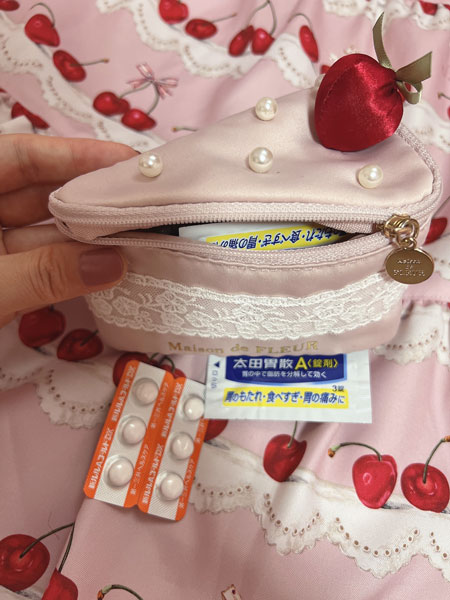 ◎ Smartphone charger
An essential item for work is the smartphone charger and portable batteries. I like to update SNS and edit YouTube videos while traveling on trains and also take behind-the-scenes shots and VLOGs while out and about.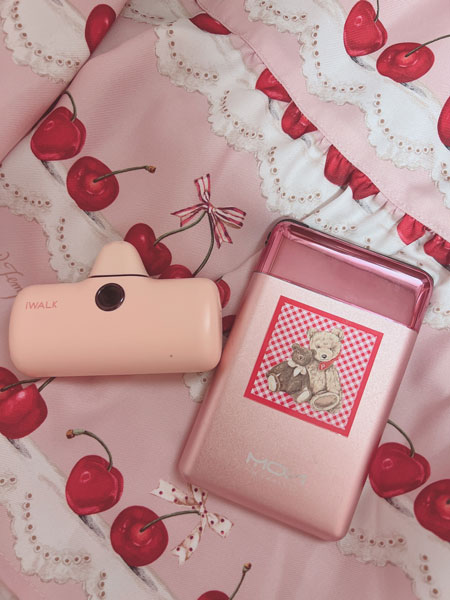 ◎ Sylvanian Families
These cute items can be carried in my bag and always cheer me up. I also like to take pictures under the theme of "Kawaii sweets x Sylvania" and "Kawaii wallpaper x Sylvania".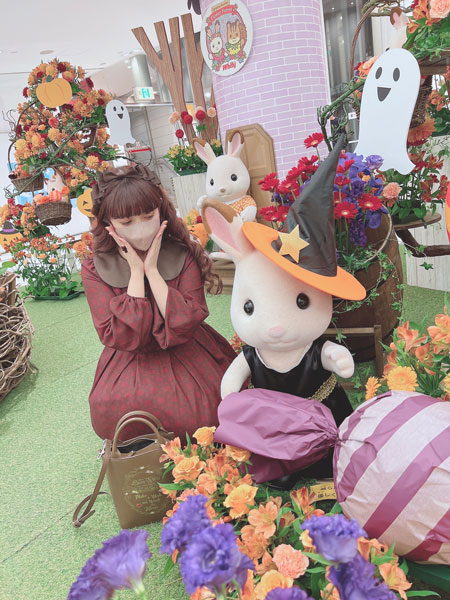 The items in my bag change every season and those mentioned above are the ones in my bag at the moment. I would be happy, if you enjoyed having a look at the contents of my bag.
Misako Aoki
PROFILE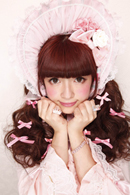 Misako Aoki
Lolita model, nurse, and President of the Japan Lolita Association

Models for KERA and the GOTHIC & LOLITA BIBLE while also working as a nurse. Was appointed as a Kawaii Ambassador (Lolita Fashion Representative) by the Ministry of Foreign Affairs in 2009. Has visited and attended events in over 30 cities across 20 countries and regions. Now has countless overseas fans.

Involved in setting up the Japan Lolita Association, has released "Lolita Fashion Book," has also worked in the development and promotion of new products. Contributes to activities that promote Lolita Fashion.

Blog: http://lineblog.me/aokimisako/
Twitter: @aokimisako
Instagram:
@misakoaoki
YouTube: Click
HERE
!
微博 (Weibo):
@青木Misako-Official-
bilibili:
https://space.bilibili.com/487631711
Related Articles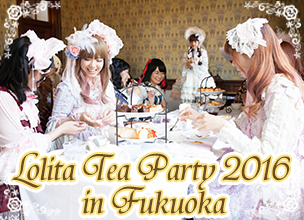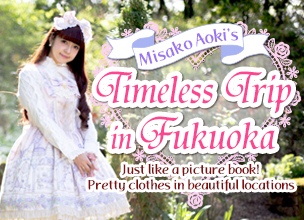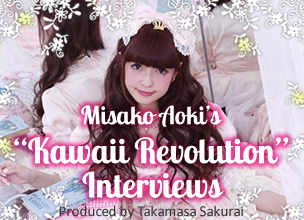 This comment section is for readers to leave opinions and comments. Inappropriate comments may be deleted, so please remember to be respectful. Thank you!