Kenjiro Fukamachi presents The Music City of Asia ― Fukuoka

Discover the charms of city of music ― Fukuoka!
Being an artist and the general producer of Fukuoka's large-scale music event "Fukuoka Music Month", Kenjiro Fukamachi is said to be "the face of Fukuoka". This time, he will be sharing information about Fukuoka's music events as well as the appealing places! Come find out the history, characteristics and future of "the music city" Fukuoka from many different sides!
"Fukuoka Music Month 2020" is by far the most challenging. This time we will be sharing information of each dynamic festival, as well as the present and the future prospects of the evolving music city, Fukuoka!

2021.03.18

"Music Action Fukuoka" is a new project of "Fukuoka Music Month". Wonder how was it going behind the scenes of the the charity song "Beat goes on"? Check this out!

2021.03.10

"Fukuoka Music Month" was held for the 7th time last year, but it was the toughest so far due to the pandemic. We will share about the new project "Music Action Fukuoka", the warm support of the people involved, behind the scenes, etc, as a 3-part "throwback".

2021.03.05
PROFILE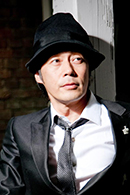 Fukamachi Kenjiro / 深町健二郎
Music producer

Born in Fukuoka City in 1961. Fell in love with music at age 9. In his university days, formed "ネルソープ" (Nelthorpe) with Tani Nobuo, the guitarist from TH eROCKERS, after the band where Jinnai Takanori (from Fukuoka) belonged with disbanded. He then got a job at a travel agency in Fukuoka and began to involve in the organization of concert tours and music events, and worked as an event producer since the preparatory stage for the opening of Solaria Plaza. He was also in charge of the production for collaborative events by artists, musicians and dancers from Fukuoka, as well as for the SunSet Live that has been held in Itoshima since 1998, while being MC at the same time. He has so far participated in numerous TV shows, and is currently active as a writer, music producer in his hometown Fukuoka.

- Facebook: @kenjiro.fukamachi
- Twitter: @kenjirokenjiro
Related Articles