Vol.26 MINT - Don't Give Up on What You Like Doing and Your Dreams Will Come True in One Form or Another! -

I will continue to not give up, take it at my own pace, and give an earnest effort.
Greetings. I'm MINT, the designer of fashion brand, "MINT NeKO." This is the first writing job that I've undertaken in a while, but I owe it to Sakurai-san for creating this opportunity and I'm going to do my best here to do his vision justice.
The theme of this column is "
suki
" (things we 'like') and I tried to think of something that I like, but there's just so many. I like music, cats, reading,
sake
(alcohol), manga, skateboarding, photography, etc… I couldn't narrow it down and my list just grew and grew, but from all these things, the one thing that I have never given up on and still pursue to this day is fashion. I'm extremely grateful that I'm able to make a living from this thing that I love, and while there have naturally been a lot of hardships along the way, fashion is the thing that I want to keep at for as long as I possibly can. Recently, I was even able to open my own street-side store called "MINT NeKO TOKYO" near Ikenoue Station on the Keio Inokashira Line.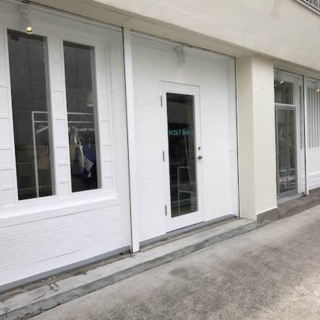 A white store suddenly appears in Ikenoue.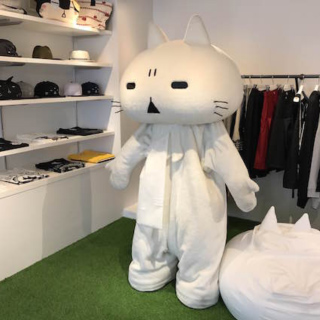 A white cat suddenly appears in Ikenoue.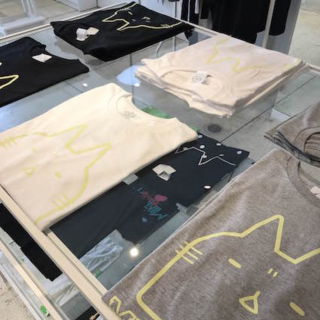 Limited edition goods suddenly appear in Ikenoue.
It's the first street store that I've set up for my brand and I felt that a relatively unknown area like Ikenoue was the best place to do it. Of course the location doesn't have the same level of convenience as places like Shinjuku or Shibuya, but I really wanted to set up somewhere that was relaxed and where the shop could become part of the surrounding local area, so people who like the "MINT NeKO" brand could look through the store at their own pace, have a meal at the shopping arcade on their way home, and so forth. And I thought it would be great if it enabled the customers to expand their own network of connections in that way, too. 'Bringing Ikenoue into the spotlight in the second half of 2017!' This is my goal at the moment. Fashion – the thing I 'like' most, then – is part of my job as well as my goals for the future. But as I keep pursuing the other things I 'like', too, I've found that even these tend to lead to connections and opportunities in unexpected places.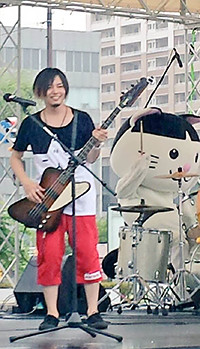 I like music, I like listening to music and I even played bass in a band when I was in high school, but I was never very good at it – to the point I even wondered how it was possible that one could improve so little. I'm probably still slightly better than Sid Vicious, though. But I didn't give up and we've since formed a band in my company as a side project and we were even asked to tour with a local band called GCB47 – the members are all local mascot characters. So we do concerts together and enjoy playing music in our own hack musician sort of way. I'm also a fan of "BASS MAGAZINE" and I even got to do an interview with them a little while back!
And this was all because Saitama prefecture's Shiki City mascot character-cum-bassist, Kapal, introduced us. That was the moment when I realized how connected everything was. Around the time this article will be published, I will be running a stall and also performing at Akita's Yoji Rock 2017 - a concert that brings together mascot characters and idols. I'm sure you're all wondering 'What on earth is he on about?' But don't you think it sounds fun? It'll be a blast!
Another thing that I really 'like' lately is skateboarding. I started around the time I was in junior high or high school, then I gave up, then I moved to Tokyo and got into it again, then I gave up again, then I think I took it up briefly after I started working fulltime but then stopped soon after, and the cycle has just kept repeating. But then I went to an anime convention in the US earlier this year and the anime-esque girl in the booth next to me was selling skate decks with anime prints on them – so '
ita
-skateboards' basically – and as soon as I saw them I thought 'How Americanly awesome!' and I bought one on the spot. I never used the deck in the end (lol). But I haven't given up, after I've practiced for a month I'm going to buy some new parts as proof of my efforts and perseverance.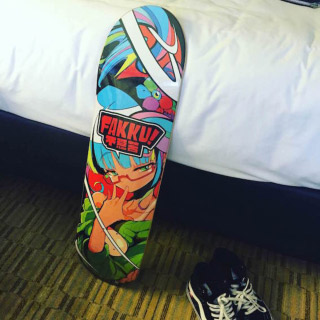 The deck I bought in America. There were far more out-there decks than this one, though.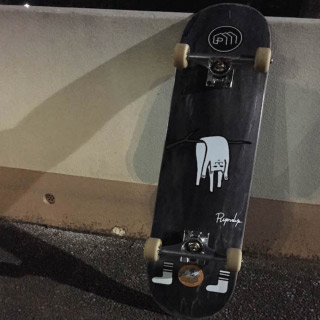 The deck I'm using at the moment. Complete with own brand 'neko' sticker.
Whenever I practice I get to meet other skaters for the first time and there's always new encounters to be made, so everyday feels new and refreshing. The biggest culture shock for me in the skateboarding scene, though, was
that
. The fist-pump greeting – always so confusing (lol). The first time I just went along with the vibe thinking, 'So they actually do that!' (lol). By the end of the year I want to be able to ollie over a horizontal traffic cone. I know I've set my goals low, but that's what I'm working towards.
So I guess I wrote about a variety of things in the end, but the point is, don't give up on what you like doing and your dreams will come true in one form or another! I feel like I haven't even come close to the grown up I imagined I would become when I pictured my 30s as a child, but I will continue to not give up on whatever I do, take everything at my own pace, and always give an earnest effort!
Relationships with girls that I 'like' never seem to work out quite like this, though…but that's a whole other story. This is MINT, signing out. Thanks for reading!
PROFILE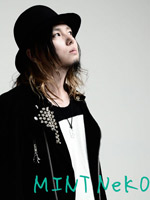 MINT
After working as a designer for the 'fashion-meets-music' brand, "Sixh.", he established his own brand, "MINT NeKO." In addition to designing, he also works as a musician, a model, and a manga artist.
Fashion brand: "MINT NeKO"
The solo brand of designer, MINT, formerly one half of fashion design duo, "Sixh." The brand brings together mode style fashion, drawing inspiration from Oriental silhouettes, and a touch of the surreal by incorporating the trademark 'neko' (cat) characters into the designs. What began as a single cat doodled into a notebook has since multiplied to more than 200, and the story of this family tree unfolds through fashion. With support from various artists, the unique MINT NeKO world that merges character with fashion continues to grow.
Brand Official Webwsite:
http://www.mintneko.com/
Official Twitter:
@mintperopero
PRESENT!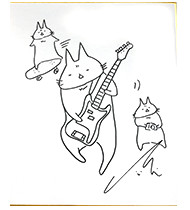 We have a card signed by MINT to give away to a lucky asianbeat reader! Make sure to apply!
We're looking forward to receiving your applications!
Application period: Friday 21st July to Sunday 3rd September 2017
Winner announced: Wednesday 6th September 2017
The application period is now over. Thank you!The lucky winner is ...Ayu san......Congratulations!!
(Please note, winners will receive an email directly from asianbeat. If you don not reply with a confirmation message within a week, you application will become invalid and you will not be able to claim your prize.)
Related Articles
This comment section is for readers to leave opinions and comments. Inappropriate comments may be deleted, so please remember to be respectful. Thank you!