Vol.38 TEAM SAKUSAKU - Sakuraikku Box. '18 - YOKOHAMA2118 - (Part 2) -

Helping dreams become a reality!
DEVIL NO ID, DOTAMA, and Misae Komori's spoke in the interval. Then Tenma Matsunaga appeared in both VR and human form as unusual sound effects began to reverberate across the stage! The VR version of Tenma Matsunaga began to grow and increase during "LOVE HARASSMENT," which was the first song of the set. By the end of the performance the real life Tenma Matsunaga had entered the stage! During his talk, he started to show "swipe trick." This was the first time that it has been used in a VR theater. The audience responded with great enthusiasm!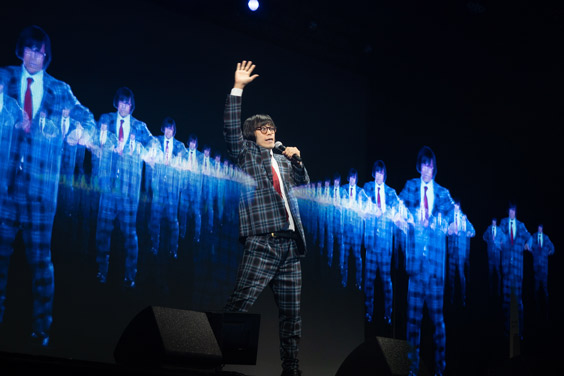 An 8-bit pastel colored street scene appeared during the performance of "Bokura no Nanokakan Renai." This dreamlike world seemed to spread throughout the entire venue. The next act to take to the stage was the final act of the day, Sumire Uesaka! Tenma Matsunaga introduced her by calling out, "here is Heisei-born, Showa-bred Sumire Uesaka!"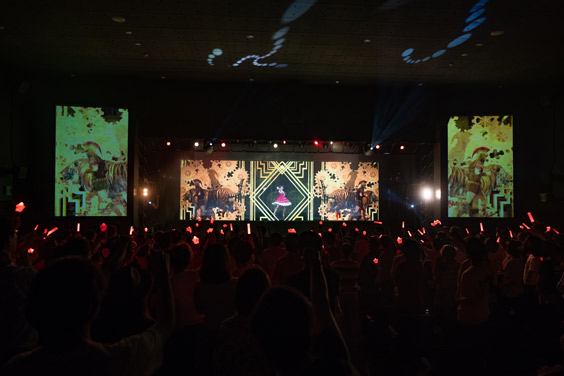 The crowd began to get excited when the words "Odore! Kyuukyoku Tetsugaku" began to float mid-air. The projections used for the first song had a luxurious, gorgeous quality. There was then a slight change of pace for the second track of the set "cubic futurismo." The setting featured cube-like shapes swirling around the singer to create a modern, futuristic atmosphere. She spoke about her experiences of Yokohama, a place she has special attachment to.
On the day she wore a red lolita-style outfit. Uesaka went on to discuss her favorite spots in Yokohama, including where she likes to go to karaoke on her days off and the shopping centers she used to buy lolita clothes from as a teenager. The last song in the set was "POP TEAM EPIC," which is used as the opening theme for the massive anime hit of the same name. The protagonists of the series "Popuko" and "Pipimi" appeared on stage to help bring the show to a close. The audience was super excited to see them!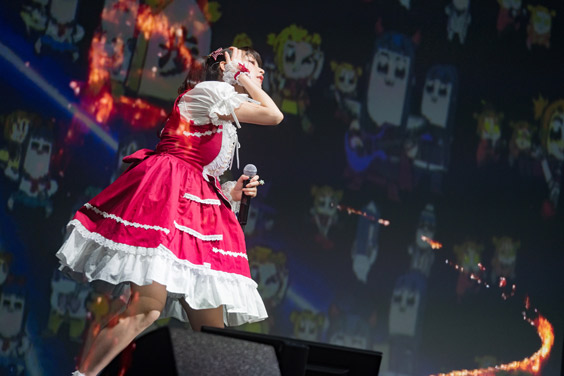 During the curtain call all the performers returned to the stage alongside Takahiro Mizushima who had narrated the opening of the event and the MC for the day, Komori. They briefly spoke about the video message from A9 SHOW and HIROTO, who participated in the VR production used for the live performances. VR Tenma Matsunaga re-appeared and broke things up by talking about how technological developments are impacting live performances. There was one final message from 2118, a time when VR production has developed even further and live shows featuring real people are scarce. The video told 21st century Yokohama, "Lets hope that this kind of physical show can continue for another hundred years!"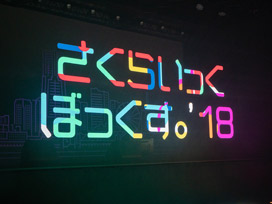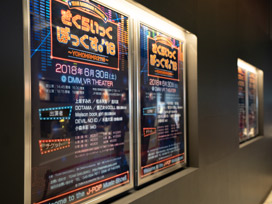 The name of the event was inspired by the idea that the event would see all of TEAM SAKUSAKU's dreams could become a reality inside the box-shaped DMM VR THEATER. There were wonderful performances during "Sakuraikku Box. '18." But hopefully this wonderful event, which helps make wishes come true, will be back again soon on an even bigger scale!
TEAM SAKUSAKU presents Sakuraikku.'18 - YOKOHAMA2118 - Set list
You Kikkawa: "チャーミング勝負世代 (Charming Generation)", "こんな私でよかったら (Konna Watashi de Yokattara)", "DISTORTION"
LOVELY☆DOLL (Performance at noon): "光のシンフォニー (Hikari no Symphony)", "恋のレインボー (Koi no Rainbow)", "High Jump!"
Maison book girl (Performance at night): "rooms", "レインコートと首の無い鳥 (Raincoat to Kubi no nai Tori)"
DEVIL NO ID: "Signal", "かしましサバト (Kashimashi Sabato)", "R.S.G" *
DOTAMA: "SUBWAY" * "Supernova"
Tenma Matsunaga: "LOVE HARASSMENT", "ぼくらの七日間恋愛 (Bokura no Nanokakan Renai)"*
Sumire Uesaka: "踊れ!きゅーきょく哲学 (Odore! Kyuukyoku Tetsugaku)", "恋する図形 (cubic futurismo)", "POP TEAM EPIC"

"*" >> Produced by Show from A9
Genera Producer: Tenma Matsunaga
VJ: TONTON
PROFILE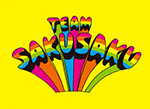 TEAM SAKUSAKU
"World peace through J-POP culture!"
TEAM SAKUSAKU is a playground for artists and creators of J-POP culture.
Our passions for the things we like is the pathway to PEACE.
Official Website:
http://teamsakusaku.com
Twitter:
@team_sakusaku
Instagram:
https://www.instagram.com/team_sakusaku/
PRESENT!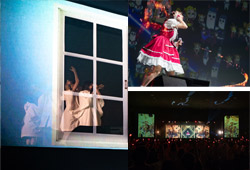 We have 3 awesome photographs of the "Sakuraikku Box. '18 - YOKOHAMA2118" for two lucky asianbeat readers! Make sure to apply while you still can!
Don't miss this chance to win one these great prizes!
[Application Period]
Monday 6th August to Sunday 30th September 2018 (Japan Standard Time)
[Announcement of Winners]
Wednesday 3rd October 2018
The application period is now over. Thank you!The lucky winners are ...すらりん san紺頭巾 san......Congratulations!!
(Please note, winners will receive an email directly from asianbeat. If you don not reply with a confirmation message within a week, you application will become invalid and you will not be able to claim your prize.)
* Photo above is an image only.
Related Articles
This comment section is for readers to leave opinions and comments. Inappropriate comments may be deleted, so please remember to be respectful. Thank you!