Vol.39 Seiji Mizushima (水島精二) & Saki Suzuki (鈴木沙季) - A Talk (Part 1) -

SAKUSAKU Vol.39 features an interview with animation director Seiji Mizushima and DMM.futurework producer Saki Suzuki!
─── "Sakuraikku Box. '18" was a great show! Ms. Suzuki, there must have been a lots of demands on you as the DMM VR THEATER producer. A lot of preparation went into this event, right?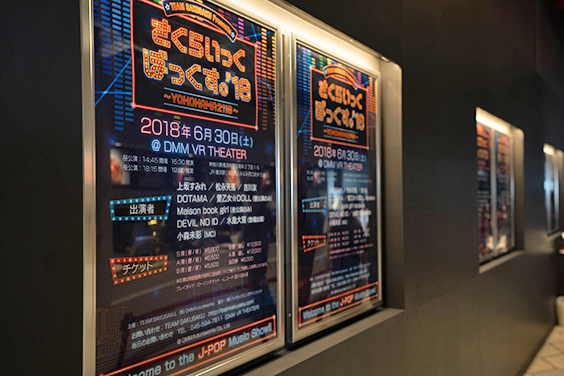 Saki Suzuki (Suzuki)
: Thank you so much! It proved to be a really big success. Various artists have performed inside this VR theater before, but this is the first time that venue has hosted a festival-style format with numerous acts on the set list. All the performers had strong personalities, which made it easier to put together the production and create the videos. It was also good that each was professional and made with good balance. Everything was done with great professionalism and that helped ensure a nice balance.
Seiji Mizushima (Mizushima)
: I was not so involved this time, but I was there when the initial idea got put forward and on the day of the event, I have kept an eye on things all day right from the start of the rehearsal. It seems that virtual space are getting a lot of attention at the moment. It has been a really interesting venture. There are a number of VTubers (Virtual YouTubers) around right now. Today really showed me the full potential of a VR theater and what is possible with this kind of space!
Suzuki
: On the topic of the "virtual" world... It would be interesting if you create a character for SAKUSAKU!

Mizushima
: Mr. Yoshimatsu is around, so it seems that things can get done, even if the demands seem unreasonable (lol). (*Note: Takahiro Yoshimatsu is an animator. He created the design for the TEAM SAKUSAKU column' banner design on the right.)
Suzuki
: Unreasonable demands (lol)! Virtual characters are so unique and interesting that even simple details can be turned into something cute... I wonder what character would be best...
Mizushima
: Those popular VTubers are called "the big four" aren't they? Their characters are pretty strong! They have a visual impact and are full of fun! People are really interested in high functioning AI.
Suzuki
: Before these virtual spaces existed, people used to say that making avatars would produce good looking male and female characters with similar kinds of faces. However, in reality it is more like a display of individual characteristics! It's pretty interesting! For example, when I select a character in a game, I sometimes choose someone who looks completely different to me or has features that I do not have in real life.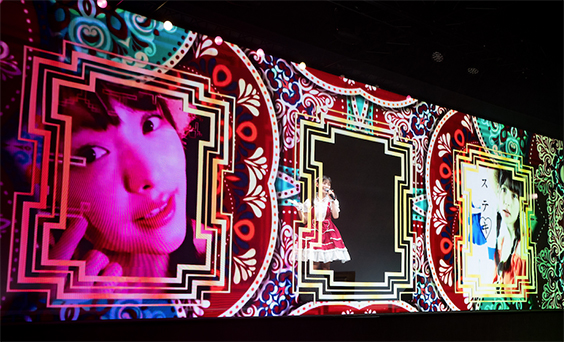 Sumire Uesaka @ "Sakuraikku Box. '18"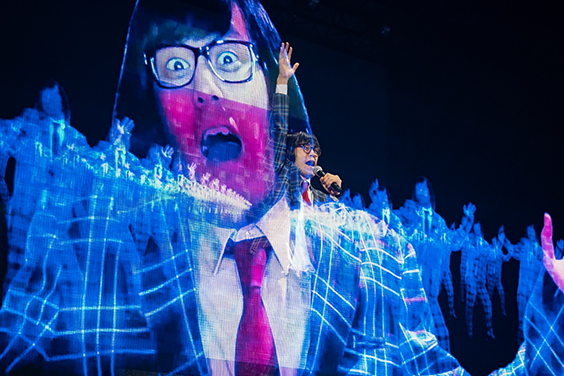 Tenma Matsunaga @ "Sakuraikku Box. '18"
Mizushima
: It is a sign that every now and again people want to turn into someone else. Speaking of which... It made me laugh the other day when I saw some youngsters eager to create the perfect girl in a game or something like that!
───So they can actually create these kind of beautiful characters?
Mizushima
: Mmmm, well you've really got to do a lot of work to get the balance of the face right. For example, you can turn the characters around on the menu page and create balanced facial features by viewing them from every angle. You know how some girls have wisps of hair on the side of their face? Well, a gamer can create even the minute details like that. A lot depends on the angle. They might look cute at first appearance, but less so when viewed from a different angle (lol)!
───A lot of effort goes into this kind of thing in real life, right!
Mizushima
: Absolutely! I really respect people who put a lot of effort into looking good! People care a lot about how they look, even if it just their fringe! You can find before and after makeup videos on applications like "Tik Tok." Seeing a person without a filter gives you a clearer idea of what effects have been added. I think people can look great without makeup good, but at the same time all the effort that goes into those transformations is incredible! It can take a lot time and effort. Sometimes it can be a pain putting on makeup just to go out in public. I get my hair styled and have a little bit of make-up applied when I go out on stage, so I have some idea of the work that goes into this kind of thing.
Suzuki
: How do you feel when you put make-up on in a public place? Or if you go out without any on at all?
Mizushima
: I definitely feel better and more comfortable when I get my hair and make-up done! That is what I think when I am getting ready!
Suzuki
: Make-up can be really important when you go in public. Whether or not I have done a good job applying my make-up can have an impact on how I interact with other people. When I am more confident in what I have done I tend to approach things more proactively. If I've not it done it so well, I feel like I want to go back home as soon as I've gone outside (lol)! I feel like make-up can equip me with something extra!
This reminds me... When I was a teenager I actually really wanted to turn into a doll! I had fake eyelashes, wore color contacts, and put a lot of effort into my make-up. But just as I was starting to fully commit to that style and take it to the limit, I suddenly thought... Wait a second, I want to be a human (lol)! I have gradually became more natural, but now and again still feel like I want to become a doll.
Mizushima
: But the desire to be yourself is not a constant thing.
Suzuki
: Even if its just watching one person from the sidelines... Its interesting to see how a person's style or appearance can change depending on what is in style.
Mizushima
: ... What about gas masks?
───Ms. Suzuki, you used to be an idol. At that time, didn't you mention that you liked gas masks?
Suzuki
: Yeah, I really like gas masks....
Mizushima
: Idols have such cute faces. You can't see them if they are wearing gas masks (lol)! What's that all about?
Suzuki
: I guess its not good if there is misunderstanding around this stuff. I live eachday wishing that somebody would reset the world (lol). That is something I think about most day (lol)! There are a lot of animation genres that I like, which start once the world has come crumbling down. Gas masks might be an item you need in that sort of scenario... You won't be able to see anything unless you wear one. When I was elementary school and junior high school, I was the type of kid who would think about what I would do if I met a dragon or how I would try to survive if the world was taken over by zombies.
Mizushima
: That unique view of the world is not a negative thing. The work I create sometimes explore what would happen if the world collapsed (lol). Actually, I think everyone has these desires and thoughts. People express or absorb these entertaining aspects of media. Diversity is very important in today's world. Peace isn't just about people holding hands. Peace can also be seen when people get along even when they do not agree with each other. So I guess you could say that scenes that depict troubles and disintegration are inevitable when you try to express those sorts of things (lol)!
Suzuki
: The worlds that Mr. Mizushima creates as a director seems to be crumbling down (lol)! These are made for entertainment purpose. I'm a creator in the entertainment field. Nowadays I feel that there are so many ways to communicate... There's the internet, virtual space, and digital media. And there are real people that exist beyond these mediums. From now on humans will surely exist in this way. I'm saying all this, but I suppose that when it comes down to it... People do like people.
Mizushima
: There is a lot diversity right now. Young boys growing up might enjoy watching anime that it is aimed at young female viewers and vice versa. That is totally fine. These people have probably been around us for a long time. It's just that they were not so visible before. There wasn't any platform for them to share and interact with each other. Right now we have social media, which is great for that kind of thing. In the real world, there are so many events, such as comiket (comic markets) and cosplay-themed photography events. Everyone present at these sort of gatherings always show respect for other people's interests and hobbies. These are really great things. The possibility that people's personal information might become public is another aspect to consider. The proper precautions need to be put in place and things need to be managed. It is important to create a safe space that protects people's privacy.
---
*The second part to this article, "TEAM SAKUSAKU presents – Favorite Collections Vol.40 Seiji Mizushima & Saki Suzuki - A Talk (Part 2) -," will be released next month! Stay tuned!
PROFILE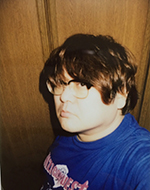 水島精二 (Seiji Mizushima)
Animation Director. Attached to Hifumi,inc.
First directorial job was for "Generator Gawl." Has since worked on numerous well-known titles, including, "Dai-Guard," "Shaman King," "Fullmetal Alchemist," "Oh! Edo Rocket," "Mobile Suit Gundam 00," "Hanamaru Kindergarten," "UN-GO," "Natsuiro Kiseki," "Expelled from Paradise," "Wooser's Hand-to-Mouth Life: Mugen-hen," "Concrete Revolutio," "ESCHA CHRON," "BEATLESS," and "Hiragana Danshi."
Twitter:
@oichanmusi
---
鈴木沙季 (Saki Suzuki)
Producer for DMM RESORTS Creative Studio Mzo. Works as a producer on DMM VR THEATER shows.
"Creative Studio Mzo" run by DMM RESORTS:
https://dmm-resorts.co.jp/
VR THEATER Official Website:
https://vr-theater.dmm.com/
VR THEATER Official Twitter:
@DMM_VR_THEATER
PRESENT!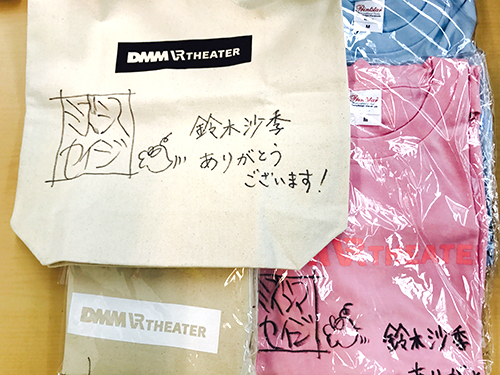 We have some great prizes to give away to four lucky readers! Anime director Seiji Mizushima and producer Saki Suzuki have signed some awesome merchandise that you could be in with a chance of winning! Apply now and you could get your hands on a signed M size original DMM VR THEATER t-shirt (one light blue and one pink) or a tote bag (one white and one black)!
Don't miss out! Enter now!
[Application Period from]
Friday 28th September 2018 to Sunday 18th November 2018 (Japan Standard Time)
[Winners Announced on]
Wednesday 21st November 2018
The application period is now over. Thank you!The lucky winners are ...
- DMM VR THEATER original T-shirt (light blue)
Zack san
- DMM VR THEATER original T-shirt (pink)
かえる san
- DMM VR THEATER original tote bag (white)
pp san
- DMM VR THEATER original tote bag (black)
Ina san......Congratulations!!
(Please note, winners will receive an email directly from asianbeat. If you don not reply with a confirmation message within a week, you application will become invalid and you will not be able to claim your prize.)
Related Articles
This comment section is for readers to leave opinions and comments. Inappropriate comments may be deleted, so please remember to be respectful. Thank you!