Kyara-ben to appear in high school English text books!

"Kyara-ben" – a lunch box like no other!
It was announced just the other day that as of spring 2013, English text books used in Japanese high schools would begin to introduce elements of Japan's kawaii culture, like "kyara-ben" (character shaped "bento," or lunch boxes) and AKB48.
According to the company which creates the text books, they're introducing these elements "so that students who aren't so good at English may at least develop an interest in the language by learning through familiar content."

AKB48 and "kyara-ben" are used in the text books as examples of "kawaii," to better explain "Japan's youth culture that has drawn the attention of people all over the world."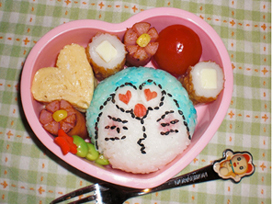 ● Doraemon kyara-ben!
"Kyara-ben," as many may already be aware, refers to a particular style of Japanese "obento" lunch boxes that have been arranged to depict popular characters from anime, manga, or video games. The Doraemon kyara-ben that you see in the picture was made by Yukari Shirai, one of the models who appeared in our "30 days Real Report" feature. A lot of love has gone into that lunch box!
If you're interested in seeing what other kind of kyara-ben are out there, please check out the following link:
"Kyara-ben Art Gallery."
It's basically a large collection of photos that people have taken of kyara-ben that they've made and assembled by NAVER.
Today, the bento is acknowledged as a firm part of Japanese culture with many people even coming to recognize the term written as is – "obento."
Takamasa Sakurai, the columnist of the weekly article "J-Pop Culture Observations" (published on asianbeat), has also previously written about a university student in Russia who took a liking to Japanese bento culture and now regularly prepares her own to take to school with her. According to Mr. Sakurai's article, one of the reasons Japanese style bento came to be known throughout the world is through Japanese anime and the way it is always so nicely and appetizingly depicted.
I just thought it was so refreshing to hear that this side of Japanese youth culture and these Japanese words that are now recognized by so many people around the world would start to be taught to high school students in Japan in English.
Editorial department - Yamashita
Related Articles