Visit museums throughout Kyushu and Okinawa with "Museum Excursion Pass!" This year's coupons are valid for longer and can be used at even more facilities!

This pass is sure to help you discover fantastic cultural experiences!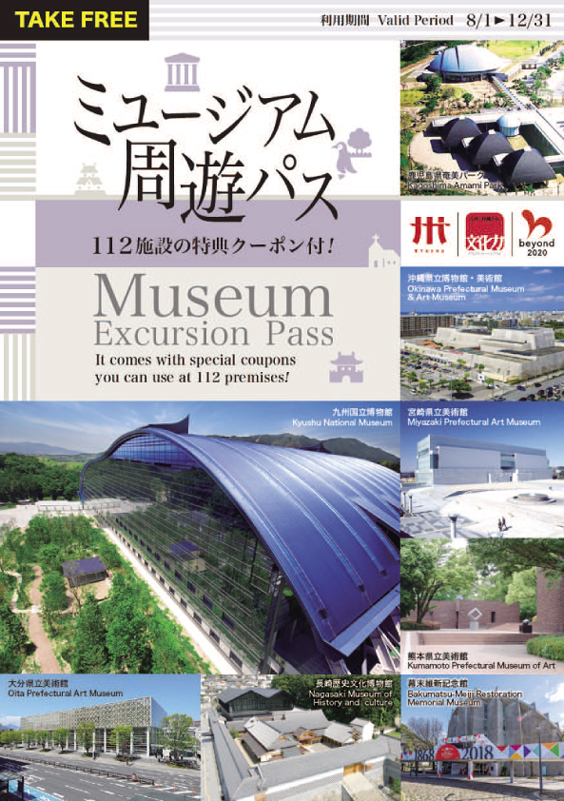 Last year, we reported on a booklet of coupons known the "Museum Excursion Pass." This fantastic collection of money-saving vouchers has now been updated! The new discounts can be used from 1st August to 31st December, which means that they are valid for two months longer than the previous set. The number of participating facilities has also significantly increased from 62 to 112. The summer holidays could be the perfect time to make the most of some of these offers!
Using the coupons is incredibly easy! All you have to do is present the "coupon ticket" at the relevant facility! There are all kinds of benefits to using these vouchers. Get a discount on your admission fee and or even pick-up a free souvenir! Please keep in mind that copies of the coupons will not be accepted. So make sure to pick up an official booklet at a tourist information office, hotel, or one of the city or town halls throughout Fukuoka Prefecture. You can also download the file on a smartphone or tablet, and then show it to the staff at the reception desk.
The "Museum Excursion Pass" is more than just a collection of coupons. It is also a convenient handbook that includes directions to help people find the various facilities, information about opening times and Wi-Fi availability, as well as feature articles about world heritage sites.
Do not miss the opportunity to pick-up a "Museum Excursion Pass!" You'll definitely enjoy all the benefits that it has to offer! (Editorial Dept.: Mofar)
Museum Excursion Pass - Overview
Length of campaign
: Wednesday 1st August to Monday 31st December 2018
Available at
: Art galleries and museums featured, as well as tourist information centers, and hotels, etc.
Participating facilities
: A total of 112 museums, art galleries, and more
*72 facilities in Fukuoka Prefecture and 40 throughout the rest of Kyushu and Okinawa
How to use coupons
:
1. Present the "Museum Excursions Pass" booklet's "coupon page" at the ticket counter OR
2. Download the coupon from the website to your mobile device, such as smartphone or tablet, then show it at the ticket counter.
>> Download from here. Alternatively, please search the download page by typing in the following keywords; "MUSEUM Excursions Pass," "Museum Excursion Pass."
*Please be aware that coupons printed from the website can not be used, so be sure to download them from the internet on to a mobile device, such as a smartphone or tablet, and show the screen to a member of staff at the ticket counter.
-
Museum Excursions Pass "Booklet"
http://www.pref.fukuoka.lg.jp/uploaded/attachment/43361.pdf
-
Museum Excursions Pass "COUPON" page
http://www.pref.fukuoka.lg.jp/uploaded/attachment/43360.pdf
Please note
:
* Photocopied coupons are not valid.
* Coupons are only valid with any other offers.
* Some establishments only accept coupons from the book.
* Since some establishments limit the number of admissions, be sure to check on the page that has information on each establishment.
Inquiries
: 福岡県人づくり・県民生活部文化振興課 [Fukuoka Prefecture Human Resources Development and Citizens Affairs Department, Culture Promotion Division]
(TEL:092-643-3383 FAX:092-643-3347 E-mail: bunshin@pref.fukuoka.lg.jp)
Related Articles
External Links