"The Creators - a festival featuring experiential cutting-edge entertainment" is taking place on September 22nd and 23rd! Check-it-out!

Top artists and the latest digital technology!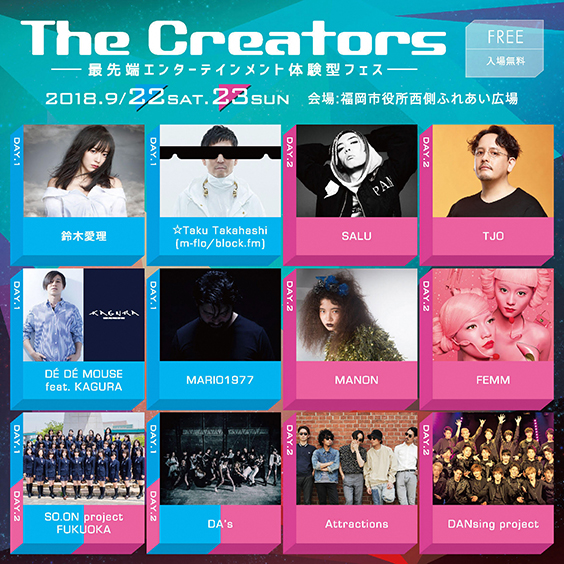 This year's "
Fukuoka Music Month
" got underway with the help of "Sunset Live 2018," which was held on the first weekend of September. Fukuoka's month-long celebration of music sees five large scale events take place at various locations throughout September. The sense of excitement among local music fans has been steadily building as the Fukuoka event season reaches its mid-point!
The Asian Party is a collection of events that are taking place in Fukuoka from September to October. "Asia" and "creativity" are key concepts that underpin this initiative. "The Creators 2018," which is one of main events of this program, is scheduled to take place on Saturday 22nd and Sunday 23rd September! The line-up includes the likes of DJ/producer ☆Taku Takahashi and dance duo FEMM. Solo vocalist Airi Suzuki, who used to be a member of the idol group ℃-ute, will also be making an appearance on stage! Performances by young Fukuoka artists, such as MANON and Attractions, are sure to garner a great deal of interest!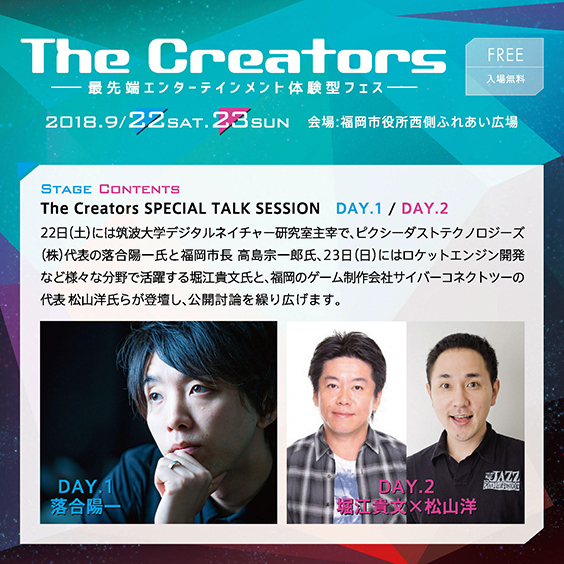 A set of interesting public discussions are scheduled to take place with media artist Yoichi Ochiai due to make an appearance on the first day. Fukuoka-native entrepreneur Takafumi Horie is also set to be at the event day two. Technology-themed booths will be set-up at the venue, giving visitors the chance to encounter all kinds of fun experiences! Enjoy special attractions and free admission across both days of "The Creators 2018"! (Editorial Dep't .: GON) If you are looking to find-out more information about the performers and running schedule, make sure to check-out the official website by clicking
HERE
!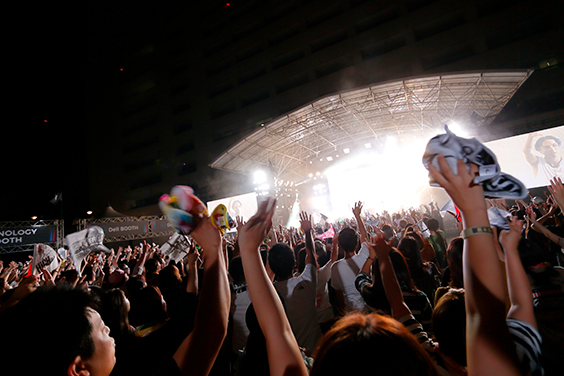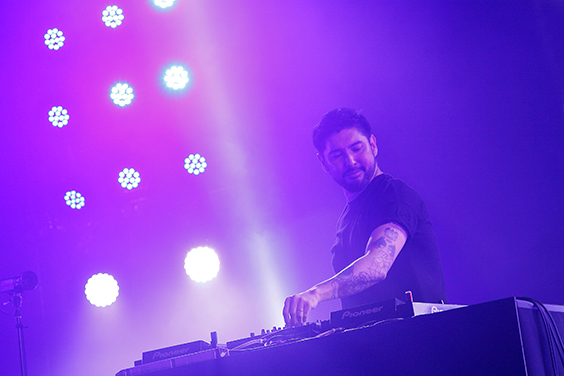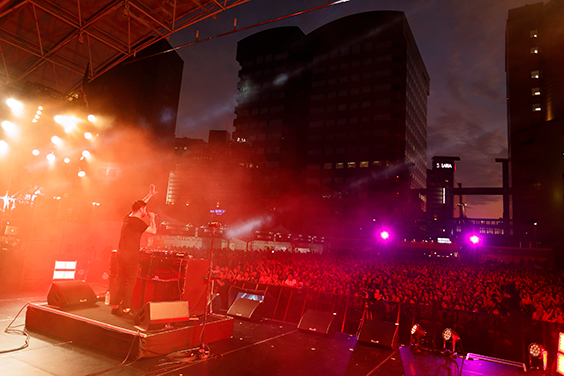 * These 3 photos above were taken at "The Creators 2017"
The Creators 2018
[Date] Saturday 22nd - Sunday 23rd September 2018
[Time] 12:00 (doors open) / 13:00 (event starts) / 21:00 (scheduled finishing time) *Please note that the schedule is subject to change.
[Venue] Fureai Hiroba (located to the west of the Fukuoka City Hall) (1-8-1 Tenjin, Chuo-ku, Fukuoka-shi)
[Admission] Free
[Official website] The Creators:
https://the-creator.jp/
[Performers]
- DAY1:☆Taku Takahashi / 鈴木愛理 (Airi Suzuki) / DÉ DÉ MOUSE feat. KAGURA / MARIO1977 / DA's / SO.ON project FUKUOKA
- DAY2:SALU / TJO / FEMM / MANON / Attractions / DA's / SO.ON project FUKUOKA / DANsing Project
[Organizer] Creative Lab Fukuoka

Related Articles
External Links