Enjoy all the sub-culture spots around Tenjin! The "Nomi-asobi Fukuoka" event is just around the corner!

Dive into the wonderful world of otaku!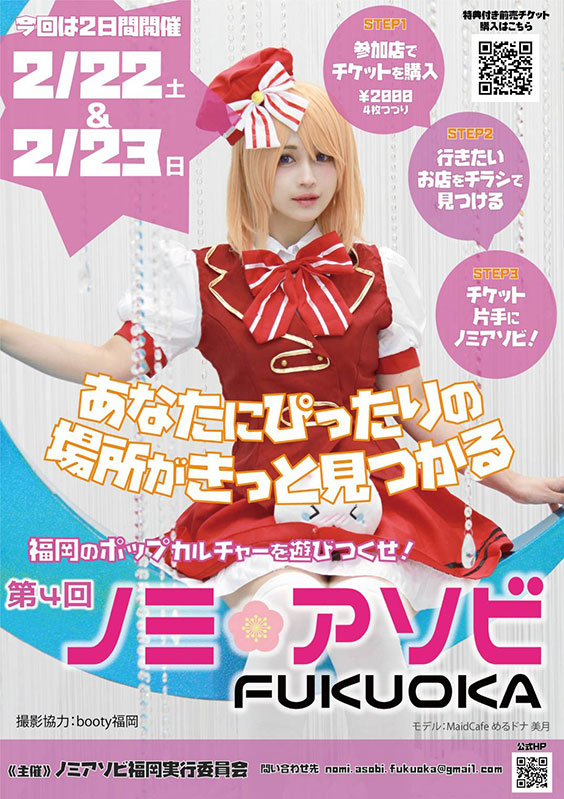 All kinds of sub-culture hot spots are located in the north part of Tenjin, Fukuoka City. With awesome cosplay stores, maid cafes, and gaming shops dotted around, it goes without saying that this is part of the city is something of a mecca for fans of otaku culture! A bar-hopping event called "Nomi-asobi Fukuoka" will take place in this area on Saturday 22nd and 23rd February! A total of 21 stores, shops, and bars will be participating in the event, which is now in its fourth year! The majority are based in the north Tenjin area, but cool joints in Nakasu, Imaizumi, and Yakuin will also be taking part.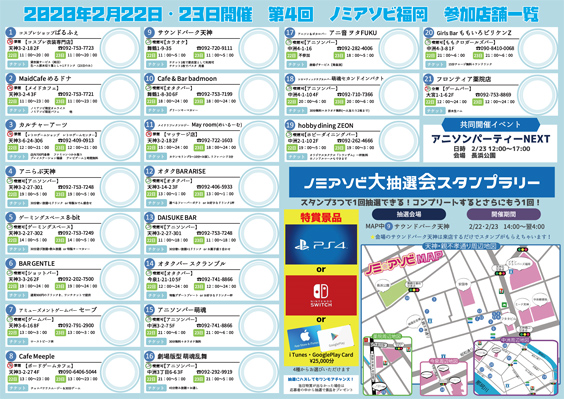 * Click
here
to enlarge the image (PDF file)!

This banner is a sign to find participating shops!
The participating stores will be offering alcoholic drinks, soft beverages, and a range of culinary delights! But that is not all... There will also be cosplay events, live concerts, and anime club attractions happening at the same time! There is a section on the back of the flyer that can be used to collect stamps from the shops you visit. Get three stamps and you can enter a lottery, which will give you the chance to win some amazing prizes, like a PlayStation®4 or Nintendo Switch! Collect all the stamps and you will be entered into the draw again! That means that you will get another chance at winning of the cool items on offer♪ Check-out the list of stores that will be involved! Why not stop by some of the shops that you haven't had a chance to visit? Take a look at the official website for further information if you're interested in joining in! >> Click
HERE
for more information! (*Available in Japanese) (Editorial Dept.: Nika)
Nomi-asobi Fukuoka (ノミアソビ福岡)
- Dates: Saturday 22nd - Sunday 23rd February 2020 *Opening hours vary depending on the store.
- Official Website:
ノミアソビ福岡
- Twitter:
@nomiasobi_fuku
◎ Drinking Notices
Related Articles