Introducing the 2020 "Museum Excursion Pass" featuring to 170 cultural facilities!

Enjoy your museum tours conveniently with the pass!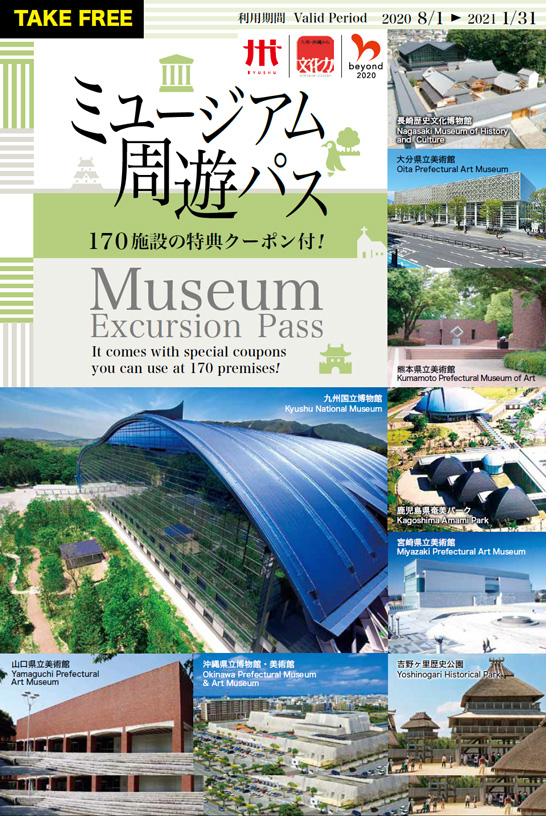 Are you ready for impressive museum tours? The "Museum Excursion Pass" with special coupons is now available! Check the special feature of world heritage and 170 cultural facilities which not only located in Fukuoka, but also around the entire Kyushu, as well as in Okinawa and Yamaguchi! In addition, you will find the special feature "World Heritage Sites in Kyushu & Okinawa" very attractive and helpful, as it includes QR code and many beautiful illustrations that reveals the charm of every world heritage site. The pass can be used until Sunday 31st January 2021, so how about getting one for yourself and start making plans for unforgettable museum tours? (Editorial Dept.: Mofer)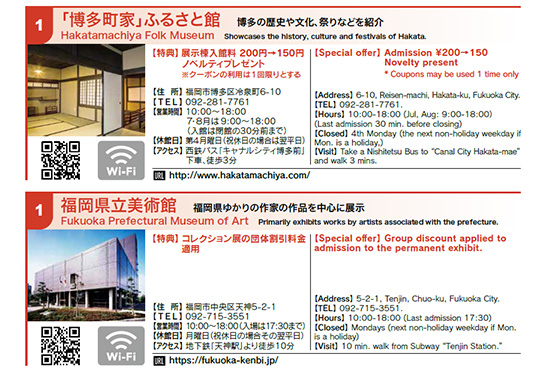 Various information can be checked at a glance♪
Museum Excursion Pass Outline
- Length of campaign: Saturday 1st August 2020 to Sunday 31st January 2021
- Available at: Art galleries and museums featured, as well as tourist information centers, municipal offices in Fukuoka Prefecture, and hotels, etc.
- Contents: Basic information (e.g. locations, operation hours, closing days) of 170 cultural facilities located in Kyushu, Okinawa, Yamaguchi; benefits; highlights; etc.
- How to use coupons:
1. Present the "Museum Excursions Pass" booklet's "coupon page" at the relevant ticket counter/reception desk OR
2. Download the coupons from the link below to your handheld device (smartphone or tablet), and present them at the ticket counter/reception desk.
- Museum Excursions Pass "Booklet"
https://www.pref.fukuoka.lg.jp/uploaded/attachment/118177.pdf
- Please note:
* Photocopied coupons are not valid.
* Coupons are not valid with any other offers.
* Some establishments only accept coupons from the book.
* Since some establishments limit the number of admissions, be sure to check on the page that has information on each establishment.
- Information (available in Japanese):
https://www.pref.fukuoka.lg.jp/contents/museumpass.html
Related Articles