Erika's delightful 3-day trip in Fukuoka!

The influencer attracting attention from young Indonesians came to Fukuoka!
Erika Ebisawa Kuswan, an influencer who has been attracting lots of attention by sharing Japanese fashion and culture to Indonesian young people, was invited by asianbeat to visit Fukuoka for the first time! Until last year, she belonged to an idol group that is active mainly in Jakarta, and now she is sharing various seasonal information from her own perspective on social media, while attending university in Tokyo. This time, Erika and her friend Ayu experienced a 3-day trip around the attractions in Fukuoka. Thanks to the good weather, we are going to share with you their lovely experience at Fukuoka's photogenic places!
PROFILE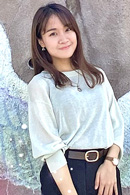 Erika Ebisawa Kuswan
Hi, I'm Erika♡ I used to be a member of JKT48 (6th generation) until February 2019, now I'm studying at a university in Tokyo! I'd like to try many different things in Japan, and will keep sharing my life in Japan as well as the information of pop culture to all of you. Stay tuned!
- Instagram:
@erika_ebisawa
- YouTube:
HERE
!
- Hot spots around the area visited! -