Yoakejaya Omiyage-kan (夜明茶屋 お土産館)
INFORMATION

In order to prevent the spread of COVID-19, some of the facilities might have taken various measures such as reducing business hours or temporarily closing their doors. For more information, please check the relevant facility's official website or social media account.



Lots of Yanagawa's unique and impactful souvenirs♪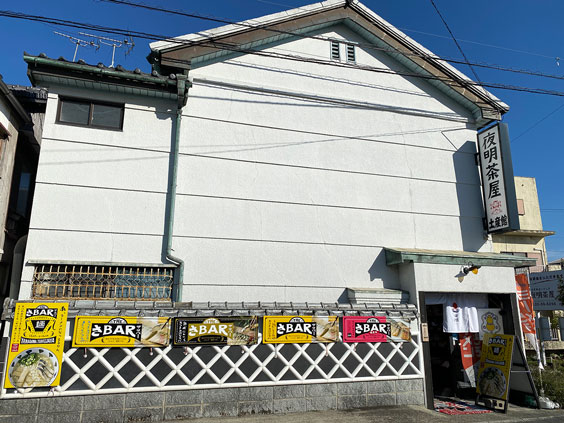 Grid pattern Namako wall that is often seen in the city of Yanagawa that gives out a traditional atmosphere!
The huge mudflats of the Ariake Sea facing Yanagawa City, Fukuoka Prefecture, are full of mysterious creatures such as mudhoppers, "aliens of the Ariake Sea", warasubo (odontamblyopus) and ancient shellfish Mechaja (Linguna anatina)! "Yoakejaya" is a local restaurant where you can enjoy the seafood of the Ariake Sea. It is located in the Okinohata district where it has one of the boat embarkation point. This time we'd like to introduce "Yoakejaya Omiyage-kan", a store full of unique products run by Yoakejaya located across the road from it!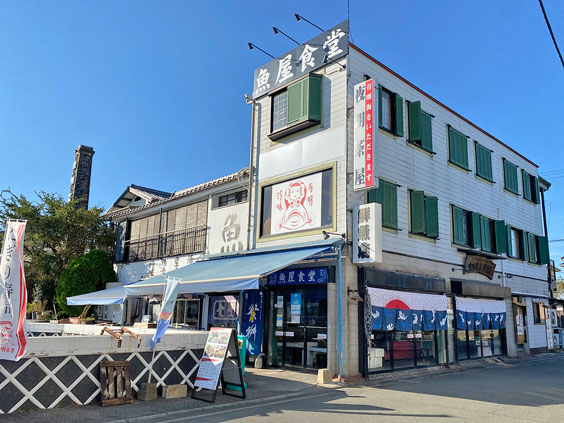 "Yoakejaya" with a fish store on the 1st floor and a dining place on the 2nd floor!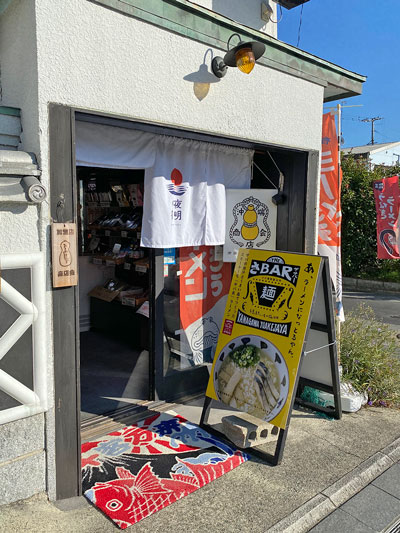 souvenir store entrance
The store has delicacies from the Ariake Sea that can be kept in room temperature! The moment you enter the store, you will see an "Alien Corner" that gives out a creepy vibe. In that corner, you will find some processed foods such as ramen, soup, cookies, and energy drinks that was made using the horrendous warasubo / Odontamblyopus, it's definitely something no one would have expected!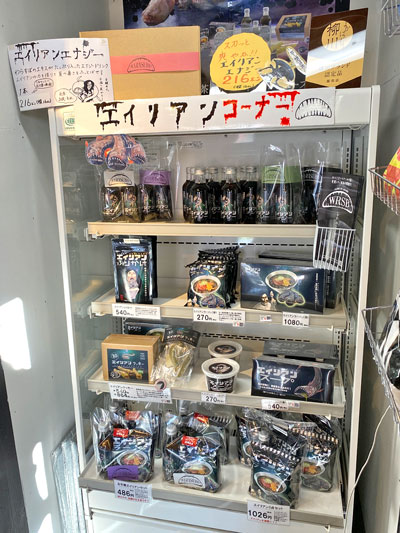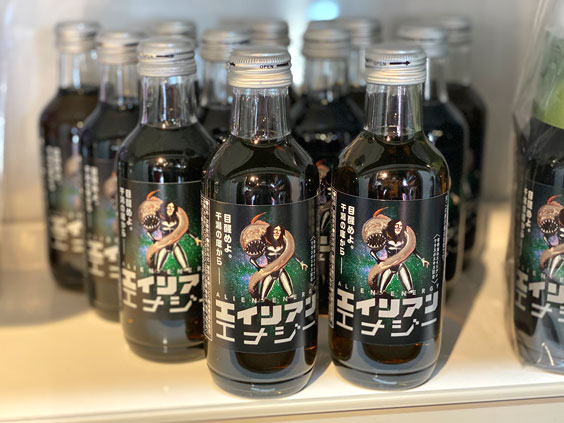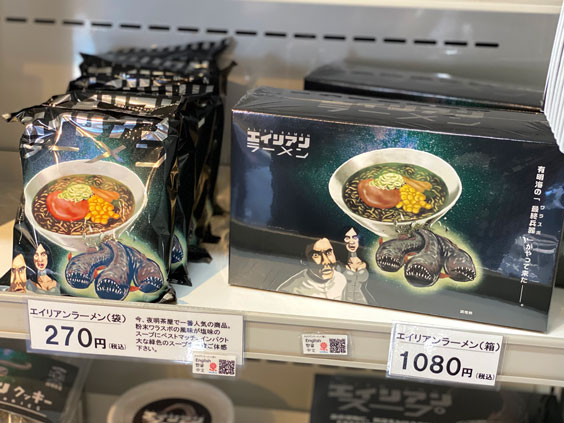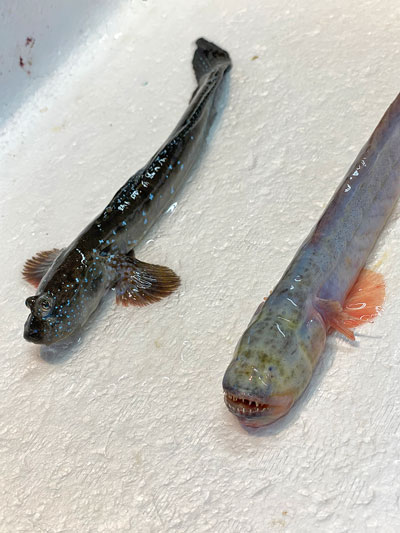 We found Mutsugoro with blue spots and huge eyes (left) and warasubo / Odontamblyopus (right) at the fish store of Yoakejaya! Warasubo's eyes are degenerated and its sharp, bare teeth looks scary!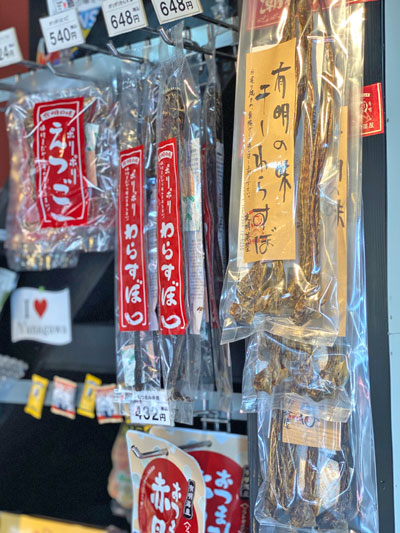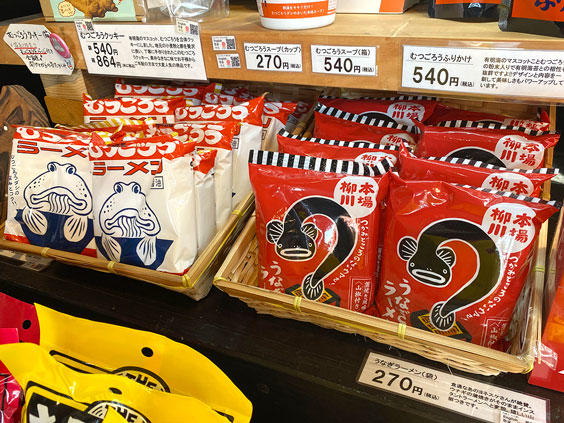 "Mutsugoro Ramen" (left) and "Unagi Ramen" (right) made by "Ra-mugi", a ramen wheat grown in Fukuoka specially used for ramen noodles.
The store's signature products "Mutsugoro Ramen" and the Kabayaki-flavored "Unagi Ramen" are certified as Yanagawa brand. "THE Sa-BAR" (smoked mackerel) goes perfectly with drinks, and "THE Sa-BAR Ramen" that was released this year are also popular. There are also varieties of Yanagawa's seafood products such as seaweed, scallops, and sake-pickled barnea dilatata! Do come and stop by if you want to explore Yanagawa's unique and impactful souvenirs.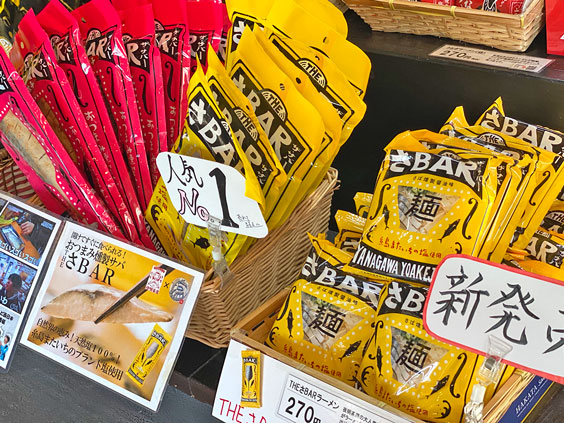 "THE Sa-BAR Ramen: Smoked Soy Sauce Flavored mackerel" using "
Mataichi no Shio
" from Itoshima, Fukuoka Prefecture
INFORMATION
Yoakejaya Omiyage-kan / 夜明茶屋 お土産館
- Address: 94-1 Inari-machi, Yanagawa-shi, Fukuoka-ken Japan
- Official Website:
http://www.mutugorou.co.jp/
- Twitter:
@yoakedyaya
- Facebook:
@yoakedyaya
- Instagram:
@yoakedyaya
* All information correct as of October 2021. Store layout and products may differ from current one.
- Hot spots around this area! -