"Red Thread of Fate" instant ramen (運命の赤い糸ラーメン)

This adorable yet tasty instant tonkotsu ramen might even help you find love!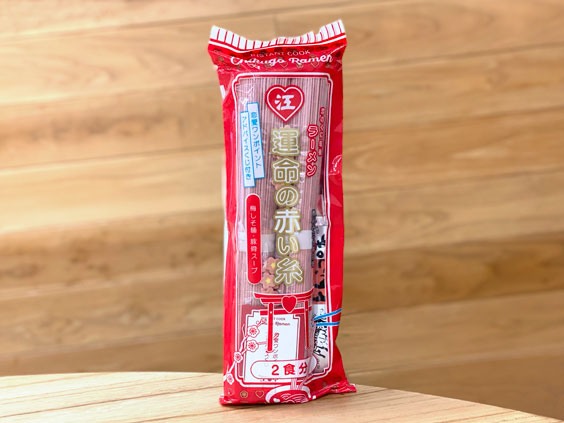 Have you heard of the "Red Thread of Fate"? It is a belief that an invisible red thread connects people who are destined to be together. Now there is a brand of instant ramen that is based on this folklores! Introducing "Unmei no Akai Ito (lit.: Red Thread of Fate)" instant ramen, a product born out of a collaborative project that took place between a shrine dedicated to the god of love "Koinoki Jinja" (Chikugo City, Fukuoka Prefecture) and the Chikugo-based noodle factory "Esaki Seimen".
This item has already become a classic souvenir for people visiting the Chikugo area, which promotes tourism using the slogan "
Koi no kuni, hito omou machi
, Chikugo" (lit.: The Kingdom of Love and Thoughtfulness: Chikugo), so be sure to keep an eye out for a packet when you are next in town! The packaging features the drawing of a red torii gate with a heart at the top! It looks just like the gate at
Koinoki Jinja
! Inside you will also find an omikuji (piece of paper with a brief explanation of you fortune) that offers a love-themed pearl of wisdom. It is such an exciting product!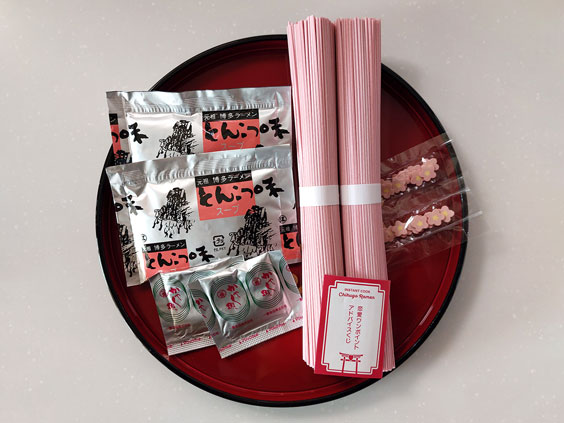 Let's take a look inside the packet! The bundle of stick-shaped ume-shiso (Japanese plum) flavored pink ramen noodles look just like "red thread." I couldn't help but wonder if it is really alright for one person to encounter so many red threads of fate in their life (lol)! The noodles also come with dried spring onions, sesame seeds, and a real Fukuoka specialty... A packet of tonkotsu (pork bone) soup stock! And last but not least... Mini kamaboko fish cakes shaped like cute pink plum blossoms! Awww! Cuteness overload!
To prepare your meal, first bring a pot of water to the boil and then cook the noodles for two minutes. Add the soup stock that is in the packet and cook for another minute. That's all there is to it! You are free to take lots of snaps of your tonkotsu ramen!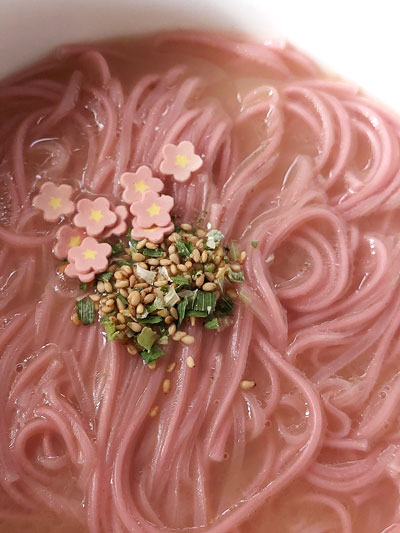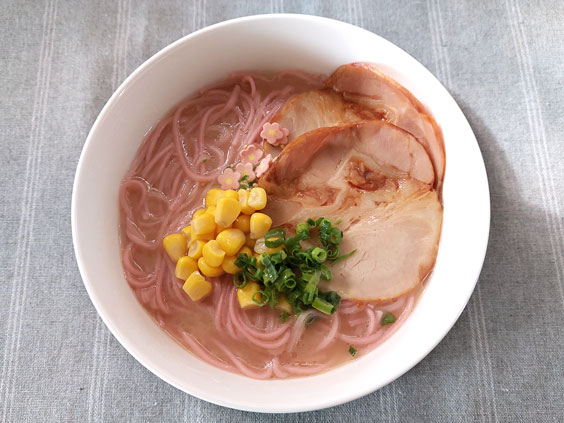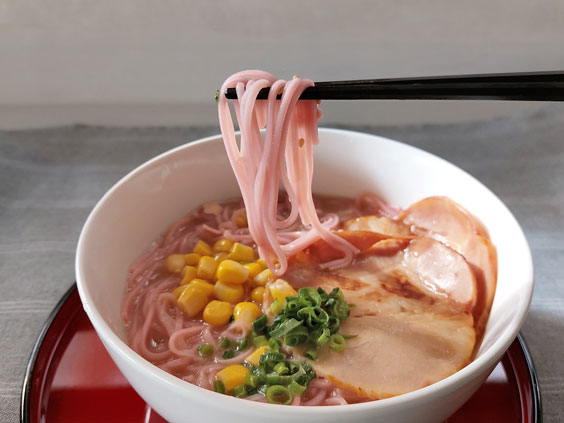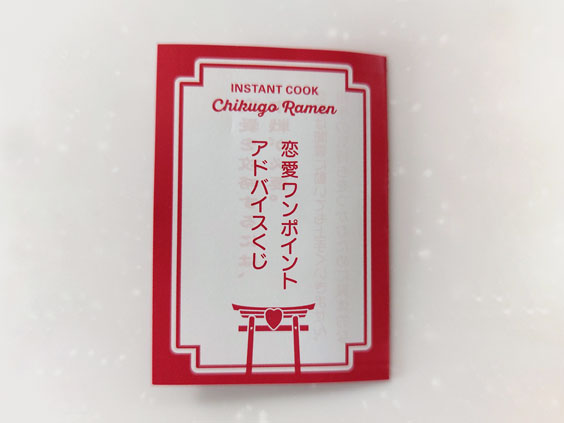 The package says "when the ramen is ready, embrace your emotions as you slurp up the red thread noodles!" So that is what we did! And they were delicious! The noodles have a hint of plum, which is a perfect match for the refreshing yet rich tonkotsu soup! "Unmei no Akai Ito Ramen" can be found at sites around the Chikugo region, such as Koinoki Jinja and
Yanagawa Yokamonkan
. You can even purchase them online at the official website (* Domestic shipping only)! Why not buy a pack as a souvenir for your friends and family! Especially if you know someone who is looking for love!
- Hot spots around this area! -