Hakata Makkana Ichigo no Galette / 博多まっかな苺のガレット

A superb galette packed with the deliciousness of Fukuoka's own "Amaou"!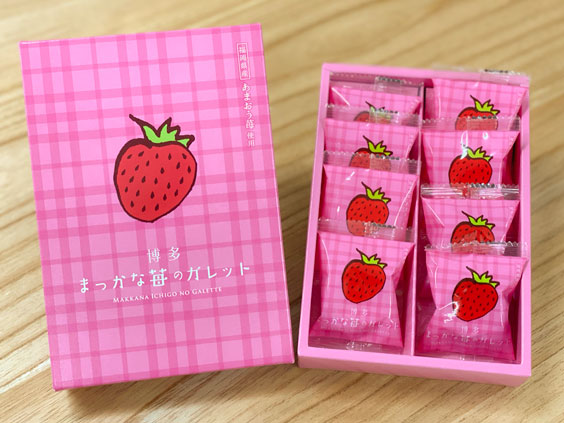 "Amaou" is a rare type of strawberry produced only in Fukuoka and is one of the prides of the prefecture! If you come to Fukuoka, sweets made with Amaou strawberries are a must on any souvenir shopping list! This time, we will introduce the exquisite galette of Amaou Strawberry sweets specialty store called "Hakata Makkana Ichigo". You can find the store in JR Hakata City, a commercial complex, which is directly connected to JR Hakata station. ♪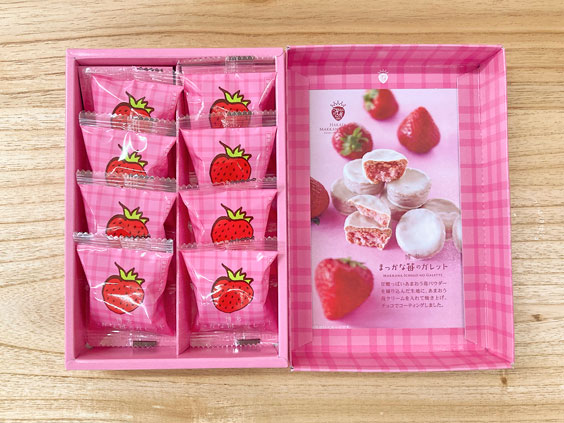 ▲ They are sold in boxes of either 8 or 15 pieces.
These Galette are about the size of a small macaron, the dough kneaded with sweet and sour Amaou strawberry powder and cream, baked into a crispy pastry then coated with chocolate.

When you open the bag, the sweet and sour strawberry scent permeates quickly. When you take a bite, the mellow and refreshing flavour spreads in your mouth, and you can fully feel the presence of Amaou♪ Although it is small, the rich taste is enticing! This fruity and fragrant galette is perfect as a confectionery compliment for tea, coffee, and Japanese tea♪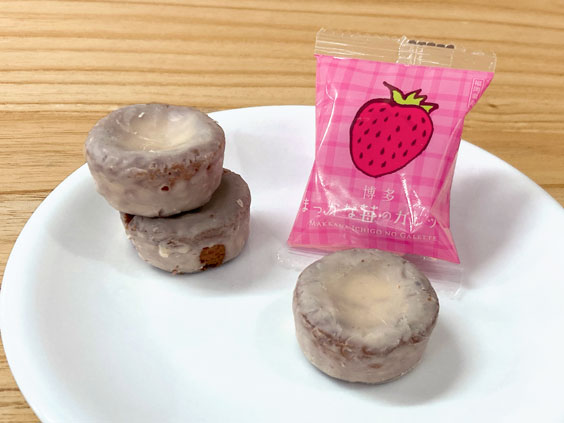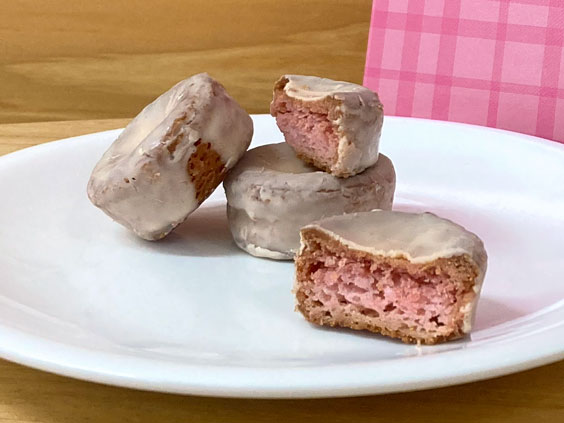 ▲ The inside is a light strawberry red colour and the crumbly texture is also inviting you to take a bite!
At the permanent store "Hakata Makkana Ichigo" in JR Hakata City, in addition to galette, you can find other baked sweets that make use of the Amaou charm, such as langue de chat and millefeuille or a parfait cheesecake (which is a fresh confectionery). When you visit Fukuoka next, please make sure to discover your own favourite of all the Amaou sweets on offer♪

★ The "Makkana Ichigo no Galette" is planned to be renewed in near future! We are looking forward to it!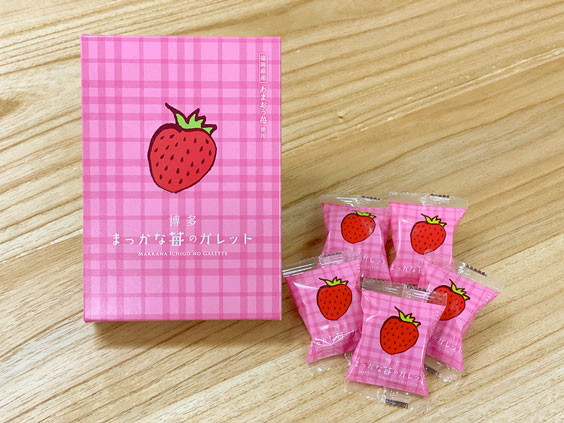 INFORMATION
Hakata Makkana Ichigo HAKATA DEITOS store / 博多まっかな苺 博多デイトス店
- Address: 1F HAKATA DEITOS Miyagemon Ichiba (1-1 Hakataeki-chuogai, Hakata-ku, Fukuoka-shi Japan)
- Seller: Hanafukudo, K.K.
- Online shopping (domestic shipping only): Hanafukudo Rakuten Ichiba Store:
https://www.rakuten.co.jp/hanafukudo/
- Official Website:
http://www.hanafukudo.co.jp/e/
* All information correct as of November 2022.
Related Articles
- Related articles: delicious Fukuoka confectionary!