Karo no Uron (かろのうろん)

Fukuoka's oldest udon restaurants, but it's still got it!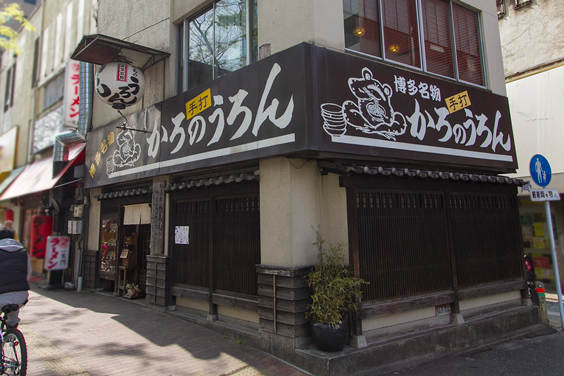 "Karo no Uron" was first established in 1882, making it the oldest udon restaurants in Fukuoka! The premises are located along the Kokutai Doro (Road), close to Canal City Hakata. It is just a five minute walk from the Gion Subway Station. The first owner Iso Uryu initially used the family's outhouse to prepare udon for friends. The flavour of the noodles began to get a lot praise, which led to Iso's decision to open a restaurant. Things started out in these sort of conditions, so there was no real name for the establishment. It became known as "Kado no Udon-ya" (lit. Udon Restaurant in the Corner) because of its location. People speaking in the Hakata dialect would often pronounce the "do" in "Kado" and "Udon" as "Ro." This began to stick and it eventually became the official name of the restaurant.
Their udon is served with a clear tsuyu soup that has a beautiful and appetizing appearance. The dashi stock is made from rausu-konbu (kelp), iriko (dried young sardines​), and katsuobushi (dried bonito​ flakes). These top quality ingredients are used in order to give the broth a wonderful umami quality. This style of tsuyu really helps bring the best out of the delicious noodles. People in Hakata had long been familiar with udon that was boiled in advance. (>> To know more about Fukuoka Udon, click
here
!) But the fourth owner of "Karo no Uron," Takayasu Uryu, created a new trend by serving up udon that had just been boiled. The delicious taste of their freshly boiled noodles gives you a sense that the restaurant is pouring all their energy and passion into creating a dish that perfectly suits the time.
The establishment's most popular dish is the classic gobo-ten (tempura burdock served on top of noodles). Diners love how the oil from the tempura drips into the soup. This fusion helps intensify the flavour and creates a deliciously rich tsuyu sauce. Their maru-ten (circular-shaped fish cakes, which are seen as a classic udon topping in Hakata) have also proven to be hit with the public. This well-established eatery is open from 11:00 to 19:00, which means that you can stop in for a bite to eat even if you've missed lunch.
*Taking photographs on the premises is currently prohibited. These shots were taken with permission.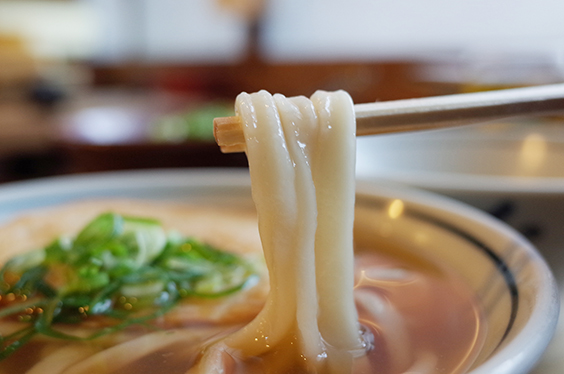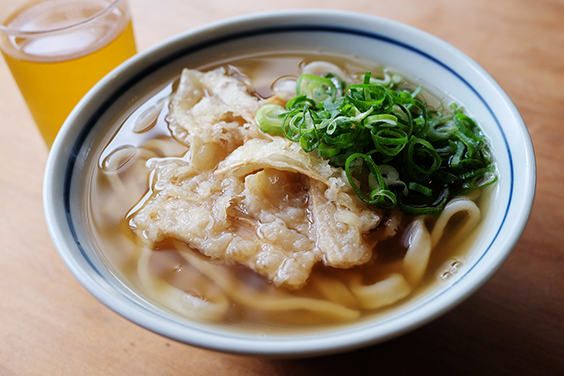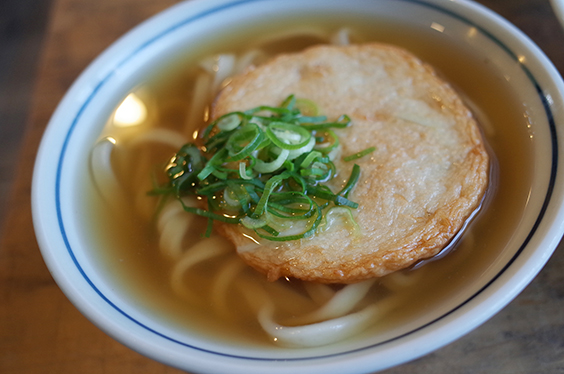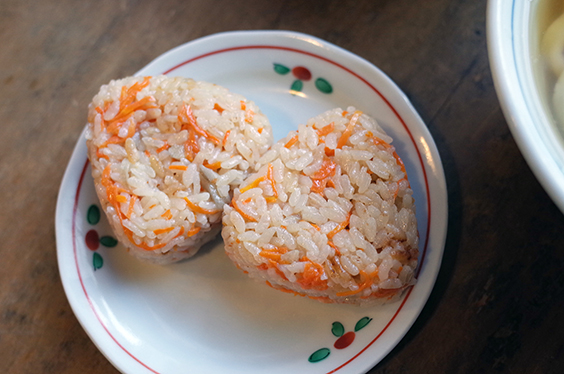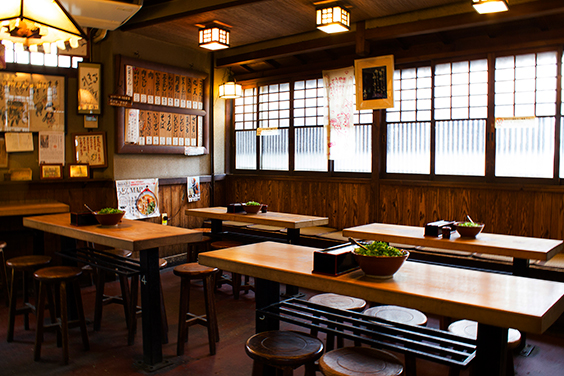 TEXT & PHOTO BY: Yuichiro YAMADA
INFORMATIOIN


Karo no Uron (かろのうろん)

Addoress: 2-1 Kamikawabata-machi, Hakata-ku, Fukuoka-shi, Fukuoka-ken, JAPAN *About 5 minute walk from Gion Station (Fukuoka City Subway)
TEL: 092-291-6465
Capacity: 20
Opening Hours: 11:00 - 19:00 *The restaurant closes for the day once they have sold out.
Closed: Tuesdays *The restaurant will be open if a national holiday falls on a Tuesday)

*All information correct as of March 2019
WRITER PROFILE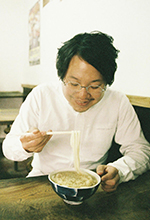 山田祐一郎 (Yuichiro Yamada)
Born in Fukuoka Prefecture 1978. Moved into the Fukuoka-based editing industry in 2003, and then began a career as a writer. Contributes articles for food and drink magazines, as well as informative Fukuoka publications. Established "KIJI" in August 2012. Became a noodle writer and started a web-based series called "Sono Ippai ga Tabetakute (lit. trans: I want to eat that bowl)" in the same year. Yamada uses the online resource to record the various kinds of noodles he samples on an almost daily basis. Published a book titled "Udon no Hanashi Fukuoka (lit.: Udon Noodle Talk Fukuoka)" that delves deeper into Fukuoka's udon culture and the local area's role as a pioneer of the food in July 2015. Also released "Noodle Writer Hizou no Ippai Fukuoka (lit.: Noodle Writer Treasured Bowl Fukuoka)" in March 2019. The book introduces the reader to a wide range of noodles (such as udon, ramen, and champon) and recommends some of the best places to find tasty dishes in Fukuoka city. Has developed the motto "One Day One Noodle a day." Now seeks out delicious noodle dishes both at home and abroad. His work has gained a considerable amount of attention from noodle fans.
■ Related sites
- KIJI:
http://ii-kiji.com/
- Web-based noodle magazine "Sono Ippai ga Tabetakute (lit. trans: I want to eat that bowl.)":
http://ii-kiji.com/sonoippai
- App version "KIJI NOODLE SEARCH": http://ii-kiji.com/app