Interview Now - 小岩井ことり (Koiwai Kotori) -(2/2)

"Koiwai Kotori's Live Lecture on the Game Commentary feat. MEIKA Hime & Mikoto" - Event Report!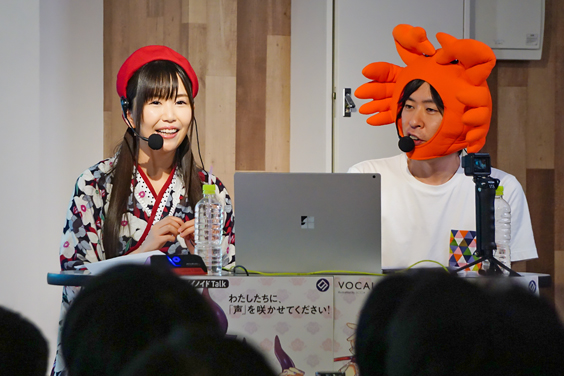 (From left) 小岩井ことり (Koiwai Kotori) and mathru@KanimisoP
Koiwai Kotori and mathru@KanimisoP made an appearance at the event! They demonstrated how to create games and game commentary video with simple production tools, such as "mUniSm" and Gynoid Talk (text recitation software) using the voices of "MEIKA Hime & Mikoto"!

Koiwai was really excited to use "mUniSm." She enthusiastically told the crowd, "I didn't expect it to be this simple. I really want to try making my own game!" The character settings seemed to be very complicated, but KanimisoP offered some words of encouragement. He said, "it's just like filling in the profile column on a blog." Their demonstration gave the audience an idea of just how simple game production can be!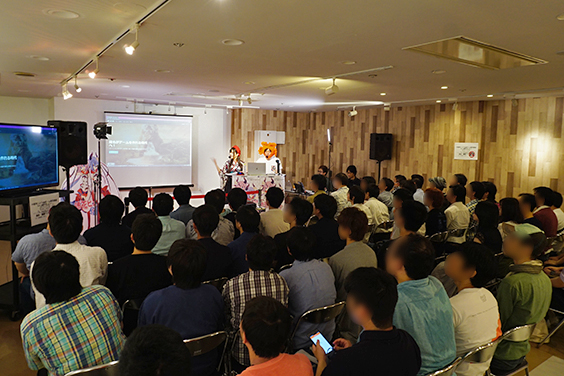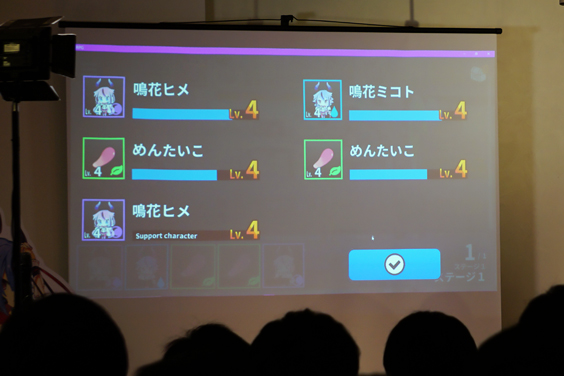 Creating original characters is one of the most enjoyable parts of the process! You can only really experience it when you create a game by yourself
Koiwai was in charge of a demonstration that explained how to add commentary to a video! The tutorial went through each stage of the process. She started by recording Hime & Mikoto dialogue. The next challenge was to choose facial expressions (*from the wide variety of photoshop data, officially provided for Hime & Mikoto users) that match the dialogue, and to find an appropriate setting for the video. The gaming commentary video was complete before anyone had even realized! It was very impressive to see how skillfully Kotori used the computer and navigated through all apps!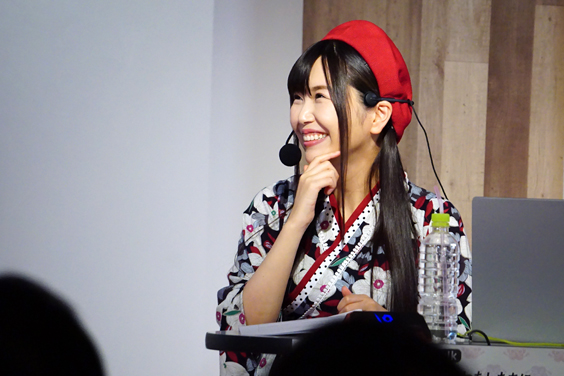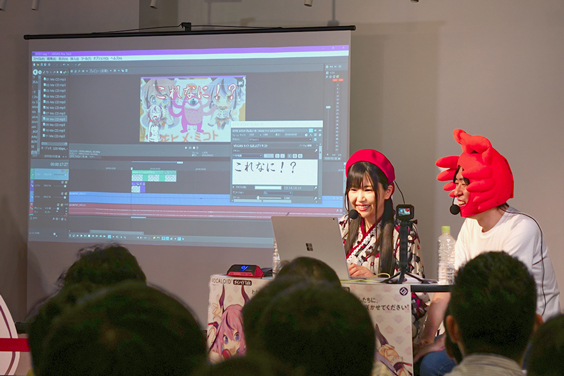 Here are the hosts demonstrating how to make "MEIKA Hime & Mikoto" dialogue using the Gynoid Talk. Even the tone of the dialogue can be adjusted!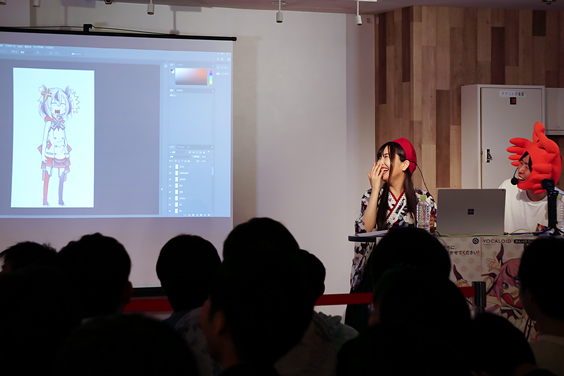 They chose Hime and Mikoto's facial expressions from various sources (officially provided to Hime & Mikoto users)!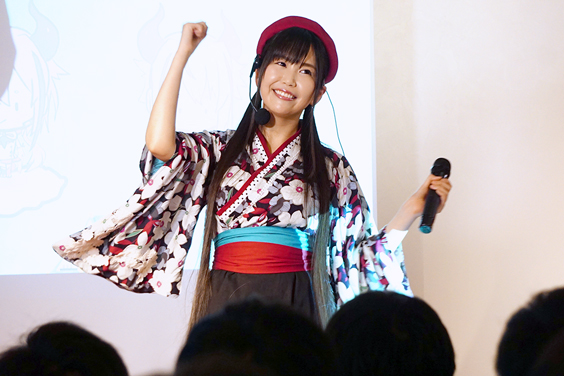 The audience were so impressed by the easy-to-understand explanation, and the demonstration of simple, practical tools. After the lecture, Koiwai performed her original song "鳴花" (Meika). The crowd responded to Kotori with a large "HA!" You could feel the unity that existed between her and the audience! The short anime "Hakata Mentai! Pirikarakochan" currently uses MEIKA Hime & Mikoto's song for their end credits. The main character from the anime, Pirikarakochan, made appearance on stage and helped bring the event to a close! For those of you interested in "MEIKA Hime & Mikoto," please check-out the "Hakata Mentai! Pirikarakochan" anime, which highlights the best that Fukuoka has to offer!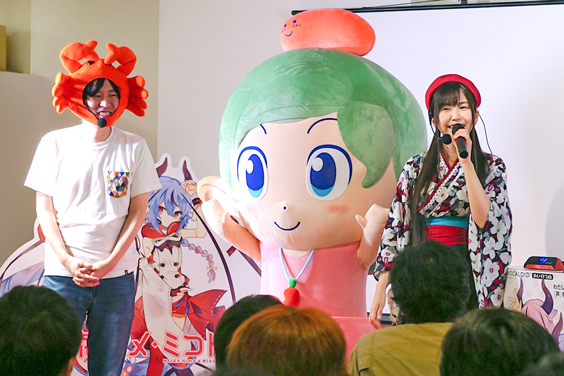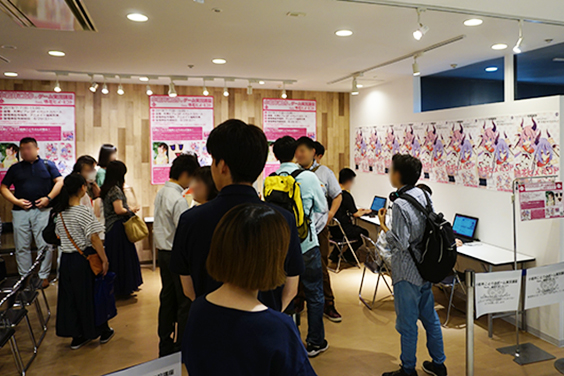 In this section of the venue visitors could try out "Gynoid Talk" for themselves!
PRESENT!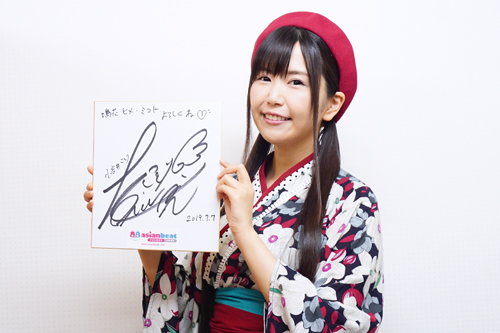 ONE lucky reader has a chance to win a card signed by Koiwai Kotori! Don't miss-out!
[Application Period]
Friday 9 August - Sunday 1 September, 2019
[Winner announcement]
Wednesday 4 September, 2019
The application period is now over. Thank you!
The lucky winner is ...顾科杰 san
(Please note, winners will receive an email directly from asianbeat. If you don not reply with a confirmation message within a week, you application will become invalid and you will not be able to claim your prize.)
PROFILE
小岩井ことり (Koiwai Kotori)
Kyoto-native born on February 15th. Voice artist signed to the PEERLESS GERBERA agency. Has been working in TV anime and gaming fields since 2011. Active as a songwriter and composer, also produces DTM (desktop music). Obtained a first grade MIDI certification and became an instructor. Continues to work as a voice artist, while creating music as a songwriter. Made her major debut as a writer with the music and lyrics for "Sister" in April 2018. "THE IDOLM@STER MILLION LIVE! M@STER SPARKLE 08" recorded "Sister," which went to number one in the Oricon Anime Album Charts. It also reached number six in the Album Charts. In April 2019, became a major trending topic on Twitter after it was revealed that she had a become a member of MENSA, a high-IQ organization that could only be entered by 2% of the population with the highest IQ in the world. Well-known works include "Non Non Biyori" as Miyauchi Renge, "The Seven Deadly Sins" as Elaine, THE iDOLM@STER MILLION LIVE! THEATER DAYS" as Tenkubashi Tomoka, and "SHIRONEKO PROJECT" as Fran.
■Official Website (Profile):
http://pg-wcf.co.jp/profile/04/
■Twitter:
@koiwai_kotori
■Blog:
https://ameblo.jp/koiwai-kotori/
■
YouTube
Related Articles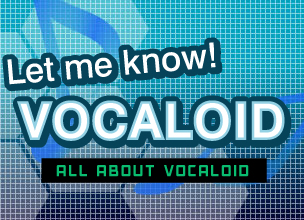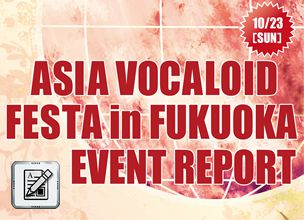 External Links