Interview Now - CAMELLIA FACTORY (Yamagishi Riko, Niinuma Kisora, Fukuda Marine) -(2/2)

Totally hooked on dog massage, goshuin-cho, and hot water bottles!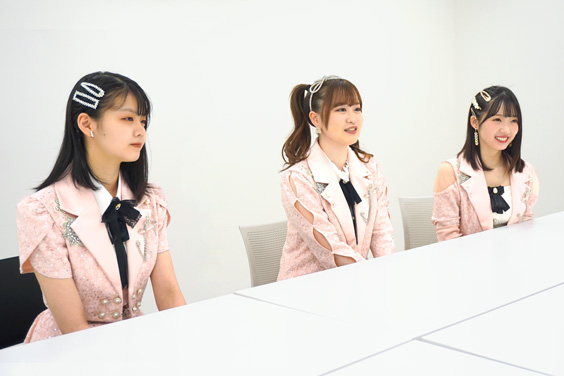 (From the left) Fukuda Marine, Niinuma Kisora, and Yamagishi Riko
Is this your first time in Fukuoka as a 12-piece? What's your impression of Fukuoka?
Yamagishi
: When I come to Fukuoka, I buy lots souvenirs. I love the mentaiko (spicy cod roe) and nameko mushromm condiment that comes in a bottle. And I always buy "
Torimon
" sweets! I bought some potato chips flavored with Fukuoka sea salt for the first time the other day. They were so tasty!
Niinuma
: I remember wearing a formal suit to visit TV and radio stations in Fukuoka on a hot Summer's day when we were promoting the single "
Shuukatsu Sensation
" (lol)! During that trip, I ate gobo-ten udon (udon noodles topped with tempura-fried burdock) at a restaurant. I remember being surprised that Fukuoka doesn't only have tasty ramen… I was like "Wait, you can also find delicious
udon
here, too!"
Fukuda
: Sometimes I go through Fukuoka airport when I am returning to my hometown, Nagasaki. I love to eat ramen at "Ichiran" in the airport. I often eat a bowl with my mom before the flight.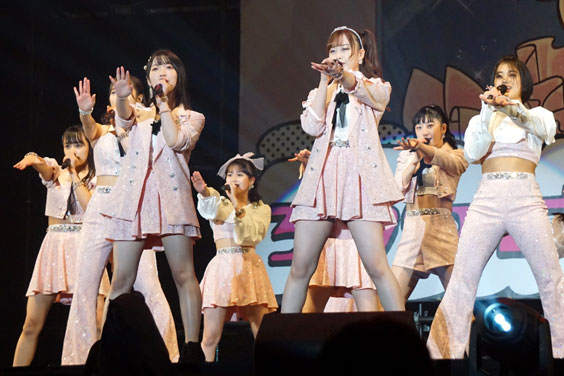 There were some great dance numbers featured in the set! The tracks had the Chicappa-sai venue bouncing with excitement!
ab: It seems like the local food made a big impression! The next question is more related to your private lives and what you get up to away from the group. Is there anything you're totally hooked on right now? What is your latest obsession?
Yamagishi
: Probably giving my dog a massage! I can see in my dog's eyes that she is totally enthralled after about three seconds. She really seems to enjoy it! That image really soothes my mind, so I can't get enough of it!
Niinuma
: I am into
goshuin-cho
(notebooks used for collecting stamps at shrines and temples)! When I looked up my character traits online, I found out that I am a water-type person. Apparently Dazaifu Tenmangu is a shrine in Fukuoka that has connections to water, so I'd like to go and visit someday!
Fukuda
: For me… It would have to be hot water bottles. I boil some water just before I go to bed and then put a hot water bottle in my futon. I fall asleep as soon as the futon gets warm!
ab: The heroine of your song "Namida no Heroine Kouban Geki" goes through ups and downs. Life also has its peaks and troughs. What do you do to feel better when you are feeling low?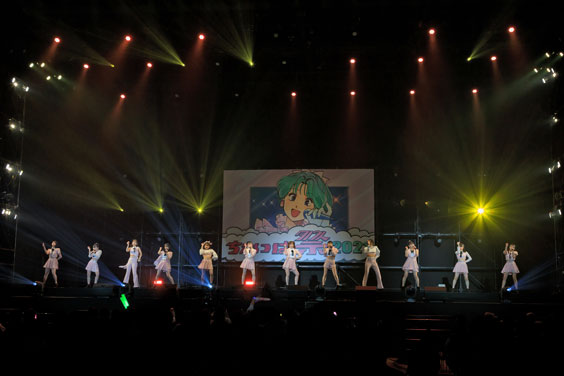 Niinuma
: Watching videos of sweet little girls aged one and a half to three years old puts my mind at peace. But I won't let you know the name of the channels I watch!
Yamagishi
: I take a bath! I like to soak in the bath for an hour a day… While I am in the tub I listen to some English songs and watch videos.
Fukuda
: When it really comes down to it… I find that eating meat helps bring out my strength! That's the best option for me! I like to make steak and
sukiyaki
(meat-based hot pot dish) for myself.
ab:Thank you so much! It was awesome to speak with you! Before we finish, do you have a message for your fans at home and abroad?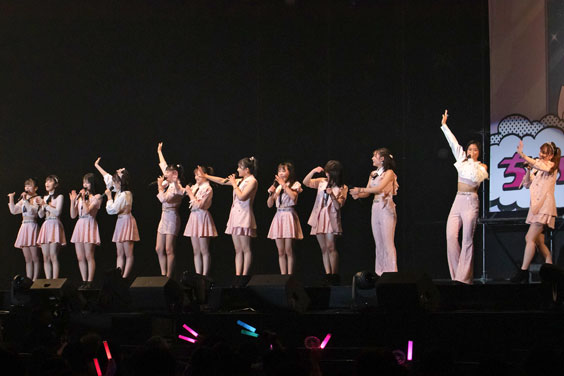 Yamagishi
: We became a 12-piece in 2021. We also gave our first performance at the Nippon Budokan in October of the same year. It seems like we are entering a new phase. I think "CAMELLIA FACTORY Chapter 2" is just starting! I want the group to grow, perform overseas, and meet lots of people!
Niinuma
: We have various social media sites. If you are overseas and won't have many opportunities to visit Japan to watch us live, please connect with us through social media and videos!
Fukuda
: I want people to say, "the new members have really added something to CAMELLIA FACTORY," so I will do my best to practice every day and grow as much as possible. Thank you for all your support!
PRESENT!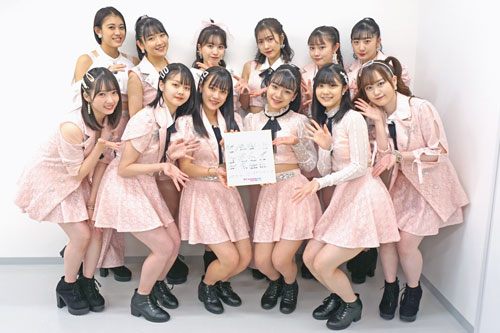 All 12 members of CAMELLIA FACTORY signed a card, which we will giving away to one lucky reader! If you are interested in applying, please click the button below and enter your information. We are looking forward to hearing from you! (*The signed card will be posted with the winner's name written on it)
[Application Period]
Wednesday 12th January 2022 - Sunday 13th February 2022 (JST)
[Winner to be announced on]
Wednesday 16th February 2022 (JST)
The application period is now over. Thank you!The lucky winner is ...ほのか san
(Please note, winners will receive an email directly from asianbeat. If you don not reply with a confirmation message within a week, you application will become invalid and you will not be able to claim your prize.)
Related Articles